Interactive processing and visualization of image data for biomedical and life science applications
BMC Cell Biology
2007
8(Suppl 1):S10
Abstract
Background
Applications in biomedical science and life science produce large data sets using increasingly powerful imaging devices and computer simulations. It is becoming increasingly difficult for scientists to explore and analyze these data using traditional tools. Interactive data processing and visualization tools can support scientists to overcome these limitations.
Results
We show that new data processing tools and visualization systems can be used successfully in biomedical and life science applications. We present an adaptive high-resolution display system suitable for biomedical image data, algorithms for analyzing and visualization protein surfaces and retinal optical coherence tomography data, and visualization tools for 3D gene expression data.
Conclusion
We demonstrated that interactive processing and visualization methods and systems can support scientists in a variety of biomedical and life science application areas concerned with massive data analysis.
Keywords
Optical Coherence TomographyRetinal LayerLaser PointerRetinal Pigment EpitheliumTiled Display
Background
Recent advances in imaging technology have led to a rapid increase in the size and complexity of biological image data sets. It is often not feasible to explore massive biological image data with conventional analysis and visualization tools. Interactive visualization techniques can support life scientists in the exploration and analysis of biological image data.
Conventional visualization methods often require significant processing time, which limits high-throughput analysis. Interactive visualization systems maintain a closed loop between the user and the system and, thus, need to be very fast. Building such a system requires the development of new visualization methods, and there exists also need to design new and effective interaction techniques.
We provide an overview of selected methods in high-resolution display technology and visualization techniques developed at the Institute for Data Analysis and Visualization (IDAV) at UC Davis, in close collaboration with scientists from other institutions.
Conclusion
Display technology that supports high-resolution visualization of massive image data is increasingly important for biomedical and life science applications. Our system enables scientists to control interactively a foveal inset display, which supports exploring selected areas of an image at a (physically) higher resolution than the surrounding display. The system can be constructed at lower cost than tiled displays with uniform resolution.
We use flow-based analysis to hierarchically segment a protein surface into protrusions and cavities. Our approach applies to any scalar function defined on the surface. We have used a geodesic distance-based alignment function in order to identify non-rigid sections of a protein [17]. We are now designing functions that capture various shape characteristics of the protein surface and plan to use the corresponding peak-valley segmentation in shape complementarity studies.
We found that our system works well at isolating most retinal layers and structures. We added speed improvements that also improved the system's tolerance to noisy data, something that is inherent in OCT data. These improvements are described in detail in [26]. The main problem we encountered was segmenting thin layers, on the order of one or two voxels in width. Some retinal layers are very thin, and we found that our system required more than expected user specification in order to isolate these regions. We are investigating improved segmentation methods and will possibly explore alternative artificial intelligence approaches to drive the segmentation process, but we expect the problem is rooted in the layers only being two voxels thick. Thus, the best solution is to increase the acquisition resolution to better resolve fine structures.
Methods
High-resolution display technology for exploration of biomedical image data
Hardware setup
Our tiled display wall consists of six tiles arranged in a three-by-two grid. Each tile has an area of 6' × for a total size of 18' × 9'. A tile is displayed using two Sanyo PLC-XT16 projectors to support stereoscopic imaging (note that our foveal inset system currently does not support stereoscopic rendring). The projectors are driven by a cluster of Linux machines with 2 GHz AMD Opteron processors and 1 GB of memory. The head node of the cluster is a Linux machine with dual 2 GHz AMD Opteron processors and 8 GB of memory. We are using Point Grey Flea [27] cameras for calibration and interaction. These cameras are capable of capturing 1024 × 768 pixel color images at 30 frames per second. We are using a Directed Perception Pan-Tilt Unit PTU-C46 to control the inset position, which can be moved at increments of 184 arc-seconds. Our unit is configured to move at 1000 incremental positions per second. We have mounted a mirror to the PTU using a gimbal adapter. The projector used to project the foveal inset is a Mitsubishi XD50U.
Software design
The position of the foveal inset is specified using a hand-held laser pointer. The control of the foveal inset position is implemented to work with a laser pointer interaction system [16]. The foveal inset controller receives information regarding the laser pointer position from the tracking application via a network socket. The foveal inset is positioned about this location on the display by adjusting the pan and tilt angles of the PTU. This allows the user to run-time specify the position of the foveal inset on the display, letting areas of interest be displayed in higher resolution than the rest of the display.
Integration
In order to modify the OpenGL pipeline without modifying application code, we have implemented the inset controller as a Chromium Stream Processing Unit (SPU) [
28
]. This SPU is a combination of the Chromium RenderSPU and PassthroughSPU. Our SPU derived from the RenderSPU, and also implements PassthroughSPU functionality. This allows it to render the inset locally and pass rendering information down the pipeline. The integration of the InsetSPU is depicted in Figure
9
.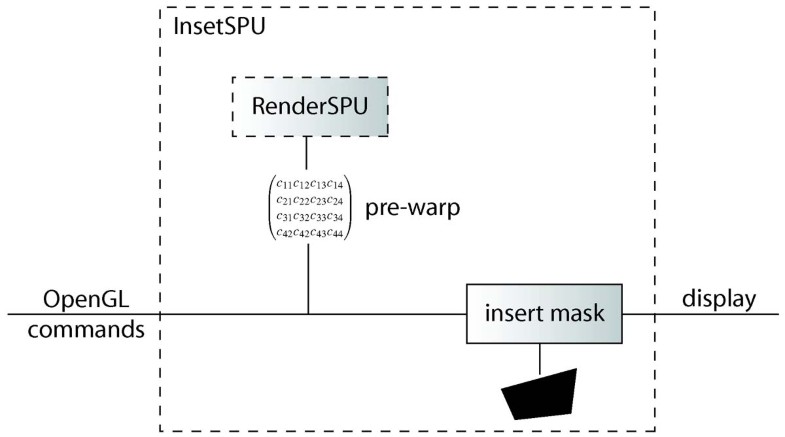 Analysis and visualization of protein surfaces
The segmentation shown in Figure
4
is derived from the
Morse-Smale complex
(MS complex), which partitions the surface into monotonic regions [
18
,
29
]. The critical points of the atomic density function, in particular the maxima and minima, have unique regions associated with them called
descending and ascending manifolds
. Using the analogy of terrains, where the scalar function describes the elevation of a point, maxima and minima correspond to "mountain peaks" and lowest points of "valleys." The descending manifold of a maximum
m
consists of all points
p
that satisfy the following property: the steepest-ascent path beginning at
p
terminates at
m
. Similarly, steepest-descent paths beginning at all points associated with a minimum terminate at the minimum (see Figure
10
). Ascending and descending manifolds of saddles are one-dimensional curves on the surface.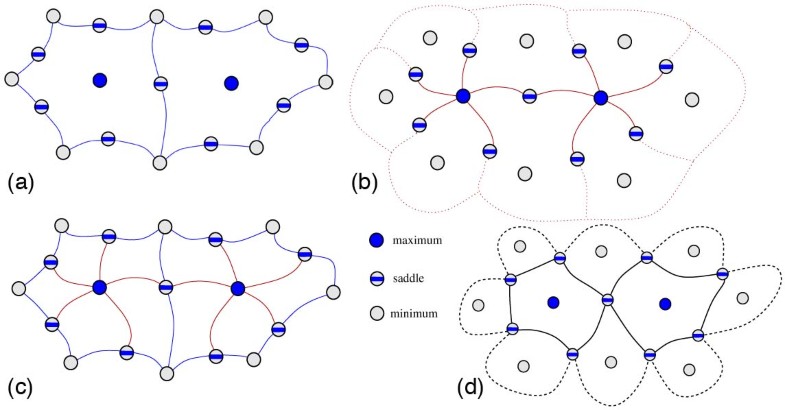 The overlay of the descending and ascending manifolds results in a partition of the surface into monotonic regions. A cell in the partition consists of points that flow towards a fixed minimum/maximum pair via paths of steepest descent/ascent. The MS complex is a topological data structure that stores this segmentation into monotonic regions. Efficient algorithms have been developed to compute the MS complex and to generate representations of the function at multiple levels of detail [29, 30]. These algorithms repeatedly cancel a pair of critical points connected by an arc in the MS complex to obtain a smoother function.
Given a protein surface and the atomic density function, we first construct the MS complex and then compute paths connecting saddles within each cell of the complex. These paths collectively form boundaries of peaks and valleys of the surface, see Figure 10. Peaks and valleys of the atomic density function correspond to protrusions and cavities of the protein thereby resulting in the required natural segmentation.
Visualization and analysis of retinal optical coherence tomography
Recent developments in ultra-high-resolution Fourier domain optical coherence technology (Fd-OCT) allow the rapid collection of B-scan stacks such that alignment can be achieved by standard image registration methods. We have developed an Fd-OCT system for acquiring and processing image stacks. A detailed description of our hardware setup in provided in [26, 31].
Each subject was imaged with several OCT scanning procedures including 3D scanning patterns centered at the fovea and optic nerve head (ONH). We used two different scanning arrangements for 3D scanning patterns including (i) regularly spaced 200 B-scans, with each based on 500 A-scans, and (ii) regularly spaced 100 B-scans based on 1000 A-scans. In both cases, volumes consisted of the same number of A-scans (100000), and the time required to acquire a volume was 5.5 s for 50 μs CCD exposure time and 11.1 s for 100 μs exposure time. The longer exposure time was mainly used to increase image intensity and with 100 B-scans based on 1000 A-scans per frame acquisition mode, at the cost of more motion artifacts.
Declarations
Acknowledgements
This work was supported by the National Science Foundation under contract ACI 9624034 (CAREER Award), through the LSSDSV program under contract ACI 9982251, and a large ITR grant. We gratefully acknowledge the support of the W.M. Keck Foundation provided to the UC Davis Center for Active Visualization in the Earth Sciences (KeckCAVES). We thank Nina Amenta, Oliver Kreylos, and Benjamin Ahlborn for their contribution to the design and implementation of the methods and tools described in this paper. We thank John S. Werner, Robert Zawadzki, Joe Izaatt, Stacey Choi, and Alfred Fuller for their contributions to the retinal imaging project. We thank Yusu Wang, Peer-Timo Bremer, and Valerio Pascucci for their contributions to the protein visualization project. We further thank the members of the Visualization and Computer Graphics Research Group at IDAV at the University of California, Davis, and the members of the BDTNP at Lawrence Berkeley National Laboratory. The monkey brain data set is courtesy of Edward G Jones, UC Davis Center for Neuroscience.
This article has been published as part of BMC Cell Biology Volume 8 Supplement 1, 2007: 2006 International Workshop on Multiscale Biological Imaging, Data Mining and Informatics. The full contents of the supplement are available online at http://www.biomedcentral.com/1471-2121/8?issue=S1
Authors' Affiliations
(1)
Institute for Data Analysis and Visualization and Department of Computer Science, University of California, Davis, USA
(2)
Department of Computer Science and Automation, Indian Institute of Science, Bangalore, India
(3)
Computational Research Division, Lawrence Berkeley National Laboratory, California, USA
(4)
Stratovan Corporation, Woodland, USA
Copyright
© Staadt et al; licensee BioMed Central Ltd. 2007
This article is published under license to BioMed Central Ltd. This is an open access article distributed under the terms of the Creative Commons Attribution License (http://creativecommons.org/licenses/by/2.0), which permits unrestricted use, distribution, and reproduction in any medium, provided the original work is properly cited.