Research article

Open Access
Shared as well as distinct roles of EHD proteins revealed by biochemical and functional comparisons in mammalian cells and C. elegans
Received: 15 August 2006
Accepted: 18 January 2007
Published: 18 January 2007
Abstract
Background
The four highly homologous human EHD proteins (EHD1-4) form a distinct subfamily of the Eps15 homology domain-containing protein family and are thought to regulate endocytic recycling. Certain members of this family have been studied in different cellular contexts; however, a lack of concurrent analyses of all four proteins has impeded an appreciation of their redundant versus distinct functions.
Results
Here, we analyzed the four EHD proteins both in mammalian cells and in a cross-species complementation assay using a C. elegans mutant lacking the EHD ortholog RME-1. We show that all human EHD proteins rescue the vacuolated intestinal phenotype of C. elegans rme-1 mutant, are simultaneously expressed in a panel of mammalian cell lines and tissues tested, and variably homo- and hetero-oligomerize and colocalize with each other and Rab11, a recycling endosome marker. Small interfering RNA (siRNA) knock-down of EHD1, 2 and 4, and expression of dominant-negative EH domain deletion mutants showed that loss of EHD1 and 3 (and to a lesser extent EHD4) but not EHD2 function retarded transferrin exit from the endocytic recycling compartment. EH domain deletion mutants of EHD1 and 3 but not 2 or 4, induced a striking perinuclear clustering of co-transfected Rab11. Knock-down analyses indicated that EHD1 and 2 regulate the exit of cargo from the recycling endosome while EHD4, similar to that reported for EHD3 (Naslavsky et al. (2006) Mol. Biol. Cell 17, 163), regulates transport from the early endosome to the recycling endosome.
Conclusion
Altogether, our studies suggest that concurrently expressed human EHD proteins perform shared as well as discrete functions in the endocytic recycling pathway and lay a foundation for future studies to identify and characterize the molecular pathways involved.
Keywords
HeLa CellTransferrinEarly EndosomeRecycling EndosomeEndocytic Trafficking
Background
Endocytosis is an essential cellular process that regulates the delivery of specific cargo and lipid membranes to appropriate subcellular destinations [1]. Endocytic traffic of signaling receptors into lysosomal versus recycling endosomal pathways also provides a fundamental mechanism to control cellular responses to environmental changes. Finally, the endocytic pathway intersects other intracellular transport pathways such as the secretory pathway. Understanding the molecular basis of regulated transport within the endocytic pathway is, therefore, of broad interest and substantial biological significance.
Protein-protein interactions provide a central mechanism to control cellular functions, and regulatory proteins within a given functional pathway are often characterized by the presence of related modular protein-protein interaction domains. A large subset of proteins involved in the regulation of endocytic trafficking events contain an Eps15 Homology (EH)1 domain, first identified as three repeated copies in the epidermal growth factor receptor pathway substrate 15 (Eps15) [2, 3]. There are over 50 EH domain-containing proteins known [4] and many of them, such as Eps15, Eps15R, intersectin, POB1, END3 and REPS1, are involved in the early stages of endocytosis [5]. EH domains recognize an Asn-Pro-Phe (NPF) motif within target proteins to assemble protein complexes that function at various steps during endocytic traffic, such as cargo selection and formation of clathrin-coated pits at the plasma membrane [6].
The recently identified subfamily of EH domain-containing proteins (EHD1-4) are characterized by a unique domain organization distinct from other EH domain-bearing proteins: they contain a single EH domain at the C-terminus, a central coiled-coil region and a phosphate-binding loop (P-loop) capable of binding nucleotides in the N-terminal region [7–9]. The genes encoding these proteins are located on different chromosomes, EHD1 on 11q13 [7], EHD2 on 19q13.3, EHD3 on 2p21 and EHD4 on 15q11.1, yet they share a high degree of homology at the nucleotide and amino acid levels [8]. The presence of four EHD proteins in mammals appears to reflect recent duplications as a single gene is found in non-mammalian organisms [8].
The presence of an EH domain suggests a possible role for these proteins in receptor-mediated endocytosis. Consistent with this idea, mutations in receptor-mediated endocytosis-1 (RME-1, the only C. elegans homolog) led to defective endocytic traffic of the yolk protein receptor RME-2 as well as aberrant trafficking in intestinal cells leading to a vacuolated intestine phenotype in C. elegans [10]. RME-1 is most closely related to human EHD1 [10] and it has been shown that EHD1 is involved in the recycling of a variety of receptors from the endocytic recycling compartment (ERC) to the plasma membrane [11–14]. Previous studies have also shown that EHD1 and 3 reside in the ERC as indicated by their colocalization with transferrin [11, 15]. Furthermore, perturbations of EHD1 and 3 led to altered distribution and function of the ERC [11, 16]. Other EHD proteins have been studied in specialized cells such as adipocytes and pheochromocytoma cells. EHD2 was isolated from GLUT4-enriched fractions of adipocytes and shown to regulate insulin-mediated translocation of GLUT4 to the plasma membrane [17, 18]. EHD4, also called Pincher, has been shown to regulate neurotrophin receptor TrkA endocytosis in pheochromocytoma (PC12) cells [19].
Several EHD-binding proteins have been identified recently such as Rabenosyn-5 [12], SNAP29/GS32 [20, 21], syndapin I and II [20, 22], α-adaptin subunit of AP2 [21], reticulon (in the case of RME-1) [23], Rab11-FIP2 [16], EHBP1 [17, 24] and Numb [25]; many of these contain one or more NPF motifs [26]. Biochemical studies and yeast two-hybrid experiments have shown that mutations in the P-loop and coiled-coil region interfere with oligomerization of RME-1/EHD1 [9] and EHD3 [16]. Despite the emerging information on their role in endocytic recycling of different receptors and identification of their interaction partners, little is known about EHD proteins and how they function in cells.
While these initial studies have begun to establish the role of EHD proteins in endocytic traffic, in particular at the ERC, there has been a distinct lack of biochemical and functional comparisons of mammalian EHD proteins in a single cellular system. As suggested by Naslavsky and Caplan, the overall identity of EHD proteins is slightly higher than that of their EH domains [27] and the comparison of all human EHD proteins in parallel could, therefore, provide important clues to their function in mammalian cells. Here, we have compared the four human EHD proteins with respect to their expression, localization and function to identify their distinct and shared cellular functions. These studies, together with recent comparison of EHD1 and 3 by the Caplan group [16], should serve as a basis for further efforts to understand the molecular basis of EHD protein function.
Results
The four mammalian EHD proteins are highly related in sequence as well as domain structure [8, 27]. However, it is not clear whether they have distinct roles in mammalian cells, perform similar function in different cellular contexts or are, to some degree, redundant in function. To begin to address these issues, we have carried out simultaneous biochemical and functional analyses of human EHD1-4 both through reconstitution of function in the C. elegans mutant rme-1(b1045), in which the single EHD ortholog RME-1 is mutated, and by expression in mammalian cells.
Discussion
To determine whether all EHD proteins had a functional role in endocytic trafficking, we took advantage of the availability of a C. elegans mutant in which the EHD ortholog RME-1 was non-functional. We found that all EHD proteins could rescue the basolateral trafficking defect in the intestine of mutant worms and thus demonstrate for the first time that all EHD proteins retain an ancestral endocytic recycling function (Figure 1). Analysis of multiple cell lines indicate that EHD1-4 proteins are co-expressed in several human cell lines concurrently (Figure 2). Moreover, EHD proteins were found to be ubiquitously expressed in the mouse tissues analyzed, albeit with tissue-specific differences in protein levels (Figure 3). Given that all four human EHD proteins function in our C. elegans rescue experiments, their co-expression in mammalian cells (our studies and others [16]) suggests that either mammalian EHD proteins play a functionally redundant role in endocytic recycling or that they have attained additional paralog-specific functions. As discussed below, our findings suggest that EHD proteins play both redundant and specific roles.
Yeast two-hybrid studies as well as co-expression in mammalian cells indicate that EHD1 and 3 form homo- and hetero-oligomers [15]; this process is mediated by a functional P-loop and coiled-coil domain, and is independent of the EH domain [9, 16]. However, oligomerization of EHD2 and 4 have not been previously examined using co-IP analyses. In our analyses, we found that each EHD protein homo- and hetero-oligomerized, however, hetero-oligomerization between EHD proteins was variable. For example, EHD2 oligomerized weakly with EHD3 and 4 (Figure 4A). Consistent with observations that the EH domain is not required for oligomerization [9, 15, 16], the ΔEH mutants oligomerized similar to wild type EHD proteins (Figure 4B). Our results provide the first complete analysis of the oligomerization capabilities of EHD proteins in mammalian cells using a co-IP strategy. These results broadly agree with the predicted coiled-coil structure deduced for each protein (Additional File 3). Co-IP of endogenous EHD2 and 4 in mouse tissue lysates using anti-EHD1 antibodies supports the likelihood that oligomerization is physiologically relevant. Since EHD1 and 3 have been shown to bind to NPF-containing proteins in an oligomerization-dependent (e.g. Rab11FIP2) and -independent manner (e.g. Rabenosyn-5) [16], it is tempting to speculate that oligomerization might not only influence membrane binding but also the selection of protein interaction partners.
The results of our colocalization analyses in HeLa cells mirrored the co-IP results: EHD1, 3 and 4 substantially colocalized while EHD2 showed partial colocalization with EHD4 and little colocalization with EHD1 and 3 (Figure 6). While it is possible that the localization of individual EHD proteins might change upon co-overexpression of other EHD proteins, this appears relatively unlikely since EHD1, 3 and 4 did not appear to change their pattern of localization when expressed with each other; however, EHD4 structures did appear to change upon co-expression with EHD2. In further support of the differential endocytic localization of EHD proteins, we observed that EHD1, 3 and 4 partially colocalized with Rab11 while EHD2 showed minimal colocalization (Figure 7). Interestingly, even though EHD1, 3 and 4 colocalized with Rab11, dramatic perinuclear clustering of Rab11-GFP-positive vesicles only occurred upon overexpression of EHD1 ΔEH and 3 ΔEH mutants (not EHD2 ΔEH and 4 ΔEH) suggesting that EHD1 and 3 may function in the same recycling pathway upstream of Rab11 (Figure 8). We were unable to detect any direct association between EHD proteins and Rab11 upon co-IP analysis (data not shown) similar to a previous report [16]. Knock-down of EHD1 induced the perinuclear clustering of Rab11-GFP similar to that of overexpression of EHD1 ΔEH, however, we were unable to test whether this was the case with EHD3 knock-down due to the inefficiency of EHD3 knock-down (Additional File 6).
A recent study showed that EHD1 and 3 interact with Rab11-FIP2, a Rab11 interacting protein, via EH-NPF interactions, and recruit Rab11-FIP2 to EHD-containing membranes in a P-loop and coiled-coil domain-dependent manner; however, the authors were unable to show an interaction between Rab11 and either EHD1 or 3 [16]. Rab11-FIP2 binds to both the GDP- and GTP-bound forms of Rab11 and is thought to recruit Rab11 to the membrane [39, 40]. We hypothesize that EHD1 and 3 ΔEH mutants might interfere with their wild type protein function since they might not bind to NPF motifs on Rab11-FIP2. Since oligomerization of EHD1 and 3 was shown to be required for Rab11-FIP2 binding [16], the lower propensity for EHD2 and 4 to hetero-oligomerize might spare Rab11-FIP2 function leading to the inability of EHD2 and 4 ΔEH mutants to induce Rab11 clustering. It will be of great interest to assess whether EHD2 and 4 interact with Rab11-FIP2.
Our analyses of the impact of EHD proteins on transferrin exit from the ERC revealed that overexpression of wild type EHD proteins retarded this process (Figure 9B, black). While paradoxical, this finding is not unprecedented, as overexpression of other proteins involved in endocytic traffic, such as Rififylin, the RING finger and FYVE-like domain ERC protein, also led to a block in transferrin recycling [33] perhaps due to disruption of functional protein complexes and/or sequestration of effector proteins. Overexpression of EHD1, 3 and 4 ΔEH mutants further increased the transferrin exit block while that of EHD2 ΔEH did not (Figure 9B, grey).
The role of EHD proteins in transferrin trafficking was further clarified by the use of siRNA-mediated EHD knock-down. Transferrin loading and recycling experiments in siRNA-transfected cells revealed that all EHD proteins regulate transferrin trafficking (Figure 10A–C, Figure 11), in agreement with the results of the dominant-negative mutant approach. These experiments together with published studies on EHD3 [16] allow the classification of EHD proteins into two groups based on their effects on transferrin: EHD1 and 2 appear to regulate exit of transferrin out of the ERC and hence are ERC regulators (Figure 10A–C, Figure 11) while EHD3 [16] and 4 function in the EE and hence are EE regulators. Our results in this regard confirm the studies of the Caplan group using EHD1 and 3 knock-down but extend these to EHD2 and 4.
Our biochemical and functional analyses of EHD proteins together with recent studies from other groups lead to a speculative model depicted in Figure
12
. The four EHD proteins are differentially distributed within the recycling pathway with EHD3 and 4 functional in the EE and EHD1 and 2 in the ERC. At these locations, they could interact through their conserved EH domains with either similar or diverse NPF-containing partners. Distinct oligomers, formed as a result of preferential oligomerization through coiled-coils, could also mediate the recruitment of different EH domain binding partners in each compartment conferring a degree of selectivity to EHD function. For example, the presence of an apparently non-redundant EHD (EHD2) in the recycling endosome might help direct traffic into Rab11-dependent and -independent pathways and increase the versatility of recycling at the ERC. Further biochemical, cell biological and genetic studies on this conserved family of proteins will lead to an improved understanding of the endocytic recycling pathway.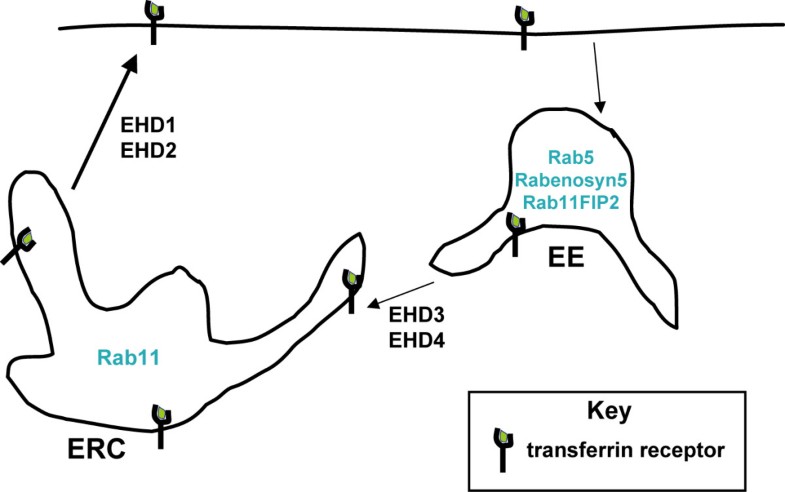 Conclusion
Overall, our biochemical and functional analyses of the human EHD proteins, members of a newly identified EH domain-containing protein family, indicate that they share an ancestral function of regulating endocytic recycling. Studies using dominant negative mutants and siRNA unravelled some important differences between the members, EHD1 and 2 regulate recycling at the ERC while EHD3 and 4 regulate EE to ERC transport. Overall, EHD2 appears to be the most divergent member with respect to localization and functions that we tested, while EHD4 seemed to be intermediate between EHD1/3 and EHD2. As mentioned previously, EHD2 and 4 have been predominantly studied in specific cell types such as adipocytes and pheochromocytoma cells, respectively. However, all four EHD proteins have not been compared concurrently in a single cell type. The contrast between the common ancestral endocytic trafficking function indicated by the C. elegans experiments and differences among EHD proteins revealed by studies in HeLa cells suggest that EHD proteins have functionally diversified during their recent evolution to match the versatility demanded by the complexity of endocytic traffic in mammalian cells. Further, comparative biochemical and cell biological studies of the EHD protein family between mammalian and non-mammalian systems should, therefore, facilitate our understanding of these conserved endocytic regulators, as well as provide new insights into the functional diversity of mammalian endocytic compartments. EHD1 knock-out mice have been generated recently and do not display any abnormality other than slower transferrin recycling in isolated mouse embryonic fibroblasts; possibly, indicating the overall redundancy of the EHD protein family [41]. Availability of single and multiple knock-out mice should further help to delineate EHD function along various steps in the recycling pathway.
Methods
Expression constructs
Sequences encoding human EHD proteins were PCR amplified from clones (ImageClone 5229002 for EHD1, 4908085 for EHD2, 5459130 for EHD3 (ATCC) and Ultimate ORF clone IOH6327 for EHD4 (Invitrogen)) using the primers listed in Additional File 7. The PCR products were cloned into pENTR/SD/D-TOPO vector following the manufacturer's instructions (Invitrogen) and sequences of correct clones were verified. The inserts were then transferred into pcDNA-pDEST47 (Invitrogen) vector using an LR Clonase reaction for CMV promoter-driven expression as C-terminal GFP-fusion proteins. GFP-tagged ΔEH deletion mutants were generated using reverse PCR primers excluding the C-terminal EH domain, the sizes of the mutant proteins with respect to number of amino acids were: EHD1 ΔEH (1–435), EHD2 ΔEH (1–439), EHD3 ΔEH (1–434) and EHD4 ΔEH (1–437); these mutants also contain an N-terminal Myc-tag. Myc-tagged wild type and ΔEH deletion mutants were also generated using the PCR with the inclusion of sequences for the Myc-tag in the forward primers followed by LR-mediated transfer into pcDNA-6.2/cLumio-DEST vector. While Myc-tagged proteins proved very useful in biochemical analyses, anti-Myc immunostaining was not fully comparable to corresponding EHD-GFP fluorescence patterns. To independently confirm the EHD-GFP localization patterns, DsRed-Monomer-tagged wild type EHD constructs were generated specifically for use in colocalization studies using forward primers with an Xho I site and reverse primers with a Hind III site, and cloned into Xho I-Hind III cut DsRed-Monomer-N1 vector (Clontech). All DsRed constructs used in this study were DsRed-Monomer and will be referred to as DsRed.
The EHD3 ImageClone was derived from a neuroblastoma and was found to lack a cytosine (C) at position 1552 of the ORF predicted by the Unigene sequence (ACCESSION: NM_014600), which we confirmed using the reverse transcription-PCR cloning and sequencing of EHD3 mRNA from 20 separate clones from four fibroblast and mammary epithelial cell lines. Therefore, the missing C in the ImageClone-derived EHD3 was replaced by site-directed mutagenesis. Primers used in the study are listed in Additional File 7.
The Rab5-GFP and Rab11-GFP constructs in EGFPN1 vector were provided by Dr. Victor Hsu (Brigham and Women's Hospital, Harvard Medical School, Boston, MA). The GFP-MTMR3 construct was provided by Dr. Michael Clague (University of Liverpool, Liverpool, UK). The Myc-SNX1 construct was provided by Dr. JoAnn Trejo (UNC School of Medicine, Chapel Hill, North Carolina).
Cell culture
HeLa cells (obtained from Dr. Victor Hsu) and human embryonic kidney (HEK) 293T cells were grown in Dulbecco's Modified Eagle Medium (DMEM) containing 5% fetal bovine serum (FBS, Hyclone Inc., Logan, UT), 20 mM HEPES, pH 7.35, 1 mM sodium pyruvate, 1 mM each of nonessential amino acids, 100 units/ml penicillin and 100 μg/ml streptomycin (all supplements from Invitrogen).
Primary (76N) and immortalized (16A5, MCF10A) human mammary epithelial cell strains were grown in DFCI-1 medium as described [42]. Human Breast carcinoma cell line T47D, cervical carcinoma cell line SiHa and osteosarcoma cell line U2OS were cultured in alpha-minimal essential medium (Invitrogen) supplemented with 5% fetal calf serum (Hyclone Inc., Logan, UT).
Gene knock-down by small interfering RNA (siRNA)
Small interfering RNA (siRNA) oligonucleotides (synthesized by Dharmacon, Lafayette, CO) were transfected using Oligofectamine (Invitrogen) following the manufacturer's instructions. Demonstrable knock-down of protein expression was seen 48 h after transfection. siRNA sequences targeting EHD1 and EHD3 were as in Caplan et al. 2005 (EHD1, 5'-gaa aga gat gcc caa tgt c, bases 945–963; EHD3, 5'-act gga cat ctc tga tga g, bases 945–963) [16]. siRNA sequences targeting EHD2 and EHD4 (EHD2, 5'-gtc tac atc ggc tcc ttc t, bases 754–772; EHD4, 5'-tgg agg acg ccg act tcg a, bases 158–176) were generated using the SFold algorithm [43]. An irrelevant siRNA control (siCONTROL Non-Targeting siRNA, Cat. #D-001210-01-20) was purchased from Dharmacon (Lafayette, CO).
Antibodies and Western blotting
Rabbit polyclonal antibodies were raised against synthetic peptides coupled through an N-terminal cysteine to Keyhole Limpet Hemocyanin (KLH) (CVSKDARRKKEPELF for EHD1, CSKRRHKGSAE for EHD2, CNLKRMQDQLQAQ for EHD3, and CSHRKSLPKAD for EHD4) using a commercial vendor (Animal Pharm Services, Inc., Healdsburg, CA). Primary immunization with 150 μg of KLH-peptide in Freund's Complete Adjuvant was followed by three booster injections of 100 μg in Freund's Incomplete Adjuvant. The monoclonal antibody 9E10 (anti-Myc) [44] was purified from serum-free culture supernatants using Protein G Sepharose 4 Fast Flow beads (Amersham Biosciences, Piscataway, NJ). Rabbit anti-green fluorescent protein (anti-GFP, sc-8334) was from Santa Cruz Biotechnology (Santa Cruz, CA).
For Western blotting, cell lysates were prepared in Laemmli SDS-PAGE sample buffer, and protein concentration was determined using the Bio-Rad Dc Protein Assay (Bio-Rad Laboratories, Hercules, CA) with bovine serum albumin as standard. Aliquots of 100 μg protein lysate were separated by SDS-PAGE, transferred to polyvinylidene difluoride (PVDF) membranes (PerkinElmer, Boston, MA) and immunoblotted with 1:2000 dilutions of the indicated antisera, followed by 1:10,000 dilution of horseradish peroxidase (HRP)-conjugated protein A (Cappel/Organon Teknika Corp., West Chester, PA), as described [45]. Signals were detected using Western Lightning Chemiluminescence Reagent Plus (PerkinElmer, Boston, MA) and Kodak X-Omat Blue XB-1 film (PerkinElmer, Boston, MA). Figures were prepared by direct scanning of films with a Hewlett Packard Scanjet 7400c scanner and Photoshop 6.0 software.
Preparation of mouse tissue lysates
Mice (18 week-old male and female C57BL/6J) were sacrificed and organs were dissected (brain, heart, lung liver, spleen, kidney, intestine, and testes (male) or mammary gland (female)), washed thoroughly in PBS, chopped into fine pieces, and rocked at 4°C in tissue lysis buffer (50 mM Tris-HCl (pH7.5), 150 mM NaCl, 1 mM EDTA, 2.5 mM EGTA, 1 mM DTT, 0.1% Tween-20, 10% glycerol, 2 mM Na3VO4, 20 mM NaF, 1 mM PMSF) overnight. 100 μg of aliquots of lysate protein were separated using 8% SDS-PAGE and Western blotted as described above.
Co-immunoprecipitations
HEK 293T cells were transfected with 2.5 μg each of Myc-EHD and EHD-GFP DNA constructs using a modified version of the calcium phosphate method [46], grown for 26–30 h, lysed with cold lysis buffer (1% Triton X-100, 150 mM NaCl, 50 mM Tris-HCl, pH 7.6) supplemented with 0.1 mM phenylmethylsulfonyl fluoride, 1 mM sodium orthovanadate, and 10 mM sodium fluoride [47], and rocked at 4°C overnight or 1–2 hours for Myc-EHD and Myc-EHD ΔEH immunoprecipitations, respectively. Immunoprecipitations were carried out as described previously [48, 49] using 1 mg aliquots of protein lysate, 3 μg of anti-Myc antibody and 20 μl of Protein G Sepharose beads. Beads were washed five times, and bound proteins were eluted in Laemmli sample buffer with 2-mercaptoethanol and resolved by 8% SDS-PAGE followed by immunoblotting. Myc-tagged proteins were detected with mouse-anti-Myc 9E10 at 500 ng/ml and rabbit anti-mouse IgG (H+L)-HRP conjugate (Zymed, San Fransisco, CA) at 1:25,000. GFP-tagged proteins were detected with rabbit anti-GFP (Santa Cruz Biotechnology, Santa Cruz, CA) at 200 ng/ml followed by Protein A-HRP (Zymed, San Fransisco, CA) at 1:25,000. Chemiluminescence detection was as described above.
Transfection, immunofluorescence and confocal microscopy
HeLa cells were grown on 12-mm diameter glass coverslips (Fisher Scientific, Pittsburgh, PA) for 1 day, transfected using the calcium phosphate co-precipitation method with the desired plasmids for 24 h, rinsed with phosphate-buffered saline (PBS) and fixed with 4% paraformaldehyde in PBS at 4°C o Cvernight. The cells were rinsed with PBS, followed by the addition of permeabilization and blocking buffer (PBS containing 5% FBS and 0.05% saponin from Quillaja bark (Sigma, St. Louis, MO) at 25°C for 30 min. For anti-Myc staining, cells were incubated with mouse-anti-Myc (0.5 μg/ml) at 25°C for 1 h. After rinsing with wash buffer (0.05% saponin in PBS), cells were incubated with Alexa Fluor 594-conjugated goat anti-mouse IgG (Molecular Probes, Eugene, OR, A11005) at 25°C for 1 h. The cells were washed extensively with wash buffer and mounted on glass slides using Vectasheild with DAPI for nuclear staining (Vector Laboratories, Burlingame, CA). Fluorescently-stained cells were scanned using a Nikon Eclipse 80i confocal microscope equipped with a Nikon D-eclipse C1 scanning head (Nikon) and analyzed using the EZ-C12.10 software.
Live cell imaging
Live cell video microscopy was performed on transfected HeLa cells grown on Poly-D-Lysine-coated 35-mm coverslip bottom dishes (BD Biocoat Cell Environments). During imaging, cells were immersed in CO2-independent medium (Life Technologies, Grand Island, NY). The cells were imaged every 5 seconds for 7 minutes using a 100× oil immersion objective on an inverted microscope (Model TE2000-U; Nikon) equipped with a charge-coupled device camera controlled by Metamorph software (Universal Imaging Corp.). Image control and post-capture image analysis were performed using MetaMorph software.
Transferrin recycling
Wild type or Myc-EHD ΔEH-transfected HeLa cells were loaded with Alexa Fluor 488-labeled transferrin (Molecular Probes, Eugene, OR, T-13342) at 10 μg/ml in internalization media (DMEM, 10 mM HEPES pH 7.4, 0.1% BSA) at 37°C for 30 min, rinsed with ice-cold PBS followed by transferrin chase by incubation at 37°C in regular serum-containing media [38]. At the indicated time points, cells were washed twice and fixed with 4% paraformaldehyde, stained with anti-Myc antibody and mounted as above, followed by image acquisition. For colocalization of transferrin with Rab5 and Rab11 in siRNA-transfected cells, cells were transfected with Rab5 and Rab11-GFP 24 h after siRNA transfection using the FuGene 6 reagent (Roche Diagnostics, Indianapolis, IN). After 24 hours, the cells were loaded with transferrin as described above, fixed in 4% paraformaldehyde and mounted on glass slides using Vectasheild with DAPI for nuclear staining (Vector Laboratories, Burlingame, CA). Confocal analyses were performed with Zeiss inverted LSM510 confocal microscopy system.
C. elegans strains, culture conditions, and rme-1(b1045) rescue experiments
C. elegans worms were cultured at 22°C under standard growth conditions [50]. Strains used in this study were: Bristol strain N2 (wild type) and rme-1(b1045) with a mutation in the EHD ortholog [10]. To test whether human EHD proteins could rescue the vacuolated intestine phenotype of rme-1 worms, full length human EHD cDNAs were expressed downstream of a worm intestine-specific Vha-6 promoter [30] in pENtr vector containing the SL2-gfp operon cassette [51] (details of plasmids available upon request). The rescue constructs (50 ng/μl) were co-injected with a GFP marker (myo::gfp at 100 ng/μl) into the gonads of hermaphrodite rme-1(b1045) worms using standard methodology [52]. The intestinal vacuoles were counted in three independent lines of transgenic adult worms (grown 3–4 days) expressing GFP in intestinal cells. At least 25 worms were counted for each independent line. The basolateral endocytosis assay of the intestinal vacuoles was performed in adult hermaphrodites by microinjection of 1 mg/mL Texas-Red BSA into the pseudocoelom as described [10].
Abbreviations
1The abbreviations used are:

co-immunoprecipitation = co-IP, EE = early endosome, Eps15 = epidermal growth factor receptor pathway substrate 15, EH = Eps15 Homology, EHD protein = EH domain-containing protein, ERC = endocytic recycling compartment, NPF = Asn-Pro-Phe, RME-1 = receptor-mediated endocytosis-1, P-loop = phosphate-binding loop, Rab11-FIP2 = Rab11-Family Interacting Protein 2, Tf = transferrin, TR-BSA = Texas Red-BSA, siRNA = small interfering RNA.
Declarations
Acknowledgements
This work was supported by the NIH Grants CA 87986, CA 76118, CA 99900 and CA99163 to HB, and CA94143, CA96844 and CA81076 VB; and by the DOD Breast Cancer Research Grants DAMD 17-02-1-0303 to HB and DAMD 17-02-1-0508 and W81XWH-05-1-0231 to VB. HB and VB gratefully acknowledge the support of the Jean Ruggles-Romoser Chair for Cancer Research and the Duckworth Family Chair in Breast Cancer Research, respectively. GY is the recipient of Arthur Michel, M.D. Fellowship for Breast Cancer Research at Evanston Northwestern Healthcare. MR is supported by Grant T32 CA70085 from the National Institutes of Health to the Robert H. Lurie Comprehensive Cancer Center Training Program in Signal Transduction and Cancer. We thank Dr. Victor Hsu for the Rab11-GFP and Rab5-GFP constructs, Dr. Micheal Clague for the GFPMTMR3 construct, Dr. JoAnn Trejo for the Myc-SNX1 construct, Dr. CB Gurumurthy for critical reading of the manuscript, Dr. Sumeet Virmani for help with anti-EHD antibody screening, Dr. Chaozhong Zou for help with microscopy, Yousaf Mian for technical assistance in the C. elegans work and Dr. Lei Duan for insightful discussions and members of the Band laboratories for suggestions and technical help.
Authors' Affiliations
(1)
Division of Molecular Oncology, Evanston Northwestern Healthcare Research Institute, Department of Medicine, Feinberg School of Medicine, Northwestern University, Evanston, USA
(2)
Division of Cancer Biology, Evanston Northwestern Healthcare Research Institute, Department of Medicine, Feinberg School of Medicine, Northwestern University, Evanston, USA
(3)
Department of Biochemistry, Molecular Biology and Cell Biology, Northwestern University, Evanston, USA
(4)
Robert H. Lurie Comprehensive Cancer Center, Northwestern University, Evanston, USA
Copyright
© George et al; licensee BioMed Central Ltd. 2007
This article is published under license to BioMed Central Ltd. This is an Open Access article distributed under the terms of the Creative Commons Attribution License (http://creativecommons.org/licenses/by/2.0), which permits unrestricted use, distribution, and reproduction in any medium, provided the original work is properly cited.