Circulating microparticles: square the circle
BMC Cell Biology
2013
14:23
Received: 5 November 2012
Accepted: 20 March 2013
Published: 22 April 2013
Abstract
Background
The present review summarizes current knowledge about microparticles (MPs) and provides a systematic overview of last 20 years of research on circulating MPs, with particular focus on their clinical relevance.
Results
MPs are a heterogeneous population of cell-derived vesicles, with sizes ranging between 50 and 1000 nm. MPs are capable of transferring peptides, proteins, lipid components, microRNA, mRNA, and DNA from one cell to another without direct cell-to-cell contact. Growing evidence suggests that MPs present in peripheral blood and body fluids contribute to the development and progression of cancer, and are of pathophysiological relevance for autoimmune, inflammatory, infectious, cardiovascular, hematological, and other diseases. MPs have large diagnostic potential as biomarkers; however, due to current technological limitations in purification of MPs and an absence of standardized methods of MP detection, challenges remain in validating the potential of MPs as a non-invasive and early diagnostic platform.
Conclusions
Improvements in the effective deciphering of MP molecular signatures will be critical not only for diagnostics, but also for the evaluation of treatment regimens and predicting disease outcomes.
Keywords
Circulating
Microparticles
Exosomes
Microvesicles
Disease
Diagnostics
Therapy
Background
The present review summarizes information concerning microparticles (MPs), covering the clinical aspects of circulating MPs, recent advances and technological developments in this field.
Implementation
Several recent reviews have concentrated on specific aspects of cellular vesicles biology, focusing primarily on exosomes (subset of cellular vesicles with size < 100 nm) and the mechanisms involved in cellular vesicles release and signaling [1–6]. This review focuses on another subset of cellular vesicles, i.e. microparticles (MPs). MPs are submicron vesicular fragments of cells that can be released by diverse eucaryotic and procaryotic cells and multicellular organisms under conditions of stress/injury [7–9]. Although novel methods to identify and characterize MPs have been developed in the last decade, classification of MPs, understanding of the molecular mechanisms of their release and biological function are still under intensive scrutiny [10–14]. The aims of this review article are to provide i) a systematic overview on circulating MP biology, and ii) a comprehensive description of the role of MPs in different diseases, based on the analysis of over 200 publications addressing changes in circulating MPs during pathological processes.
Conclusion
As methods for isolating and characterizating MPs advance, it is anticipated better understanding of the mechanisms of MP formation and functional activity will be achieved in near future (a current overview of MP activity is summarized in Figure 
5
). Flow cytometry, fluorescent microscopy and light scattering methods will be critical for the characterization of MP preparations. A growing number of reports have demonstrated that MPs are produced by a remarkably diverse array of cell types and may alter the phenotype and behavior of different cell populations. However, despite four decades of MP research, we are just beginning to understand the contribution of MPs to disease development and pathogenesis. The association of elevated MP levels with many different pathological states makes them of particular interest for clinical research, and suggests that these tiny vesicles have great potential for the development of new diagnostic assays aimed at identifying early stages of pathological disorders and response for therapy, the creation of a novel class of therapeutics for improved intervention in a group of difficult-to-treat diseases. Future diagnostic exploitation of MPs may circumvent the need for some current invasive procedures, such as amnioscentesis or chorion villus sampling for the diagnosis of prenatal disorders. Further dissection of circulating MP components and their functional roles will undoubtly expand their usefulness as biomarkers and, in turn, as sentinels that steer investigators to more efficacious treatment options.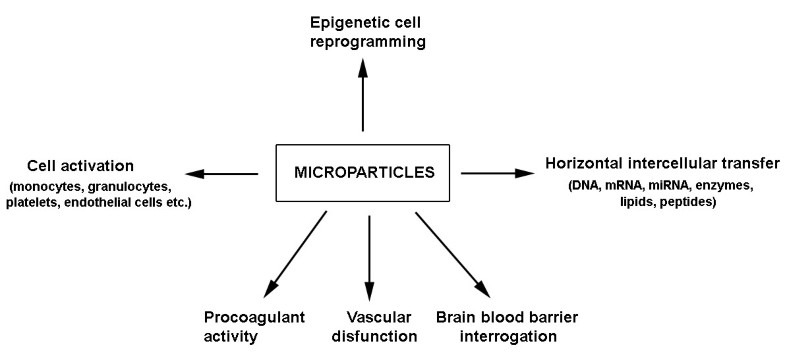 Abbreviations
AB:

Antibody
ABCA1:

ATP binding cassete transporter A1
ABCB1:

ATP binding cassete transporter B1
ADAM10:

A disintegrin and metalloproteinase domain-containing protein 10
ARF6:

ADP-ribosylation factor 6
Allo-HSCT:

Allogeneic hematopoietic stem cell transplantation
ARFCES:

Carcinoembryonic antigen
ASCT:

Allogeneic stem cell transplantation
BALF:

Bronchoalveolar lavage fluid
calcein AM:

Acetometoxy derivate of calcein
CCR5:

C-C chemokine receptor type 5
CXCL12:

Chemokine (C-X-C motif) ligand 12
CXCR-4:

C-X-C chemokine receptor type 4
DC:

Dendritic cell
EDTA:

Ethylenediaminetetraacetic acid
EM:

Electronic microscopy
EGFR:

Epidermal growth factor receptor
EMPs:

Endothelial microparticles
EpCAM:

Epithelial cell adhesion molecule
Er-MPs:

Erythrocyte-derived microparticles
ERK:

Extracellular signal-regulated kinase
Fas:

CD95
FasL:

Fas ligand
FMD:

Flow-mediated vasodilatation
GVHD:

Graft-versus-host disease
HER2:

Human epidermal growth receptor 2
HIV:

Human immunodeficiency virus
HSP:

Heat shock protein
HUVEC:

Human umbilical vein endothelial cell
ICAM-1:

Intercellular adhesion molecule 1
LLC:

Lewis lung carcinoma
LPS:

Lipopolysaccharide
MDR:

Multiple drug resistance
mRNA:

Messenger RNA
miRNA:

microRNA
MMPs:

Metalloproteinase
MPs:

Microparticles
NTA:

Nanoparticle tracking assay
PAF:

Platelet-activating factor
PBMCs:

Peripheral blood mononuclear cells
PCOS:

Polycystic ovary syndrome
P-gp:

P-glycoprotein
PMPs:

Platelet-derived microparticles
PMNs:

Polympophnonuclear neutrophils
PS:

Phosphatidylserine
RNA:

Ribonucleic acid
sPLA2:

Secretory phospholipase A2
PTEN:

Phosphatase and tensin homolog
ROCK-1:

Kinase
Rho-1:

Associated kinase
SIRS:

Systemic inflammatory response syndrome
SLE:

Systemic lupus erythematosus
STAT:

Signal transducer and activator of transcription
TF:

Tissue factor
TLR:

Toll-like receptor
TNF-α:

Tumor-necrotic factor alpha
TRAIL:

TNF-related apoptosis-induced ligand
TRM:

Transplantation-related mortality
TSG101:

Tumor specific antigen 101
VEGF:

Vascular endothelial growth factor.
Declarations
Acknowledgements
We are thankful to Luke Jasenosky and Aleksandra Gorelova (Harvard University) for editorial help with the manuscript. NSB was supported by a Harvard Pilot Grant and the Immune Disease Institute, and IAV was supported by Russian Foundation for Basic Research grants 11-01517a and 11-01749a.
Authors' Affiliations
(1)
Program in Cellular and Molecular Medicine, Boston Children's Hospital, Boston, USA
(2)
Department of Pediatrics, Harvard Medical School, Boston, USA
(3)
Institute of Chemistry and Bioanalytics, University of Applied Sciences Northwestern Switzerland (FHNW), Muttenz, Switzerland
(4)
Department of Biomedicine, University Hospital Basel, Basel, Switzerland
(5)
Division of Hematology, University Hospital, Geneva, Switzerland
(6)
Department of Developmental Biology, Harvard School of Dental Medicine, Boston, USA
(7)
Center for Neurologic Disease, Brigham and Women's Hospital, Harvard Medical School, Boston, USA
(8)
Thematic Research Program for Neurodegeneration, Development and Repair, School for Biomedical Sciences, The Chinese University of Hong Kong, Shatin, Hong Kong
(9)
BD Biosciences Inc, San Jose, USA
(10)
A.N. Belozersky Institute for Physico-Chemical Biology and Department of Cell Biology, Biological Faculty, M.V. Lomonosov Moscow State University, Moscow, Russia
Copyright
© Barteneva et al.; licensee BioMed Central Ltd. 2013
This article is published under license to BioMed Central Ltd. This is an Open Access article distributed under the terms of the Creative Commons Attribution License (http://creativecommons.org/licenses/by/2.0), which permits unrestricted use, distribution, and reproduction in any medium, provided the original work is properly cited.