Research article

Open Access
BMP signaling balances proliferation and differentiation of muscle satellite cell descendants
BMC Cell Biology
2011
12:26
Received: 8 June 2010
Accepted: 6 June 2011
Published: 6 June 2011
Abstract
Background
The capacity of muscle to grow or to regenerate after damage is provided by adult stem cells, so called satellite cells, which are located under the basement lamina of each myofiber. Upon activation satellite cells enter the cell cycle, proliferate and differentiate into myoblasts, which fuse to injured myofibers or form new fibers. These processes are tightly controlled by many growth factors.
Results
Here we investigate the role of bone morphogenetic proteins (BMPs) during satellite cell differentiation. Unlike the myogenic C2C12 cell line, primary satellite cells do not differentiate into osteoblasts upon BMP signaling. Instead BMP signaling inhibits myogenic differentiation of primary satellite cells ex vivo. In contrast, inhibition of BMP signaling results in cell cycle exit, followed by enhanced myoblast differentiation and myotube formation. Using an in vivo trauma model we demonstrate that satellite cells respond to BMP signals during the regeneration process. Interestingly, we found the BMP inhibitor Chordin upregulated in primary satellite cell cultures and in regenerating muscles. In both systems Chordin expression follows that of Myogenin, a marker for cells committed to differentiation.
Conclusion
Our data indicate that BMP signaling plays a critical role in balancing proliferation and differentiation of activated satellite cells and their descendants. Initially, BMP signals maintain satellite cells descendants in a proliferating state thereby expanding cell numbers. After cells are committed to differentiate they upregulate the expression of the BMP inhibitor Chordin thereby supporting terminal differentiation and myotube formation in a negative feedback mechanism.
Keywords
Satellite CellC2C12 CellMyogenic DifferentiationMononucleated CellCell Cycle Exit
Background
Adult muscle tissue is characterized by its capacity to grow after exercise and to regenerate after injury. Both processes require stem cells - so called satellite cells, which are located between the myofiber membrane and the surrounding basement lamina [1]. Activation of quiescent satellite cells by external stimuli, like exercise or injury, leads to their re-entry into the cell cycle to provide myoblasts to the regenerating muscle. While most of the satellite cell descendants are committed to differentiate, either by fusing to existing fibers or by forming new myofibers, some of these cells do not enter the differentiation program, but exit the cell cycle and return to a quiescent state [2]. The activated satellite cells will thus not only provide myonuclei to the regenerating muscle but will also replenish the stem cell reservoir [3–5].
During satellite cell differentiation distinct phases can be distinguished, which are characterized by the expression of different transcription factors. The paired-box transcription factor Pax7, a marker widely used to identify satellite cells, is expressed in quiescent satellite cells [6]. Activated satellite cells maintain Pax7 expression and, in parallel, upregulate MyoD, a member of the family of myogenic regulatory factors (MRFs). MyoD expression is maintained during proliferation and early differentiation [5, 7–10]. Commitment to differentiation is characterized by the onset of Myogenin expression, another member of the group of MRFs [5, 7–10]. Upon terminal differentiation postmitotic satellite cell descendants fuse into myotubes and start to express muscle structure proteins like myosin. Based on the expression of these transcription factors adult regenerative myogenesis largely recapitulates the embryonic and fetal program of muscle differentiation.
During the last years various growth factors and signaling pathways have been identified that control myoblast differentiation during embryogenesis. The process of self-renewal, for example, has been linked to canonical Wnt signaling as well as to the non-canonical planar cell polarity pathway [11, 12].
Hepatocyte growth factor (Hgf) is one of the key regulators during activation of quiescent satellite cells. Different studies demonstrate that Hgf, released from the muscle extracellular matrix immediately after injury, signals to the Hgf receptor c-met, which is expressed in quiescent satellite cells [13–15]. The expansion of the satellite cell pool is positively regulated by Fibroblast growth factors (FGFs), which activate proliferation synergistically to Hgf [16]. Furthermore, the expression of Fgf receptor 4 (Fgfr4) has been reported to be upregulated during satellite cell activation [17]. Besides a potential role during satellite cell activation, FGFs control proliferation of satellite cells in vitro and in vivo[10, 18].
Another important group of signaling factors regulating satellite cell differentiation are members of the Transforming growth factor β (TGFβ) family. Tgfβ1, the best-characterized family member during adult myogenesis, has been shown to inhibit satellite cell proliferation and differentiation in vitro and to negatively regulate muscle growth and regeneration in vivo[19]. TGFβ signaling requires binding of the ligand to type I and type II receptors, leading to the formation of a hetero-tetrameric receptor complex. Phosphorylation of type I by type II receptors leads to the subsequent phosphorylation of receptor regulated SMAD proteins, which form heterodimers with the common coactivator Smad 4. These complexes translocate to the nucleus, where they function as transcription factors to regulate TGFβ target gene expression [20].
Bone morphogenetic proteins (BMPs) form a subgroup of the TGFβ family of growth factors. BMPs regulate target gene expression via phosphorylation of Smad 1, 5 and 8. The activity of BMPs is negatively regulated by secreted BMP inhibitors, like Noggin and Chordin, which inhibit binding of the growth factors to their receptors [21]. BMPs have originally been identified by their capacity to induce bone formation when injected into adult rat muscles [22]. The osteogenic effect of BMPs was intensively studied in C2C12 cells, a cell line derived from regenerating muscle. C2C12 cells will form multinucleated myotubes upon serum starvation, but will differentiate into osteoblasts upon stimulation with BMPs [23–25]. Due to this observation BMP signaling has not been intensively studied in the context of adult myogenesis. In contrast to these cell culture experiments several studies have identified BMPs as regulators of chick embryonic myogenesis in somites and limbs [26–28]. Based on these findings we have re-analyzed the role of BMP signals during satellite cell differentiation using C2C12 cells and primary adult mouse satellite cells. We found that BMPs keep satellite cell descendants in a proliferating state, while cell cycle exit and myotube formation is induced by inhibition of BMP signaling. We also demonstrated that the BMP pathway is activated during in vivo muscle regeneration.
Discussion
In this study we investigated the function of BMP signaling during satellite cell differentiation. Detailed analysis revealed that satellite cells respond to BMP signals during early stages of the activation process. BMP signals prevent cell cycle exit of activated satellite cells and proliferating myoblasts, leading to an expansion of the pool of satellite cell descendants. Furthermore, BMP signaling seems to support Pax7 expression at early activation stages. In contrast, inhibition of BMP signaling promotes cell cycle exit and differentiation leading to a reduced number of myoblasts and enhanced myotube formation. Interestingly, the BMP inhibitor Chordin is upregulated during the differentiation of primary satellite cell cultures. Inhibition of BMP signaling might thus support the transition from a proliferating to a differentiating state. To test our hypothesis in vivo, we analyzed muscle regeneration in a standardized injury mouse model. Similar to the ex vivo experiments we found BMP signaling upregulated in activated satellite cells at early stages of differentiation. At later stages, when Myogenin expression decreases in the trauma muscle we found Chordin expression upregulated. Based on these data we propose a role for endogenous BMP signals in expanding the pool of proliferating satellite cells and preventing premature differentiation into myotubes. A temporally coordinated, intrinsic inhibition of BMP signals by Chordin will subsequently regulate the pace of the differentiation process.
Conclusions
In summary, we propose a model (Figure
10
), in which satellite cells are activated in a BMP-independent mechanism by Hgf. BMPs, possibly released from the extracellular matrix, will then act in parallel to Hgf and FGF signals and contribute to keep satellite cells in a proliferating state. This effect is likely to be driven by the activation of ID proteins by phosporylated SMAD proteins. After satellite cells are committed to differentiate they express increasing amounts of the BMP inhibitor Chordin. Inhibition of BMP signaling, likely in parallel with activated TGFβ signaling, will support cell cycle exit and initate the differentiation into myotubes. At later stages during the regeneration process fused myoblasts loose the competence to react to BMP signals possibly allowing the storage of BMP protein in the extracellular matrix.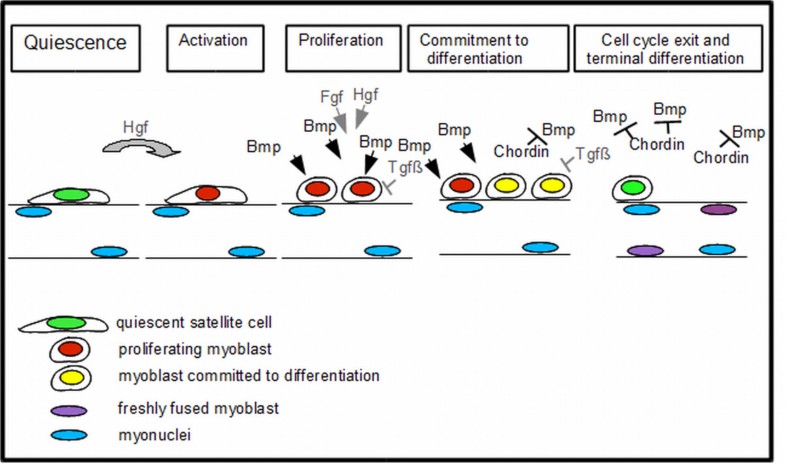 Materials and methods
Mice
10-15 weeks old male C57BL6/J mice were bred and kept according to institutional guidelines. 8-10 weeks old male BALB/c mice were obtained from Harlan. Muscle trauma in anaesthetized BALB/c mice was induced as previously described [35]. Briefly, a drop-mass of 20 g (height 1.20 m) delivered a single impact on the posterior part of the gastrocnemius muscle without fracture of the bone. The trauma was induced on both hindlimbs. 3 animals were used per time point except 2 animals at day 1. Controls (n = 6) were anaesthetized only. Animals were sacrificed by cervical dislocation and muscle tissue was dissected for further processing.
Single fiber isolation and culture
Single fiber isolation was carried out as previously described [62]. Mouse EDL muscles from C57BL/6 mice were carefully dissected and digested in 0.2% Collagenase type I (Sigma). Myofibers were released from the tissue by gentle tituration and transferred into DMEM/F12 medium containing 10% horse serum (Invitrogen) and 0.5% chicken embryo extract (MP Biomedicals) for up to 72 hours (floating myofiber cultures). Serum-free cultures were kept in DMEM/F12 medium containing 20% serum replacement 2 (Sigma). For satellite cell adhesion fibers were cultured in plating medium for 20 hours and each fiber was transferred into a single well of a 24-well plate coated with matrigel (BD Biosciences). After adhesion, proliferation medium containing DMEM/F12, 10% horse serum, 20% fetal bovine serum (Pan Biotech) and 1% chicken embryo extract was added to the culture and satellite cells were expanded for 4 days [63]. Differentiation was induced by switching to DMEM/F12 medium containing 10% horse serum, 2% fetal bovine serum and 0.5% chicken embryo extract. Cultures were supplemented with 100 ng/ml Bmp7 or 125 ng/ml Noggin (RnD systems). Medium and growth factors were replaced daily.
C2C12 cell culture
C2C12 cells (DSMZ) were maintained subconfluent in DMEM containing 10% fetal bovine serum. For differentiation analysis 2 × 104 cells/cm2 were seeded and grown for further 24 hours. Differentiation was induced by switching to DMEM containing 2% horse serum. Cultures were supplemented with 100 ng/ml Bmp7 or 125 ng/ml Noggin (RnD systems). Medium and growth factors were replaced every day. For proliferation analysis 10 μM 5-bromo-2'-deoxyuridine (BrdU) (Roche) was added to the culture 2 hour prior to fixation, unless otherwise mentioned (Figure 5).
Tissue processing
Unfixed gastrocnemius muscles were carefully dissected from the hindlimb of injured mice and embedded in OCT (Sakura). Tissue samples were frozen in liquid nitrogen-cooled isopentane. 10 μm serial cryosections (Mikrom) were mounted on Superfrost slides (Roth) and dried for further processing. For histological staining OCT was removed and sections were stained in 0.1% Toluidin Blue (Merck).
Immunostaining
For immunostaining, myofibers, satellite cell cultures and sections were washed in PBS and fixed in 4% paraformaldehyde (PFA). Cultures processed for BrdU detection were incubated in 2 N HCl for 30 minutes followed by neutralization in 0.1 M Na2B4O7 for 10 minutes. After washing, permeabilisation was carried out in 0.5% TritonX100/PBS (PBT) followed by blocking in 10% goatserum in 0.05% PBT. Antibodies diluted in blocking reagent were applied over night at 4°C. Secondary antibodies were applied for 45 minutes and followed by counterstaining with 100 ng/ml DAPI (Roth) in PBS for 5 minutes. Primary antibodies used were mouse anti-Pax7 and mouse anti-Myosin (clone A4.1025, DSHB), mouse anti-Myogenin (DAKO cytomation), rabbit anti-MyoD (Santa Cruz, except for Figure 9J), rabbit anti-phospho-Smad 1/5/8 and rabbit anti-cleaved Caspase-3 (Cell Signaling Technologies), rat anti-BrdU (Abcam), rabbit anti-Desmin (Sigma) in appropiate dilutions. Detection of primary antibodies was carried out using Alexa 488 and Alexa 568 fluorochrome-coupled secondary antibodies (Molecular Probes). For tissue double labeling (Figure 9J) goat anti-MyoD (Santa Cruz, N-19) and rabbit anti-phospho-Smad 1/5/8 (Cell Signaling Technologies) were used. Secondary detection was carried out using Alexa-fluorochrome-coupled secondary antibodies (Molecular probes) raised in donkey.
Alkaline phosphatase activity assay
Adherent cells were washed in PBS and fixed in 4% PFA for 10 minutes. After several washes in PBS, cells were preincubated in 100 mM Tris pH 9.5, 100 mM NaCl and 50 mM MgCl2 (NTM). NBT/BCIP substrate (Roche) was diluted in NTM and applied to the cells for 45 minutes. Internal positive control on primary cells was carried out by incubating fixed cells with a Fgf8-alkaline phosphatase fusion protein. Cells were treated as described above.
RNA isolation and PCR analysis
RNA was isolated using Trizol (Invitrogen) and cDNA was prepared using Superscript III (Invitrogen) according to the manufacturer's instructions. Quantitative PCR was performed on a Step one plus realtime PCR system (Applied Biosystems) using EVA green PCR master mix (Biobudget) according to the manufacturer's guidelines. β2-miroglobulin was used as reference. Relative quantification was carried out using the method of Pfaffl [64]. Semi-quantitative PCR was carried out using DreamTaq Polymerase (Fermentas) on Biometra cycler. Primers used were as follows: Gapdh for: 5'CCAGGAGCGAGACCCCACTA3'; Gapdh rev: 5'GCAGTTGGTGGTGCAGGATG3'; β2 m for: 5'GCTCGGTGACCCTGGTCTTT3'; β2 m rev: 5'GAGGCGGGTGGAACTGTGTT3'; MyoD for: 5'CGAGCACTACAGTGGCGACTCAGAT3'; MyoD rev: 5'GCTCCACTATGCTGGACAGGCAGT3'; Myogenin for: 5'CCATCCAGTACATTGAGCGCCTACA3'; Myogenin rev: 5'ACGATGGACGTAAGGGAGTGCAGAT3'; Chordin for: 5' ATAGCCCTGCTCACCCTC AGTGACA3'; Chordin rev: 5'GCTCCAACCAGTCCATCTCTTGGTC3'; Bmp7 for: 5'CCTGTCCATCTTAGGGTTGC; Bmp7 rev: 5'CAGTGAGGAAGTGGCTGTCC3'.
Imaging and statistical analysis
Fluorescence pictures were taken on a Zeiss Axiovert 200 microscope with a Spot 23.0 camera (Diagnostic Instruments) and Metamorph Imaging Software (Visitron Imaging systems). For each experiment done in triplicates, 10 pictures/well were randomly taken at 200-fold magnification. The Metamorph cell cycle tool was used to count nuclei and BrdU or Myosin-positive C2C12 cells. For primary satellite cell descendants, 2 individual pictures from the middle of each clone were taken in a 100-fold magnification and cells were counted and categorized manually. Quantification of fluorescence signal intensity was performed using the Metamorph image analysis tool. In short, the fluorescence intensity in the nucleus was measured and related to the total area of the nucleus. Statistic significance was assessed using the generalized Wilcoxon test (for Myosin-positive cells) or Wilcoxon test (for all other experiments). p-values < 0.05 were regarded as significant. Diagrams show mean values. Bars indicate standard deviation.
Declarations
Acknowledgements
We would like to thank Dr. Daniel Hoffmann for helpful comments on the statistic evaluation, Dr. Kay Grobe for kindly providing the Fgf8-gWIZ-SEAP, Prof. Thomas Voit and and Dr. Helge Amthor for financial support and discussion. We thank Yvonne Krause for technical assistance.
Authors' Affiliations
(1)
Center for Medical Biotechnology, Faculty of Biology, Department of Developmental Biology, University of Duisburg-Essen, Essen, Germany
(2)
Department of Paediatrics, University Hospital of Essen, Essen, Germany
(3)
Surgical Research, Department of Trauma Surgery, University Hospital Essen, Essen, Germany
Copyright
© Friedrichs et al; licensee BioMed Central Ltd. 2011
This article is published under license to BioMed Central Ltd. This is an Open Access article distributed under the terms of the Creative Commons Attribution License (http://creativecommons.org/licenses/by/2.0), which permits unrestricted use, distribution, and reproduction in any medium, provided the original work is properly cited.