Research article
Open Access
Complete reversal of epithelial to mesenchymal transition requires inhibition of both ZEB expression and the Rho pathway
BMC Cell Biology
2009
10:94
Received: 9 June 2009
Accepted: 21 December 2009
Published: 21 December 2009
Abstract
Background
Epithelial to Mesenchymal Transition (EMT) induced by Transforming Growth Factor-β (TGF-β) is an important cellular event in organogenesis, cancer, and organ fibrosis. The process to reverse EMT is not well established. Our purpose is to define signaling pathways and transcription factors that maintain the TGF-β-induced mesenchymal state.
Results
Inhibitors of five kinases implicated in EMT, TGF-β Type I receptor kinase (TβRI), p38 mitogen-activated protein kinase (p38 MAPK), MAP kinase kinase/extracellular signal-regulated kinase activator kinase (MEK1), c-Jun NH-terminal kinase (JNK), and Rho kinase (ROCK), were evaluated for reversal of the mesenchymal state induced in renal tubular epithelial cells. Single agents did not fully reverse EMT as determined by cellular morphology and gene expression. However, exposure to the TβRI inhibitor SB431542, combined with the ROCK inhibitor Y27632, eliminated detectable actin stress fibers and mesenchymal gene expression while restoring epithelial E-cadherin and Kidney-specific cadherin (Ksp-cadherin) expression. A second combination, the TβRI inhibitor SB431542 together with the p38 MAPK inhibitor SB203580, was partially effective in reversing EMT. Furthermore, JNK inhibitor SP600125 inhibits the effectiveness of the TβRI inhibitor SB431542 to reverse EMT. To explore the molecular basis underlying EMT reversal, we also targeted the transcriptional repressors ZEB1 and ZEB2/SIP1. Decreasing ZEB1 and ZEB2 expression in mouse mammary gland cells with shRNAs was sufficient to up-regulate expression of epithelial proteins such as E-cadherin and to re-establish epithelial features. However, complete restoration of cortical F-actin required incubation with the ROCK inhibitor Y27632 in combination with ZEB1/2 knockdown.
Conclusions
We demonstrate that reversal of EMT requires re-establishing both epithelial transcription and structural components by sustained and independent signaling through TβRI and ROCK. These findings indicate that combination small molecule therapy targeting multiple kinases may be necessary to reverse disease conditions.
Keywords
Stress FiberCortical ActinRock InhibitorNMuMG CellZEB2 Expression
Background
Epithelial to Mesenchymal Transition (EMT) is an extreme form of cellular plasticity defined by loss of epithelial cell morphology, dissociation of cell-cell contacts, reduction in proteins mediating cell-cell contacts, remodeling of the actin cytoskeleton, de novo expression of α-smooth muscle actin (α-SMA), and acquisition of mesenchymal cell shape [1–4]. During EMT, cells diminish epithelial gene expression and acquire mesenchymal gene expression [5]. Cortical actins, the actin filament bundles below the plasma membrane, reorganize or are lost, while stress fibers comprising F-actin are gained. In normal development, EMT has been associated with processes in gastrulation, heart formation, palate formation, and Mullerian tract regression [4]. In disease states, EMT has been exploited in both cancer and organ fibrosis. The mortality in human cancers is caused by primary tumor cells that have undergone oncogenic EMT and metastasized to other organs. Other diseases, such as end-state organ failure by fibrosis, are caused by repeated and sustained infliction of EMT. Thus, understanding the cellular mechanisms to reverse EMT is of great importance.
The TGF-β signaling pathway is considered a good target for EMT reversal because it is a key mediator of fibrosis and facilitator of metastasis [3, 6]. TGF-β induces EMT by both Smad-dependent and -independent signaling events [4, 7, 8]. TGF-β1 ligand exerts its signaling effects by activating a heteromeric receptor of two transmembrane serine/threonine kinases, type I and type II receptors (TβRI and TβRII) [7, 9]. TβRII transphosphorylates TβRI, activating its kinase function. Activated TβRI then phosphorylates the intracellular proteins Smad2 and Smad3. The phosphorylated Smad2 and Smad3 associate with Smad4, with the activated complex translocating to the nucleus where it interacts with other transcriptional co-activators and co-repressors to regulate expression of numerous genes [10]. This Smad-dependent signaling up-regulates expression of several transcription factors important for EMT induction, including Snail, Slug, Twist, and members of the ZFH family, ZEB1 (also called EF1, TCF8, AREB6, ZFHEP, NIL-2A, ZFHX1A, and BZP) and ZEB2 (also called SIP1, SMADIP1, ZFHX1B, and KIAA0569) [11–13].
Of particular importance are ZEB1 and ZEB2 because they are crucial regulators of EMT during embryonic development and cancer [14, 15]. These transcription factors activate EMT by binding to E-box elements present in the E-cadherin promoter, suppressing synthesis of this cell-cell adhesion protein [16, 17]. ZEB1 also promotes EMT by repressing expression of basement membrane components and cell polarity proteins [13, 14, 18, 19]. ZEB2 has also been implicated in the induction of EMT [13]. The loss of E-cadherin and other epithelial structural components is a major event during EMT. Mutations in the TCF8 gene (GenBank accession number NM 030751) result in a mesenchymal to epithelial transition (MET) in mouse embryos by reprogramming gene expression, leading to developmental defects by diminishing progenitor cell proliferation and cell migration [20]. Thus, it is crucial to understand the role of ZEB1 and ZEB2 in the reversal of TGF-β-induced EMT.
Multiple signaling proteins in addition to Smads have been implicated in the induction of EMT by TGF-β1. These include Ras/MAPK [21], integrin β-1[22], integrin-linked kinase [23], p38 mitogen-activated protein kinase (p38 MAPK) [24], RhoA Kinase (ROCK) [25], phosphatidylinositol 3-OH kinase (PI3K) [26], Jagged1/Notch [27], SARA [28], nuclear factor kappa-B (NF-B) [29], Par6 [8, 30], and ERK [31]. However, much less is known about how these signaling pathways and transcription factors maintain the mesenchymal program. Studies examining the reversal of EMT by perturbing one component of a signaling pathway with inhibitors or shRNAs demonstrate partial reversal of the mesenchymal state [32, 33].
Here, we report full reversal of EMT morphology and patterns of gene expression by concurrently inhibiting TβRI kinase and ROCK. We show that inhibition of TβRI kinase blocks mesenchymal gene expression, an effect mediated by down-regulation of ZEB1 and ZEB2 levels, while the ROCK inhibitor stabilizes the epithelial structure. These findings demonstrate that combined use of TβRI kinase and ROCK inhibitors is important to decrease TGF-β signaling to enable full reversal of EMT.
Discussion
The goal of this study was to elucidate molecular mechanisms involved in maintaining the mesenchymal state induced by TGF-β1. Here, we demonstrated that preventing EMT requires blocking the TβRI kinase (Figure
1
), while reversing the EMT program is more complex, requiring inhibition of both TβRI kinase and ROCK (Figures
3
,
4
,
5
,
6
). A p38 MAPK inhibitor also plays a role by working in conjunction with the TβRI kinase inhibitor to further lessen the mesenchymal structural elements to reverse EMT (Figure
3
). We defined the success of an agent in reversing EMT as the re-expression of key epithelial proteins (
e.g
., E-cadherin, cortical actin) and the re-positioning of these proteins to allow for epithelial cell morphology. We also demonstrated that reversal of EMT by the TβRI inhibitor SB431542 involves, in part, inhibiting expression of ZEB1, a key transcriptional repressor of E-cadherin expression and the epithelial state (Figure
6
). Taken together, these findings indicate that TGF-β maintains the mesenchymal phenotype through sustained activation of Smad-dependent transcriptional responses and elements downstream from ROCK (Figure
8
).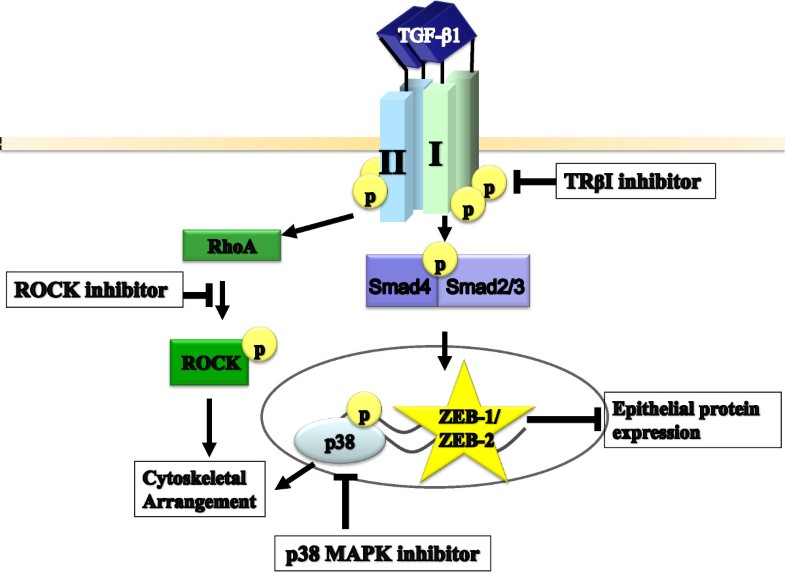 Conclusion
We showed here that reversing EMT in mTEC-KO cells requires inhibition of both TβRI kinase and ROCK. The TβRI kinase inhibitor decreased expression of ZEB1 and ZEB2, thereby increasing expression of the epithelial protein E-cadherin, and the ROCK inhibitor was necessary to fully eliminate mesenchymal actin stress fibers (Figure 8).
Methods
Cells and Reagents
Early passage (passage 2) TGF-β1 knockout murine renal tubular epithelial cells (mTEC-KO) and early passage (passage 5) murine renal tubular epithelial cells (mTEC-WT) were generously provided to us by Dr. Jeffrey Kopp (National Institute of Diabetes and Digestive and Kidney Diseases, Bethesda, MD). The cells were grown until passage 20. They were maintained in Renal Epithelial Cell Growth Medium (Cambrex, MD) supplemented with 0.25% fetal bovine serum (FBS), a Bullet Kit that contained epidermal growth factor, insulin, hydrocortisone, GA-1000, epinephrine, T3, and transferrin (Cambrex, NJ), and penicillin and streptomycin (Gibco-Invitrogen, CA). Namru murine mammary gland (NMuMG) cells were obtained from Dr. Caroline Alexander (UW-Madison, WI). They were grown in DMEM supplemented with 10% FBS, 10 μg/ml insulin, 100 μg/ml penicillin, and 100 U/ml streptomycin. 293T cells were purchased from ATCC (VA). They were grown in 10% DMEM supplemented with 10% FBS, 100 μg/ml penicillin, and 100 U/ml streptomycin. All cells were maintained in a 37°C humidified 5% CO2 incubator. Carrier-free TGF-β1 was obtained from R&D Systems (MN). Chemical inhibitors SB203580, SP600125, and Y27632 (Calbiochem, CA); SB431542 (Sigma, MO); and U0126 (Promega, WI) were aliquoted after reconstitution and frozen at -80°C.
Production of Lentiviruses
The lentiviral shRNAmir vectors targeting ZEB1 (target set NM_011546), ZEB2 (target set NM_014795), and control pLKO.1 (RHS4080) were purchased from OpenBiosystems (Thermo Scientific, AL). Plasmid pLKO.1 contains a scrambled sequence that results in synthesis of a shRNA that does not appear to inhibit expression of any known cellular gene. To generate virus, mycoplasma-free 293T cells were transfected using LT1 (Mirus, WI) with 10 μg total of a mixture containing shRNAmir ZEB1 and ZEB2 or pLKO.1 as indicated, 3 μg lentiviral DNA encoding Gag/Pol, and 1 μg VSVG [83] (provided by Dr. Bill Sugden, Madison, WI). The medium was supplemented with 50 mM HEPES solution, pH 7.3 (Invitrogen) and changed after 6 hours. Viral supernatant was collected after 24 hours and passed through a 0.45 μm filter. NMuMG cells were infected daily with the pool of shZEB1 and shZEB2 viruses over 48 - 72 hours to decrease ZEB1 and ZEB2 expression.
Immunoblotting
After treatment as indicated, cells were washed with cold PBS, lyzed in TNE buffer [50 mM Tris-HCl (pH 8.0), 1% NP40, 150 mM NaCl, 5 mM EDTA] and pelleted by centrifugation at 14,000 rpm for 5 min at 4°C. Lysates were prepared using TNE buffer supplemented with protease inhibitor cocktail (Roche, NJ) and protease inhibitor cocktail solution III (Calbiochem, CA). Cell homogenates were incubated for 10 min at 100°C in 2× loading buffer. Equal amounts of protein, as assessed by BCA Protein Assay Kit (BioRad, CA), were added to each well. The proteins were separated by electrophoresis in 4% - 20% gradient polyacrylamide gels (ISC BioExpress, UT) and transferred to PVDF membranes (Millipore, MA) or nitrocellulose filters (ISC Biosystem, UT). The primary antibodies used for detection were as follows: E-cadherin (BD Biosciences, CA), ZEB1 (H102, Santa Cruz Biotechnology, CA), ZEB2 (Dr. Michel Sanders, University of Minnesota, MN; purified by Dr. Xianming Yu, UW-Madison, WI), and α-Smooth Muscle Actin (Sigma). Anti-mouse IgG conjugated with horseradish peroxidase (Millipore) was used as the secondary antibody. Blots were developed by ECL (GE Healthcare, NJ). Where indicated, the immunoblots were stripped by incubation with 100 mM β-mercaptoethanol, 2% SDS, 62.5 mM TRIS (pH 8.2) at 65°C for 1 hour and reprobed with β-actin (Sigma) or β-tubulin (Sigma) primary antibody as indicated and HRP secondary antibody (GE Healthcare). Relative protein levels were determined by densitometry using Bio-Rad Quantity One Software (Bio-Rad), with normalization to the amount of cellular β-actin or β-tubulin present in each sample. Changes in the amount of a protein present in an experimental sample are shown relative to the amount of this protein present in the untreated control sample processed in parallel.
Quantitative RT-PCR
After treatment as indicated, total RNA was isolated from the cells using RNAeasy Miniprep kit (Qiagen) and quantified by UV spectrophotometer. 1.5 μg of RNA from each sample was converted by reverse transcriptase into cDNA using an OmniScript kit (Qiagen). Primers used for qRT-PCR were as follows: mouse Ksp-cadherin: forward-5'-CTGCACACAGAAGTCCCTGA-3', reverse 5'-CCTTGTCGCCACTAGAAAGC-3'; mouse MMP-9: SuperArray primer (MD) PPM03661A; mouse SM22: forward 5'-GCAGTCCAAAATTGAGAAGA-3', reverse 5'-CTGTTGCTGCCCATTTGAAG3'; mouse PAI-1: forward 5'-TTCAGCCCTTGCTTGCCTC-3', reverse 5'-ACACTTTTACTCCGAAGTCGGT-3'; ZEB1: forward 5'-AACGGAGATTTGTCTCCCAGT-3', reverse 5'-CTGTCCAGCTTGCATCTTTTC-3'; ZEB2: forward 5'-TAGCCGGTCCAGAAGAAATG-3', reverse 5'-GGCCATCTCTTTCCTCCAGT-3'[20]; mouse GAPDH: forward 5'-AGGTCGGTGTGAACGGATTTG-3', reverse 5'-TGTAGACCATGTAGTTGAGGTCA-3'; and P0: forward, 5'-GACAATGGCAGCATCTACAAC-3', reverse, 5'-GCAGACAGACACTGGCAAC-3' [84]. cDNA was amplified in an Opticon 2 PCR machine (MJ Research) and labelled using an ABI SYBR Green qPCR Kit (ABI Systems, CA). The amplifications were carried out in the following manner: initial denaturation for 10 min at 95C, denaturation for 10 sec at 95°C, annealing for 30 sec at an optimal temperature for each cDNA, and extension for 30 sec at 72°C. Standards were created from Pfu (Stratagene, CA)-amplified PCR products purified by gel electrophoresis. Glyceraldehyde-3-phosphate dehydrogenase (GAPDH) was used as an internal control to normalize gene expression levels, except for ZEB1 and ZEB2 where the ribosomal protein P0 was used, instead. Relative ZEB1 and ZEB2 RNA levels were calculated by a modified Ct method [85].
Immunofluorescence
Cells were seeded on glass cover slips (Fisher, PA) or 8-well chamber slides (Fisher) and cultured as described. Afterward, the cells were fixed by incubation in 4% paraformaldehyde for 5 min and permeabilized in PBS containing 0.1% Triton X-100 for 10 min. Non-specific binding was blocked with 10% BSA or normal goat serum for 30 min. F-actin was stained at a 1:1000 dilution in 2% BSA of Texas Red-conjugated or FITC-conjugated phalloidin (Sigma) for at least 30 min. E-cadherin (BD Biosciences) was diluted 1:50 in 2% normal goat serum and incubated overnight. A secondary antibody made in goat (Invitrogen) was used at a 1:1000 dilution and incubated for 2 hours in a humid chamber with minimal exposure to light. All washes were done in 1× PBS. An anti-fade solution containing DAPI (Vector Laboratories, CA) was used in mounting the slides. Images were taken at room temperature with an Axiocam digital camera attached to a Zeiss microscope. Axiovision was used to acquire the image. Adobe Photoshop was used to merge images.
Statistical Analysis
Unless indicated otherwise, all experiments were performed on three separate occasions, each time with triplicates, with the figures showing means of the triplicates for one of the experiments (n = 3). For statistical evaluation, the data from all experimental replicates were pooled (n = 9). For comparisons between pairs, we used one-way analysis of Wilcoxson Rank Sums determined with MSTAT software http://mcardle.oncology.wisc.edu/mstat. A p value < 0.05 was considered statistically significant.
Abbreviations
EMT:

epithelial to mesenchymal transition
Ksp-cadherin:

kidney specific cadherin
JNK:

c-Jun NH-terminal kinase
MEK1:

MAPK/extracellular signal-regulated kinase
MMP-9:

matrix metalloprotease-9
mTEC-KO:

murine tubular epithelial cells from TGF-β knockout mouse
p38 MAPK:

p38 mitogen-activated protein kinase
NMuMG:

Namru murine mammary gland
ROCK:

Rho kinase
SM22:

smooth muscle protein 22
α-SMA:

alpha smooth muscle actin
TGF-β:

Transforming Growth Factor β
TβRI:

Transforming Growth Factor-β Receptor Type I.
Declarations
Acknowledgements
We thank Caroline Alexander for NMuMG cells, Bill Sugden for the lentiviral packaging plasmids, Norman Drinkwater for discussions on statistical analysis, Michel Sanders and Xianming Yu for ZEB2 antiserum, and Patricia Keely for comments on the manuscript. We also thank Tawin Iemperdee, Thomas Lentz, Eric Lewellyn, and Natalia M. Solodin for assistance with quantifying immunoblots. This work was supported by CA090875 to FMH, DK064336 to BNB, and AI071928 and CA022443 to JEM. SD was supported in part by T32-CA09135.
Authors' Affiliations
(1)
McArdle Laboratory for Cancer Research, University of Wisconsin School of Medicine and Public Health, Madison, USA
(2)
Laboratory of Genetics, University of Wisconsin School of Medicine and Public Health, Madison, USA
(3)
Department of Medicine, University of Wisconsin School of Medicine and Public Health, Madison, USA
Copyright
© Das et al; licensee BioMed Central Ltd. 2009
This article is published under license to BioMed Central Ltd. This is an Open Access article distributed under the terms of the Creative Commons Attribution License (http://creativecommons.org/licenses/by/2.0), which permits unrestricted use, distribution, and reproduction in any medium, provided the original work is properly cited.