Articles
Research article

Published on: 26 May 2017

Research article

Published on: 25 May 2017

Research Article

Published on: 10 May 2017

Research article

Research article

Published on: 20 April 2017
Methodology article

Published on: 19 March 2008

Research article

Published on: 10 March 2006

Review

Published on: 22 April 2013

Research article

Published on: 9 July 2013

Methodology article
Connexin26 mutations and KID syndrome
This micrograph shows a cell with a D50Y mutation in connexin26. Cx26 protein (red) and golgin-97 (green) colocalize more frequently than in wildtype cells. D50Y and I30N mutations result in the formation of aberrant hemichannels that might elevate intracellular calcium levels, which may contribute to the hyperproliferative epidermal phenotypes of KID syndrome.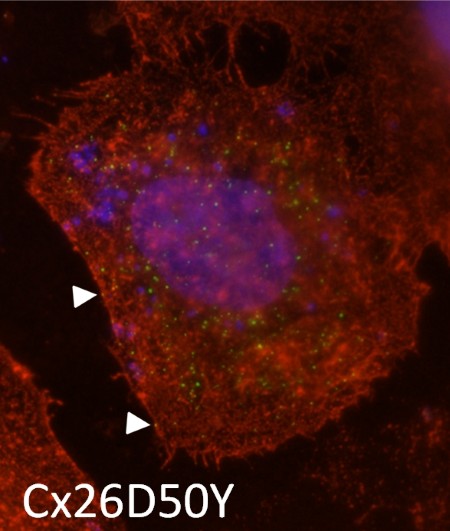 Aypek et al. BMC Cell Biol. 17:5
Aims and scope
BMC Cell Biology is an open access, peer-reviewed journal that considers articles on all aspects of the biology of cells, including organelles and cellular compartments, trafficking and turnover, signaling, motility, adhesion, cell division, differentiation and programmed cell death.    
Editor
Christopher Foote, BioMed Central

Section Editors
Matthias Falk, Lehigh University
Xuejun Jiang, Memorial Sloan-Kettering Cancer Center
Andrew Koff, Memorial Sloan-Kettering Cancer Center
Andrew Peden, University of Sheffield
Howard J Worman, College of Physicians and Surgeons, Columbia University
BMC Series blog
View feed
Published on: 26 May 2017

Published on: 25 May 2017