Research article

Open Access
Stress induced nuclear granules form in response to accumulation of misfolded proteins in Caenorhabditis elegans
BMC Cell Biology
BMC series – open, inclusive and trusted
2017
18:18
Received: 17 February 2017
Accepted: 7 April 2017
Published: 19 April 2017
Abstract
Background
Environmental stress can affect the viability or fecundity of an organism. Environmental stressors may affect the genome or the proteome and can cause cellular distress by contributing to protein damage or misfolding. This study examines the cellular response to environmental stress in the germline of the nematode, C. elegans.
Results
Salt stress, oxidative stress, and starvation, but not heat shock, induce the relocalization of ubiquitin, proteasome, and the TIAR-2 protein into distinct subnuclear regions referred to as stress induced nuclear granules (SINGs). The SINGs form within 1 h of stress initiation and do not require intertissue signaling. K48-linked polyubiquitin chains but not K63 chains are enriched in SINGs. Worms with a mutation in the conjugating enzyme, ubc-18, do not form SINGs. Additionally, knockdown of ubc-20 and ubc-22 reduces the level of SING formation as does knockdown of the ubiquitin ligase chn-1, a CHIP homolog. The nuclear import machinery is required for SING formation. Stressed embryos containing SINGs fail to hatch and cell division in these embryos is halted. The formation of SINGs can be prevented by pre-exposure to a brief period of heat shock before stress exposure. Heat shock inhibition of SINGs is dependent upon the HSF-1 transcription factor.
Conclusions
The heat shock results suggest that chaperone expression can prevent SING formation and that the accumulation of damaged or misfolded proteins is a necessary precursor to SING formation. Thus, SINGs may be part of a novel protein quality control system. The data suggest an interesting model where SINGs represent sites of localized protein degradation for nuclear or cytosolic proteins. Thus, the physiological impacts of environmental stress may begin at the cellular level with the formation of stress induced nuclear granules.
Keywords
UbiquitinProteasomeNuclear bodySalt stressOxidative stressStarvation
Background
Organisms are faced with a variety of environmental conditions, some of which can adversely affect the status of proteins. Cells have multiple systems that monitor and maintain the proteome. Protein quality control systems help to refold proteins, to sequester proteins, or to degrade damaged or misfolded proteins. The ubiquitin proteasome system (UPS) is the major intracellular protein degradation pathway. This system is essential for removing damaged or misfolded proteins [1, 2]. In the current study, we investigate how the UPS is involved in the response to environmental stressors in the germline of the nematode, Caenorhabditis elegans. Ubiquitin is an 8.5 kDa polypeptide. Three distinct enzymatic activities link ubiquitin to the substrate protein via an isopeptide bond between the C-terminal glycine of ubiquitin and the amino group on a lysine residue of the substrate. This process is used to either add a single ubiquitin or a polyubiquitin chain. Different types of polyubiquitin chains form depending on the lysine linkage used. K48 polyubiquitin chains are recognized by the proteasome [3] and K63 chains are associated with protein trafficking, NFκB activation, and receptor endocytosis [4, 5].
Protein quality control systems exist for proteins in the cytosol, the mitochondria, and the endoplasmic reticulum [6]. However, the control of protein quality in the nucleus is not well understood. Ubiquitin and proteasome are both found in the nucleus along with various chaperones [7]. Proteasome activity has been detected in the nuclei of mammalian cells [8]. Therefore, the machinery needed for protein quality control exists in the nucleus, but details on the pathway for triggering nuclear protein degradation is not known. The best described examples of nuclear protein degradation come from yeast where the San1p ubiquitin ligase is known to target unstable proteins for nuclear degradation [9]. Also in yeast, misfolded cytoplasmic proteins can be imported into the nucleus for degradation [10]. It is not presently clear if this same type of pathway exists in other organisms.
There are several documented nuclear changes in response to stress. The nuclei of cells in various model organisms are known to develop distinct nuclear bodies [11, 12]. These nuclear bodies often vary in size, lack a defining membrane, and are spherical in shape. Nuclear bodies that form in response to stress include promyelocytic leukemia bodies (PML), heat-shock bodies, paraspeckles, clastosomes, nucleoplasmic speckles, and insulator bodies [13–16]. Heat-shock bodies form as a result of elevated temperatures, which leads to the activation of HSF1 [14, 17]. PML bodies form in response to elevated levels of oxidative stress and increase in numbers and size as stress exposure is extended [18–20]. Osmotic stress also induces formation of clastosomes and insulator bodies [15, 16]. Some nuclear bodies are known to contain ubiquitin and proteasome components [21]. Clastosomes contain both ubiquitin conjugates and 19S and 20S proteasome complexes, and disappear when proteasome inhibitors are added. These nuclear bodies are proposed to be active sites of proteolysis [15]. Proteasome components have also been observed in nucleoplasmic speckles and PML nuclear bodies [22–24]. Currently, there is a poor understanding of nuclear bodies' physiological role and how they are connected to the cellular stress response.
Previous studies in C. elegans have shown that exposure to hypertonic stress increases the level of ubiquitin conjugates [25]. That study also showed that expression of the proteasome was required for worms to survive threshold levels of hypertonic stress indicating that protein quality control is a critical aspect of surviving environmental stress. The current study further elaborates on the role of the UPS in response to environmental stress in the germline of C. elegans. We show that ubiquitin and the proteasome respond to salt stress, oxidative stress, and starvation by forming Stress Induced Nuclear Granules (SINGs). These SINGs form quickly after stress is initiated and do not require intertissue signaling. The SINGs are enriched in K48 polyubiquitin chains suggesting that they may be sites of protein degradation. The expression of chaperones reduces the frequency of SINGs suggesting a model where the accumulation of misfolded proteins leads to SING formation.
Discussion
Our results reveal a novel pathway that responds to collapse of protein quality in the germline and other tissues of C. elegans. Salt stress, oxidative stress, and starvation lead to the redistribution of ubiquitin, proteasome, and the TIAR-2 protein into structures we refer to as Stress Induced Nuclear Granules.
Environmental stress has previously been shown to induce various nuclear bodies. One example are the heat shock bodies containing HSF1. Insulator bodies form in Drosophila cells in response to osmotic stress however they localize to chromatin [16]. The C. elegans SINGs are similar to clastosomes and PML bodies in that they contain ubiquitin and proteasome and are induced by stress [15, 19, 20, 48]. However, PML bodies have a high concentration of SUMO which is not present in SINGs. Clastosomes which were reported to form in mammalian cultured cells appear to be the most similar to the SINGs since they also require proteasome activity to form [15].
The finding that a brief heat shock can abrogate the formation of SINGs suggested that induction of chaperones might prevent SINGs formation. The requirement for
hsf-1
in this phenomenon further supports that model. Altogether our results suggest a model where stress causes protein damage or misfolding which triggers ubiquitination of damaged proteins and the accumulation of those proteins along with proteasomes at nuclear foci (Fig.
11
).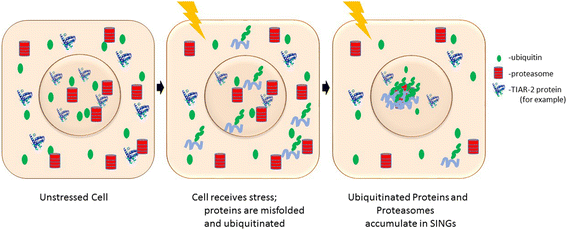 An interesting aspect of our findings is that proteasome and ubiquitin foci form inside the nucleus rather than in the cytoplasm. This result adds to a growing number of reports that suggest that protein degradation is taking place in the nucleus (reviewed in [49]). In yeast, it has been reported that degradation of some short-lived proteins occurs by first importing them into the nucleus where they are degraded by nuclear proteasomes [10]. The presence of the proteasome and K48-linked ubiquitin chains is consistent with the idea that SINGs are sites of localized protein degradation. If protein degradation is occurring at the SINGs, it will be of great interest to determine whether there is a specific set of proteins that are degraded or whether SINGs are general sites of degradation for any K48 ubiquitinated protein. Follow up studies are underway in an attempt to discriminate between these two possibilities.
SING formation in embryos results in a cell cycle arrest. Thus, SINGs may interfere with cell division. Embryos that lack ubc-18 do not exhibit SINGs when stressed and they can proceed through the cell cycle normally. This may point to a direct role of the SINGs in compromising cell division. Further studies are needed in order to determine which aspects of cell division are affected when SINGs are present. This effect of stress on the cell cycle during embryogenesis may be a contributing factor to compromised reproductive capability in organisms exposed to environmental stress [50].
Conclusions
Our studies have identified a novel nuclear structure that we refer to as SINGs. Salt stress, osmotic stress, and starvation induce SING formation. SINGs share some features with previously identified nuclear bodies such as clastosomes and PML bodies. The appearance of SINGs correlates with conditions of protein misfolding. Thus, SINGs likely participate in a nuclear protein quality control pathway that is initiated when misfolded proteins accumulate. Ubiquitination and nuclear import are required for the formation of SINGs suggesting that misfolded proteins from the cytoplasm may be transported into the nucleus before localizing to SINGs. Future research will explore whether ubiquitination occurs prior to nuclear import or after.
Methods
C. elegans Strains and Maintenance
C. elegans
strains were cultured on nematode growth medium (NGM) with a bacterial lawn of
E. coli
strain OP50 and incubated at 20 °C, 25 °C, or 16 °C. Wild type and
ubc-18
mutants were grown at 20 °C and transgenic worms were incubated at 25 °C. Temperature sensitive mutant strain (RV110) was grown that 16 °C and shifted to 25 °C for 18 h before stress was administered. Strains used in this study are listed in Table
1
.
Table 1
C. elegans strains used in the study
| Strain name | Allele(s) |
| --- | --- |
| AZ244 | ruls57 [pie-1::GFP::tubulin + unc-119(+)] |
| BC10060 | sEx884 [rCesC12C8.1::GFP + pCeh361] |
| ERT261 | jyEx128 [vha-6p::GFP::Ub cb-unc-119(+)]; ttTi5605 II; unc-119(ed9) |
| EU40 | skn-1(zu129) IV/nT1 [unc-?(n754) let-?] (IV; V). |
| FGP8 | fgpIs20 [(pFGP79) pie-1p::mCherry::smo-1(GG) + unc-119(+)]; ruIs32 [pie-1p::GFP::H2B + unc-119(+)] III |
| JH1327 | axEx73 [pie-1p::pie-1::GFP + rol-6(su1006) + N2 genomic DNA] |
| JH2099 | axIs1486 [pCG51; LAP::Y46G5A.13(tia-1.2) +unc-119(+)] |
| JH2184 | axls1595[pie-1p::GFP::npp-9(orf)::npp-9 3'UTR + unc-119(+)] |
| JH2458 | axIs1735[pie-1p::LAP tag::npp-10 (full length) + unc-119 (+)] |
| JH2842 | ltIs37 [(pAA64) pie-1p::mCherry::his-58 + unc-119(+)] IV; axIs1522 [pie-1p::GFP::pgl-1::pgl-1 3'UTR + unc-119(+)] |
| JH2686 | axIs1844[GFP:: npp-7 + unc-119(+)] |
| LN130 | rcIs31 [pie-1p::GFP::Ub + unc-119(+)]; ltIs37 [pie-1p::mCherry::his-58] |
| LN154 | rcIs31 [pie-1p::GFP::Ub + unc-119(+)]; rcSi1 [mex-5p::rpt-1::mCherry + unc-119] II; unc-119 (ed3) |
| LN162 | avIs116 [pie-1p∷GFP∷UbAA + unc-119(+)]; ltIs37 [pie-1p::mCherry::his-58] |
| LW1089 | jjls1089 [npp-1::GFP + unc-119(+)] |
| N2 (Bristol) | Wild Type |
| OG497 | drSi13 [hsf-1p::hsf-1::GFP::unc-54' 3'UTR + Cbr-unc-119(+)] II |
| RV110 | uba-1(it129) IV |
| WY34 | ubc-18(ku354) III |
| XA3546 | qaIs3546 [unc-119(+) + pie-1::GFP::npp-8]; unc-119(ed3) |
Fluorescence microscopy and time-lapse imaging
All fluorescent and time-lapse images were acquired using a ZEISS AxioObserver with a LSM 700 confocal module and a 63X/1.4 Plan-Apochromat oil DIC M27 objective. Images were analyzed with ZEN 2009 software. In live imaging and antibody staining experiments, the 488 nm laser was used for imaging both GFP and FITC, and the 555 nm laser was used for both mCherry and TRITC. DAPI was imaged using the 405 nm laser. Image settings on the microscope were kept constant for each set of experiments. Dimensions of images acquired were 512 × 512 pixels at a depth of 8 bits. Images were adjusted to be brighter for visual presentation in Photoshop using the brightness function.
A time-lapse series (30 frames with 1 min intervals) of the worm strain LN154 (GFP::Ub and RPT-1:: mCh) was used to investigate the timing of colocalization events. All time-lapse experiments were imaged on the confocal at room temperature. A time-lapse series (30 frames with 0.5 min intervals) of LN130 (GFP::Ub and mCh::H2B) was used for cell division experiments.
Antibodies
Primary antibodies used were rabbit anti-19S proteasome (sc-98797 from Santa Cruz), mouse monoclonal anti-20S proteasome (MCP20 from Enzo Lifesciences), mouse monoclonal anti-ubiquitin (P4D1 from Santa Cruz), rabbit anti-K48 ubiquitin (Apu2 from Millipore), and rabbit anti-K63 ubiquitin (Apu3 from Millipore). Secondary antibodies used were goat anti-mouse FITC (Abcam) and goat anti-rabbit TRITC (Jackson ImmunoResearch Labratories).
Immunostaining of C. elegans
Day 1 adult worms were placed in Egg Buffer and cut open on poly-L-lysine-coated slides to release the gonadal arms and embryos. Slides were placed in liquid nitrogen and fixed with 100% methanol at -20 °C for 20 min, followed by washing three times with PBST for 5 min. Slides were then blocked for 1 h with 30% normal goat serum in PBST at 23 °C, and incubated overnight with primary antibody (1:200) at 4 °C. Slides were washed with PBST, and incubated with secondary antibody (1:200) at 23 °C for 1.5 h. Vectashield plus DAPI (Vector Labs, Burlingame, CA) was used for mounting each slide prior to imaging with confocal microcopy.
FRAP Analysis
Photobleaching experiments were performed using a Zeiss LSM700 laser scanning confocal system. Two pre-bleach images were acquired. Bleaching was done via 40 iterations of bleaching with 100% on the 488 nm laser. Fluorescence was bleached to ≤ 20% of initial intensity. Images were acquired every 1 s with the 488 nm laser set to 5% power. Each data point was normalized for background and photobleaching using the equation: [(ROIb – ROIbg)/(ROInb –ROIbg)]/[(pbROIb –pbROIbg)/(pbROInb –pbROIbg)].
RNAi by feeding
RNAi was achieved by feeding worms bacteria that express dsRNA for each gene. RNAi clones for the UBC genes were obtained from the Ahringer library or the Vidal ORF library. The ubc-18 RNAi is an ORF clone. Controls for the RNAi experiments used the L4440 plasmid (vector) without any gene insert in the HT115 bacterial strain. RNAi clones were streaked from glycerol stocks onto tryptic soy agar media with ampicillin (100 μg/mL) and tetracycline (10 μg/mL). Bacterial overnights were grown in tryptic soy broth with ampicillin and tetracycline. NGM plates containing ampicillin and 0.2% lactose were seeded with the bacterial overnights. L4s were transferred to above plates and grown for 22 h under ideal conditions for each respective strain.
Osmotic stress, oxidative stress, and starvation
C. elegans were grown on OP50 containing NGM at their appropriate temperatures until they reached 1 day adults. Worms from this population were then moved to control and stressed conditions. Conditions involving liquid (control, salt, osmotic, and oxidative stress) were performed by soaking day 1 adults in a watch glass containing 1 mL of solution at room temperature. Solution concentrations for each stress are as follows: 500 mM NaCl (salt stress), 815 mM Sucrose (osmotic stress), 10 mM H2O2 (oxidative stress). Control (unstressed) individuals were soaked M9 buffer for 60 min. The worm strain JH2099 (GFP:: TIAR-2) was salt stressed for 120 min. The GFP::Ub intestinal strain (ERT261) was stressed at 1 M NaCl for 60 min prior to imaging. Oxidative stress was induced by soaking worms in a 10 mM H2O2 solution for 60 min.
For starvation, synchronized L4 worms were moved to NGM plates without OP50 bacteria or peptone for a period of 48 h prior to being examined. To induce heat shock, day 1 adults grown on seeded NGM at 25 °C were shifted to a 37 °C for 60 min prior to imaging.
After treatment, worms were mounted on a 3% agar pad and examined with a laser scanning confocal microscope (Zeiss LSM700).
Treatment with proteasome inhibitors
Proteasome inhibitor solutions were prepared the same day as the experiment by adding proteasome inhibitor stock solution to either M9 buffer or 500 mM NaCl. Proteasome inhibitors and concentrations tested include 20 μM MG132, 10 μM Lactacystin, and 20 μM Bortezomib. In vivo proteasome inhibitor experiments were performed by soaking day 1 adult worms in 20 μM MG132 for 60 min at room temperature. Worms were then transferred over to a solution containing both MG132 and 500 mM NaCl. Control worms were soaked in a 500 mM NaCl solution with no proteasome inhibitor for 60 min before imaging.
Detection of DNA and RNA in C. elegans
The cell permeable SYTO14 green fluorescent nucleic acid stain (Life Technologies) was used to observe total RNA in oocytes. SYTO14-stained RNA excites at 521 nm and emits at 547 nm. Fresh SYTO14 solution was either made in M9 buffer (unstressed) or 500 mM NaCl (stressed). Worms were dissected in 5 μm SYTO14 solution for 15 min and then imaged by confocal microscopy.
DAPI (NucBlue Fixed Cell ReadyProbes, Life Technologies) was used in the SYTO14 experiment to visualize DNA. One drop of NucBlue was added directly to the top of the slide and incubated for 15 min prior to visualization.
Prior heat shock exposure
Day 1 adult worms grown at 25 °C were shifted to 34 °C for 60 min prior to 500 mM NaCl exposure and then imaged with confocal microscopy. Control individuals stayed at the initial growing temperature before being exposed to salt stress.
Embryonic lethality and cell division analysis
Wild type and ubc-18 (RNAi) embryos were cut out of day 1 adult worms and soaked in either M9 buffer (control), 500 mM NaCl, or 10 mM H2O2 for 60 min. After which, embryos were then pipetted onto unseeded NGM plates and scored for hatching at 48 h.
Cell division analysis was conducted by taking time-lapse movies on both control and salt stressed embryos expressing GFP::Ub and mCh::H2B. Time-lapse movies were described above in the Fluorescence Microscopy and Time-lapse Imaging section.
Longevity assays
L1 worms were moved to either vector or RNAi seeded plates. Once worms reached the L4 stage they were subjected to 500 mM NaCl stress for 60 min and then moved to new RNAi seeded NGM plates. 80 worms were used for each condition.
Statistical analysis
Sample sizes and number of experiments performed are noted in each figure legend. In general, a minimum of 1020 oocytes were observed over three biological repeats unless otherwise noted in the figure legend. Two sample z-tests were performed using VasarStats on the 20S and TIAR-2 antibody stains as well as on live-cell images which include RNAi and stress experiments (Figs. 1e, 2b, 3b, d, 4b and 5c, e). The Fisher's exact test was performed on data that was less than five (Figs. 2c, 4d, f, 6b and 10b, c, and Additional file 5: Figure S4B). Error bars presented in this paper represent a 95% confidence interval and were derived using the modified Wald method on GraphPad. Data was considered to be statistically significant if p < 0.05. A log-rank test was used to determine significant differences in survivorship curves in the lifespan experiment.
Abbreviations
CHIP:

C-terminus of Hsc70 Interacting Protein
FRAP:

Fluorescence recovery after photobleaching
GFP:

Green fluorescent protein
HSF1:

Heat shock factor 1
mCh:

mCherry
NF-κB:

Nuclear factor kappa-light-chain-enhancer of activated B cells
NPP:

Nuclear pore protein
PML:

Promyelocytic leukemia
RNAi:

RNA interference
SING:

Stress induced nuclear granule
UPS:

Ubiquitin proteasome system
Declarations
Acknowledgements
We would like to thank Bill Tansey, David Nelson, and Jennifer Schisa for the helpful discussions and comments on the manuscript. We thank Hilary Kemp, Emily Troemel, and Harold Smith for sharing strains. We are grateful to members of the Boyd laboratory as well as Matt Elrod-Erickson, David Nelson, and Jason Jessen for input on the project. We thank Jacob Sanders for initial observations regarding muscle SINGs and Sofia Lima for assistance with the longevity assays. Some nematode and bacterial strains were provided by the CGC, which is funded by NIH Office of Research Infrastructure Programs (P40 OD010440).
Funding
K.S. was funded via a Graduate Research award and M.S. was funded via a URECA award from the office of Vice President of Research at Middle Tennessee State University. Some of the funding for this study came from a grant to L. B. from the National Institute of Child Health and Human Development at NIH (R15 HD083882).
Availability of data and materials
All data generated or analysed during this study are included in this published article [and its supplementary information files]. All strains used in this study are available by request from Lynn Boyd.
Authors' contributions
KS carried out most of the experiments and wrote the manuscript. MR conducted the RNAi screen for ubiquitin conjugating enzymes. LB helped with experimental design and edited the manuscript. All authors read and approved the final manuscript.
Competing interests
The authors declare that they have no competing interests.
Consent for publication
Not applicable.
Ethics approval and consent to participate
Not applicable.
Publisher's Note
Springer Nature remains neutral with regard to jurisdictional claims in published maps and institutional affiliations.
Open AccessThis article is distributed under the terms of the Creative Commons Attribution 4.0 International License (http://creativecommons.org/licenses/by/4.0/), which permits unrestricted use, distribution, and reproduction in any medium, provided you give appropriate credit to the original author(s) and the source, provide a link to the Creative Commons license, and indicate if changes were made. The Creative Commons Public Domain Dedication waiver (http://creativecommons.org/publicdomain/zero/1.0/) applies to the data made available in this article, unless otherwise stated.
Authors' Affiliations
(1)
Department of Biology, Middle Tennessee State University, Murfreesboro, USA