Connexinopathies: a structural and functional glimpse
BMC Cell Biology
BMC series – open, inclusive and trusted
2016
17(Suppl 1):S17
Abstract
Mutations in human connexin (Cx) genes have been related to diseases, which we termed connexinopathies. Such hereditary disorders include nonsyndromic or syndromic deafness (Cx26, Cx30), Charcot Marie Tooth disease (Cx32), occulodentodigital dysplasia and cardiopathies (Cx43), and cataracts (Cx46, Cx50). Despite the clinical phenotypes of connexinopathies have been well documented, their pathogenic molecular determinants remain elusive. The purpose of this work is to identify common/uncommon patterns in channels function among Cx mutations linked to human diseases. To this end, we compiled and discussed the effect of mutations associated to Cx26, Cx32, Cx43, and Cx50 over gap junction channels and hemichannels, highlighting the function of the structural channel domains in which mutations are located and their possible role affecting oligomerization, gating and perm/selectivity processes.
Keywords
Connexinshemichannelsgap junction channelsstructure and functionhuman genetic disease
Background
Connexin gap junction channels (GJCs) and hemichannels (HCs) are critical for cellular communication. GJCs allow the intercellular exchange of ions and small molecules (e.g., IP3, cAMP, cGMP, ATP) and diverse metabolites (e.g., sugars, amino acids, glutathione) (reviewed in [1]). The same molecules and ions can pass through HCs, but in this case to take part as autocrine and paracrine signals (reviewed by [2], [3]). Mutations in connexins (Cxs) genes are associated to genetic disorders such as skin abnormalities, cardiopathies, neurodegenerative and developmental diseases, cataracts, and most cases of hereditary deafness (reviewed by [4]–[6]).
Each HC is formed by the oligomerization of six Cxs subunits and the end-to-end docking of two HCs forms GJCs. The membrane topology of Cxs includes four transmembrane domains (designated as TM1-TM4) connected by two extracellular loops (ECL) and one intracellular loop (ICL). The amino terminus (NT) and the carboxyl terminus (CT) segments are cytoplasmic (Fig.
1a
). Despite Cxs share high homology, there are important differences in the amino acid sequence of the ICL and CT. These segments contain motifs for regulatory kinases and cytoskeletal binding proteins [
7
], [
8
]. Oligomerization between suited isoforms also contributes to the assortment of Cx-based channels; for instances, heteromeric GJCs (HCs constituted by more than one Cxs type) and/or heterotypic channels (two homomeric HCs each made by a different Cxs type). These combinations may produce GJCs with particular functional and regulatory properties. Several works pointed out to TM3 in Cx32 [
9
]–[
11
] and Cx43 [
12
], and TM1 and NT segments in Cx26 [
12
], [
13
] as critical to regulate oligomerization of Cxs. In addition, a salt bridge between residues Glu-146 (TM3) and Arg-32 (TM1) in Cx32; and between Lys-22 (TM1) and Glu-209 (TM4) in Cx26, might sustain intraprotomer stability [
14
]. Nevertheless, the crystal structure of Cx26 showed that the main interactions between protomers occur at the extracellular side of the TM2 and TM4. Moreover, an aromatic cluster formed by the extracellular loops and TM3 also participates in inter-protomer interaction [
15
]. However, the oligomerization compatibility between Cxs has been associated to specific residues in the NT region [
13
], [
16
].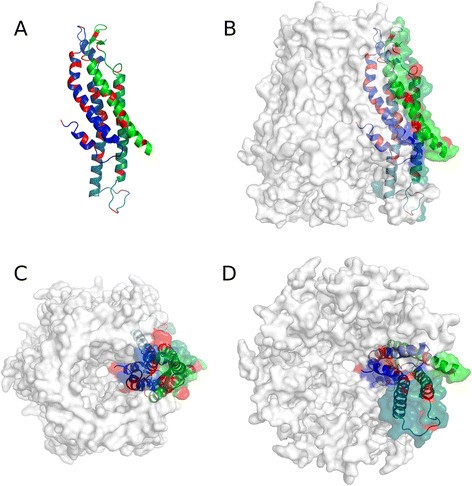 Cxs oligomerize to form a pore whose narrowest part is observed at the ECLs, near the docking zone [15], [17]. As mentioned above, the differences in the amino acid sequences among Cxs may influence the channel properties. It has been proposed that the membrane-spanning regions of Cxs are not only important for intra- and inter- protomer interactions, but they also might determine functional properties such as gating, permeability and the pore's structure. Concerning the pore composition, there is some controversy about which TMs domains are involved. Some works pointed out the TM3 in Cx32 channels [11], [18] and TM1 in Cx46 channels [19], [20] as principal pore helix components. In support of the role of TM1 as a pore lining segment, it has been proposed that the voltage dependent loop-gating mechanism in the Cx32*Cx43 EL1 chimera (in which the ECL1 of Cx43 replaced the ECL1 of Cx32), involves a rotation of TM1 together with an inward tilt of the six protomers [21]. The 3.5 Å resolution of the Cx26 crystal structure revealed that TM1 is the main constituent of the pore [15] (Fig. 1). The structure also showed that the TM2 lines the pore but in a minor extent, whereas TM3 and TM4 face the hydrophobic membrane environment. The TM1 is tilted, which narrow the pore diameter to 14 Å from the cytoplasmic to the extracellular side of the membrane [15]. More recently, performing molecular dynamic refinements of the crystal structure of Cx26, Kwon and co-workers (2011) [22], shown that the narrow part of the pore could be even smaller.
As it was proposed previously for Cx32 [23] and then confirmed by Maeda and co-workers for Cx26 [15], the Cx-NT domain is located inside the pore, facing the TM1s and forming a funnel like structure that might restricts the pore diameter during gating process [15]. The intra-pore stabilization of the NT is achieved by hydrophobic interactions between residues Trp-3 (NT) and Met-34 (TM1) from neighboring protomers [15]. This interaction was previously proposed by Oshima and co-workers (2007), which found a prominent pore electron-density in the middle of the pore generated by the deafness mutant Cx26M34A. A reduction of this pore electron-density was observed when residues 2-7 (Cx26M34A-del2–7) were deleted [24], confirming the NT as major contributor to the pore occlusion.
Experiments using a chimeric HC of Cx32*Cx43ECL1, have provided more insight about the gating-mechanism of Cx-based channels [21]. In this chimera, the Cys substitution of the Ala residues in positions 40 and 43, located at the TM1/E1 border, form disulphide bonds with adjacent protomers when the cells are bathed in solutions expected to keep HCs closed (5 mM Ca2+or 10 µM Cd2+). These results strongly suggest a role for these residues in the "loop-gating" mechanism and extracellular Ca2+ regulation of HCs [21], [25].
Conclusions
Most mutations causing connexinopathies generates total or partial loss of GJCs function. However, it is unclear if the severity of disease correlates with the level of GJCs loss of function. Mutations associated with loss of function GJCs are distributed along the entire protein sequence with no clear pattern of clustering at any segment, which suggest that GJC functionality is very sensitive to minor changes in Cxs protein, and that subtle changes in GJC functionality are sufficient to cause diseases. Less in known about the effect of mutations associated to connexinopathies on the functional state of HCs. The clearest correlation between gain of function HCs and disease has been found in most types of syndromic deafness associated to Cx26, in particular in KID syndrome. For others Cxs, few mutations are associated to gain of HCs function, however, we can not discard that this condition may be underestimated because most studies in the past have been more focused in GJCs than HCs. Therefore, it is yet difficult to make a general statement that represent all Cxs associated to connexinopathies. Nevertheless, it is clear that all mutations eliciting gain of HCs function are clustered in pore-associated domains like the NT and the TM1/ECL1, which are critical regions for gating and regulation.
Declarations
Acknowledgements
This work was supported by Anillo #ACT 1104 (to ADM, CG and MAR), Fondecyt #1130855 (to ADM) and #1120214 (to MAR), and Fondecyt Postdoctoral #3150634 (to IEG) and #3150442 (to PP). The Centro Interdisciplinario de Neurociencias de Valparaíso is a Chilean Millennium Institute (P09-022-F).
Declarations
Publication charge for this article was funded by grant Fondecyt #1130855 (to ADM).
This article has been published as part of BMC Cell Biology Volume 17 Supplement 1, 2016: Proceedings of the International Gap Junction Conference 2015. The full contents of the supplement are available online at http://bmccellbiol.biomedcentral.com/articles/supplements/volume-17-supplement-1.
Authors' Affiliations
(1)
Centro Interdisciplinario de Neurociencia de Valparaíso, Instituto de Neurociencia, Facultad de Ciencias, Universidad de Valparaíso, Valparaíso, Chile
(2)
Centro de Fisiología Celular e Integrativa, Facultad de Medicina, Clínica Alemana Universidad del Desarrollo, Santiago, Chile
Copyright
© García et al. 2016
This article is published under license to BioMed Central Ltd. Open AccessThis article is distributed under the terms of the Creative Commons Attribution 4.0 International License (http://creativecommons.org/licenses/by/4.0/), which permits unrestricted use, distribution, and reproduction in any medium, provided you give appropriate credit to the original author(s) and the source, provide a link to the Creative Commons license, and indicate if changes were made. The Creative Commons Public Domain Dedication waiver (http://creativecommons.org/publicdomain/zero/1.0/) applies to the data made available in this article, unless otherwise stated.