Molecular mechanisms regulating formation, trafficking and processing of annular gap junctions
BMC Cell Biology
BMC series – open, inclusive and trusted
2016
17(Suppl 1):S22
Abstract
Internalization of gap junction plaques results in the formation of annular gap junction vesicles. The factors that regulate the coordinated internalization of the gap junction plaques to form annular gap junction vesicles, and the subsequent events involved in annular gap junction processing have only relatively recently been investigated in detail. However it is becoming clear that while annular gap junction vesicles have been demonstrated to be degraded by autophagosomal and endo-lysosomal pathways, they undergo a number of additional processing events. Here, we characterize the morphology of the annular gap junction vesicle and review the current knowledge of the processes involved in their formation, fission, fusion, and degradation. In addition, we address the possibility for connexin protein recycling back to the plasma membrane to contribute to gap junction formation and intercellular communication. Information on gap junction plaque removal from the plasma membrane and the subsequent processing of annular gap junction vesicles is critical to our understanding of cell-cell communication as it relates to events regulating development, cell homeostasis, unstable proliferation of cancer cells, wound healing, changes in the ischemic heart, and many other physiological and pathological cellular phenomena.
Keywords
Annular
Clathrin
Connexin
Degradation
Dynamin
Endocytosis
Fission
Gap Junction
Lysosomes
Phosphorylation
Ubiquitination
ZO-1
Background
Gap junctions are membrane channels composed of proteins termed connexins [
1
], [
2
]. These channels permit intercellular communication of regulatory molecules that are thought to play a pivotal role in regulating a vast number of normal and diseased cellular events, including those during development, differentiation, and functions of most cells of the body [
3
]–[
5
]. Many cells express more than one of the twenty members of the connexin family that have now been identified in humans [
1
], [
2
], [
6
] and channels composed of more than one connexin type have been reported [
1
]. Gap junction channels generally form between cells of the same type, but they can also form between cells of different types [
7
], [
8
]. Connexin 43 (Cx43) gap junction protein, the most ubiquitously expressed connexin, has been shown to be synthesized in the endoplasmic reticulum (ER), oligomerized into a hemichannel in the Golgi and then transported to the cell surface [
6
], [
9
]–[
11
]. On the cell surface, hemichannels (termed connexons) from apposing cells align and dock head-on into complete, double-membrane spanning gap junction channels [
12
]. These channels then aggregate into gap junction plaques [
1
]. Although an isolated gap junction hemichannel within the cell membrane may be functional [
13
], [
14
], most channels are thought only to be functional once within gap junction plaques [
1
], [
15
]. The availability of functional channels between apposing cells is needed for efficient cell-cell communication, and therefore the removal of gap junction channels from the cell surface critically impacts the capacity for communication. It is widely accepted that gap junction channel removal from the cell surface involves a distinctive gap junction plaque internalization process, which results in the formation of annular gap junction vesicles in the cytoplasm of one of two contacting cells (Fig.
1
). Processing of annular gap junction vesicles for degradation by autophagosomal and endo-lysosomal pathways has been described [
16
]–[
23
]. A potential return of annular gap junction connexins back to the cell surface, a provocative yet appealing thought, has recently been given some attention as well. The events in the annular gap junction "life cycle" have been suggested to regulate the number of gap junction channels available for communication and thus cell physiological functions [
24
]–[
28
].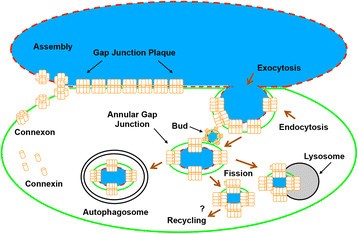 In this article, we will first discuss the morphological characteristics of annular gap junction vesicles as revealed over time with combined multi-morphological imaging techniques. Then, we will review the current knowledge on annular gap junction formation and subsequent processing including fission, degradation and potential connexin protein recycling. We also discuss the known cellular proteins that regulate these processing events.
Characterization of gap junction and annular gap junction structures
Annular gap junction formation
Annular gap junction scission
Conclusions
It is now well accepted that gap junction internalization, which results in annular gap junction vesicle formation, is a major cellular pathway that significantly contributes to gap junction turnover and that this process utilizes the clathrin-mediated endocytosis machinery. Mutations in gap junction connexins can cause a number of devastating human diseases including inherited nonsyndromic hearing loss, X-linked Charcot-Marie-Tooth neuropathy, congenital eye lens cataracts, cardiac diseases such as hypertrophy, ischemia, and heart failure, a number of acute skin disorders, as well as craniofacial bone and other developmental defects (recently reviewed in ref. [198]–[202]). It is thought that mis-regulated gap junction plaque internalization, degradation and stabilization on the plasma membrane, which all result in aberrant levels of GJIC, contributes to the disease phenotype. Indeed, it has been recently reported that altered, non-physiological degradation rates of different connexins may cause disease ([203], [204]; reviewed in [200], [205]). Such results lend important support to the hypothesis that alterations in gap junction turnover are directly related to the development of many diseases. Thus, it will be crucial to explore and decipher the turnover characteristics of connexion 43, and of other connexions and their disease-relevant mutants since mutations in most, if not in all connexins has been suggested to be related or cause diseased phenotypes [205]. This is of particular interest for connexin types that do not encode conserved, known, canonical AP-2 clathrin adaptor binding sites (such as Cx26, Cx31, Cx31.1, Cx40 and Cx46) (Fisher and Falk, unpublished), since it is not clear if gap junctions assembled from these connexins are capable of turning over on their own, and whether they also implement the clathrin endocytic machinery. Moreover, as gap junctions contribute to physical cell-cell adhesion, many patho-/physiological processes that involve cell migration and cell-cell separation (such as cell migration in development and wound healing, mitosis, apoptosis, leukocyte extravasation, ischemia, hemorrhage, edema, cancer metastasis and others) [92] require the removal of gap junctions from the plasma membrane, and mis-regulation of this process may further contribute to disease. This would be especially true during development when the need for migration, differentiation and cell-cell separation are critical.
Exploring annular gap junction degradation processes via autophagosomal versus endo-lysosomal mechanisms appears important as well, as degrading annular gap junctions by different cellular mechanisms bears the potential for different outcomes; an interesting hypothesis especially when considering a potential re-use of connexin polypeptides, gap junction hemi-channels, or even entire gap junction channels, rather than their degradation. Finally, as gap junction biosynthesis is a complex, time-consuming and energetically costly process, the recently suggested concept that internalized gap junctions could be re-used by re-inserting them into the plasma membrane [158] is a provocative, yet intriguing concept. Research in the coming years promises to answer at least some of these exciting open questions.
Abbreviations
AGJ:

annular gap junction
AKT:

kinase Protein kinase B (PKB)
AP-2:

clathrin adaptor protein complex 2
CLASPs:

clathrin associated sorting proteins
CME:

clathrin mediated endocytosis
Cx:

Connexin
Cx43-CT:

carboxy-terminal domain of connexin 43
Dab2:

disabled 2
DAG:

diacylglycerol
E1:

Ub-activating
E2:

Ub-conjugating
E3:

Ub-ligase enzyme
EGF:

epidermal growth factor
Eps 15:

epidermal growth factor receptor substrate 15
GFP:

green fluorescent protein
GJ:

gap junction
GJIC:

gap junction intercellular communication
GTPase:

enzyme that binds to guanosine triphosphate
K63-poly-Ub:

a protein modification that mediates protein endocytosis and degradation
LAMP:

lysosomal associated membrane protein
LC3:

microtubule-associated protein light chain 3
MAGUK:

membrane-associated guanylate kinase-family member
MAPK:

mitogen-activated protein kinase
Nedd4:

neuronal precursor cell-expressed developmentally down-regulated 4
PDZ-2:

amino acid structural domain with the following three proteins: P (post synaptic density protein), D (Drosophila disc large tumor suppressor) & Z (Zonula occludens-1 protein)
PKA:

protein kinase A
PKC:

protein kinase C
Q-dot:

quantum dot
RNAi:

RNA interference
S1:

S2, S3: connexin 43 adaptor-protein 2 (AP-2) binding sites (canonical tyrosine- based sorting signals of the type 'YXXΦ' where Φ is a bulky hydrophobic amino acid)
Smurf2:

SMAD ubiquitination regulatory factor 2
SQSTM1:

sequestosome 1
TEM:

transmission electron microscopy
TPA:

12-O-tetradecanoylphorbol 13-acetate
Trim21:

tripartite motif-containing protein 21
Ub:

ubiquitin
VEGF:

vascular endothelial growth factor
Wwp1:

WW domain containing E3 ubiquitin protein ligase 1
ZO-1:

zonula occludens-1 protein
Declarations
Acknowledgments
This review provides only a sampling of the literature that is available on this topic and we apologize to authors whose original works have not been cited. Work in the authors' laboratories is supported by funds from the National Institutes of Health (NIGMS, grant GM55725) to MMF, and the National Science Foundation (NSF, grant# MCB-0444398) to SAM.
Declarations
The publication of this article was funded by NSF grant# MCB-0444398 to SAM, and NIH NIGMS grant # GM55725 to MMF.
This article has been published as part of BMC Cell Biology Volume 17 Supplement 1, 2016: Proceedings of the International Gap Junction Conference 2015. The full contents of the supplement are available online at http://bmccellbiol.biomedcentral.com/articles/supplements/volume-17-supplement-1.
Authors' Affiliations
(1)
Department of Biological Sciences, Lehigh University, Bethlehem, USA
(2)
Department of Cell Biology and Physiology, University of Pittsburgh, School of Medicine, Pittsburgh, USA
Copyright
© Falk et al. 2016
This article is published under license to BioMed Central Ltd. Open AccessThis article is distributed under the terms of the Creative Commons Attribution 4.0 International License (http://creativecommons.org/licenses/by/4.0/), which permits unrestricted use, distribution, and reproduction in any medium, provided you give appropriate credit to the original author(s) and the source, provide a link to the Creative Commons license, and indicate if changes were made. The Creative Commons Public Domain Dedication waiver (http://creativecommons.org/publicdomain/zero/1.0/) applies to the data made available in this article, unless otherwise stated.