Research article
Open Access
Naturally occurring and stress induced tubular structures from mammalian cells, a survival mechanism
Received: 29 March 2007
Accepted: 16 August 2007
Published: 16 August 2007
Abstract
Background
Tubular shaped mammalian cells in response to dehydration have not been previously reported. This may be due to the invisibility of these cells in aqueous solution, and because sugars and salts added to the cell culture for manipulation of the osmotic conditions inhibit transformation of normal cells into tubular shaped structures.
Results
We report the transformation of normal spherical mammalian cells into tubular shaped structures in response to stress. We have termed these transformed structures 'straw cells' which we have associated with a variety of human tissue types, including fresh, post mortem and frozen lung, liver, skin, and heart. We have also documented the presence of straw cells in bovine brain and prostate tissues of mice. The number of straw cells in heart, lung tissues, and collapsed straw cells in urine increases with the age of the mammal. Straw cells were also reproduced in vitro from human cancer cells (THP1, CACO2, and MCF7) and mouse stem cells (D1 and adipose D1) by dehydrating cultured cells. The tubular center of the straw cells is much smaller than the original cell; houses condensed organelles and have filamentous extensions that are covered with microscopic hair-like structures and circular openings. When rehydrated, the filaments uptake water rapidly. The straw cell walls, have a range of 120 nm to 200 nm and are composed of sulfated-glucose polymers and glycosylated acidic proteins. The transformation from normal cell to straw cells takes 5 to 8 hr in open-air. This process is characterized by an increase in metabolic activity. When rehydrated, the straw cells regain their normal spherical shape and begin to divide in 10 to 15 days. Like various types of microbial spores, straw cells are resistant to harsh environmental conditions such as UV-C radiation.
Conclusion
Straw cells are specialized cellular structures and not artifacts from spontaneous polymerization, which are generated in response to stress conditions, like dehydration. The disintegrative, mobile, disruptive and ubiquitous nature of straw cells makes this a possible physiological process that may be involved in human health, longevity, and various types of diseases such as cancer.
Keywords
Tubular StructureLate Embryogenesis AbundantSpherical CellSpontaneous PolymerizationBovine Serum Protein
Background
Over millions of years of evolutionary time, living creatures from primitive cells to multi-cellular organisms must have been subjected to frequent episodes of dehydration; for example, bdelloid rotifers (aquatic microinvertebrates) adapt to desiccation by contracting into a compact shape and staying dormant until conditions improve [1, 2]; nematodes accumulate trehalose, a non-reducing sugar, to protect membranes and proteins from desiccation [3]; plants express late embryogenesis abundant (LEA) proteins in maturing seeds and pollen in response to desiccation [4]. The adaptability of organisms in response to dehydration through a state of suspended metabolism is essential for long-term survival [2]. Dehydration may be a selective force in evolution.
Here, we report for the first time, the identification of cells that form tubular structures in response to stress. These transformed cells have been termed straw cells based on their overall tubular morphology and ability to re-hydrate and form normal cells again. Although the desiccation of mammalian cells has been included in research by various groups in studies on the mechanisms of cellular response to low moisture [5–8], tubular forms of mammalian cell response to dehydration have not been reported. This lack of detection may be due to the invisibility of the straw cells in aqueous solution, and because sugars and salts added to cell culture for manipulation of the osmotic environment inhibit transformation to a tubular form.
Discussion
Thermodynamic and metabolic rates
Critics have postulated that straw cell structures are the artifacts from dead cells, the polymerization of membrane systems, or growth of protein crystals. Assuming that is the case, then the conversion from a spherical to straw cell is a simple physical deformation process. Therefore, the free energy needed to maintain spherical and tubular structures, built from the same amount of biological material, can be estimated. Following the Helfrich theory [
16
], the equilibrium shape of a thin membrane covering the vesicle or emulsion droplet is determined by the minimization of the Helmholtz free energy E
H
(or, namely, the "shape energy") of the system
The first term in Eq. (
1
) is given by the pressure difference across the membrane Δp and the volume of the droplet V, while the second term is determined by the interfacial tension σ and surface area A. The integral term in Eq. (
1
) is often known as the free bending energy, where R
0
is the spontaneous radius of curvature, κ and is the mean and Gaussian curvature elastic constants, respectively. For a spherical structure, the two primary radii of curvature R
1
= R
2
= R, and the first two terms in Eq. (
1
) are cancelled, so we have
For a tubular structure with the inner radius
a
, outer radius
b
and length L, R
2
= 8, we have
From literature, the κ and of the lipid bilayers are in the range of (0.1–1.0) × 10
-19
J (Derek, 2006), as a result, Eq. (
2
) yields E
H
~10
-18
-10
-17
J per spherical cell. These values for carbohydrates, which are the major components of the straw cell wall, are not available. From the TEM measurements, the spherical cell has a typical radius R = 10 μm while the straw cell filaments, has a length of 3 cm, or 3.0 × 10
4
μm, an inner radius
a
= 0.3 μm and an outer radius
b
= 0.5 μm (Figure
7
). It is immediately noted that the exceptionally large aspect ratio (10
4
) of the straw cell causes the second term in Eq. (
3
) to dominate any other term in Eq. (
2
) and (
3
) containing κ and . In addition, the first term in Eq. (
3
) always contributes accumulatively to the shape energy. Considerable free energy, mainly in the form of the elastic energy, is needed to account for the remarkable spherical-to-tubular shape transformation, with the cell volume increased from 4.2 × 10
3
to 2.6 × 10
4
(μm
3
) and the cell surface area increased from 1.3 × 10
3
to 1.8 × 10
5
(μm
2
). We conclude that the tubular structure, as compared to the spherical cell, is heavily disfavored in free energy; which leads us to believe that the spontaneous polymerization of dead cell matrix to tubular structure is an unlikely event.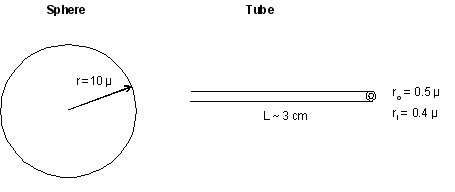 In reality, the straw cells cannot be simplified to a rod-shaped structure with an overall uniform composition. Not only do they have microscopic hair-like structures covering the surface (Fig.2I), but they also have differences in composition from the tubular center to the filamentous extensions (anisotropic and inhomogeneous) that makes a uniformity assumption untenable. During the spherical to tubular shape transformation, we observed changes in cell volume, surface area, and cell surface composition. The biological transformation we describe differs from a physical event where energy and material exchanges occur throughout the process.
During the reversion of a straw cell to a normal round cell, the tubular center (1 to 2 μm in diameter), houses organelles and grows by enlargement perpendicular to the elongated cell wall (Fig 3A) into a regular round shaped cell. Cellular metabolic rates are determined by the diffusion of ions and biomolecules [17, 18] and are expected to be much slower in straw cells than spherical cells because of the narrow cylindrical geometry restricting the intracellular diffusion of solutes compared to a round shaped geometry [19]. The diffusion coefficient of K+ in the t-tubules of skeletal muscle fibers is anomalous and 27% less than its value in free solution [20]. We also observed a much slower growth rate in straw cells (approximately 10 to 15 days) during reversion to regular sized cells, while normal unstressed spherical cells take 2 days to duplicate. It is unclear how straw cells resume a normal round cellular morphology. It is also uncertain as to how ion channels operate during straw cell development.
Straw cell filaments have an outer diameter from 50 to 100 μm (Fig. 1C) and appear to have little cytoplasm (Fig 1D). This is in contrast to fungal apical growth where the elongation of hyphae is typically characterized with a much greater amount of cytoplasm and a distinct endoplasmic reticulum that consists of a network of tubules connected to the nuclear envelope [21, 22]. Cell shape in bacteria is often defined by the distinct presence of peptidoglycan, a complex polymer built with glycan chains that are interconnected via peptide crossbridges [23]. Cells with a more complex shape, such as rod-shaped cells, exhibit an additional growth mode responsible for cell elongation [24]. It is unknown if straw cell assembly in regard to the cell wall is similar to bacteria, but glycoproteins and sulphated glucose polymers are primary constituents of the straw cell wall.
Indeed, straw cells can be independently observed in a 5 min experiment. This simply involves collecting any mammalian tissue fluid, placing 1 μL on a glass slide, and observing the droplet under a light microscope. As the droplet dries, the existence of straw cells and their connected filament networks are readily seen [see Additional file 1].
Proposed model of transformation
We propose that water activity sensors, present on the surface of mammalian cells, survey the hydration status of the environment and may be a type of membrane bound protein kinase(s). In plants, mitogen-activated protein (MAP) kinases [25–27] and phospohlipase D [28] have been upstream responders to the drought stress signaling pathway in Arabidopsis. A study of osmotic-stress-related proteins in rice has identified 12 specific proteins including kinases [29]. Water sensing may be a conserved mechanism throughout eukaryotes and mammalian cells may use similar MAP kinases for intracellular signaling. These sensors, when triggered, invoke a signaling cascade resulting in stress related transcriptional activity in the nucleus. As a result, we postulate that in mammalian cells, one of the potential protective responses involves a dramatic change in cell morphology resulting in the formation of straw cells.
Fragmentation of the CACO-2 nucleus (Figure
8
, arrow), along with a synthesis of tubular wall was observed during the straw cell transformation process. The time-lapse images were obtained over the entire dehydration process using light microscopy and TEM. These images reveal the presence of polymers assembled along the nuclear membrane (arrows). These subunits are hypothesized to be the building material for the tubular cell wall, presumably, after they have cross-linked to each other.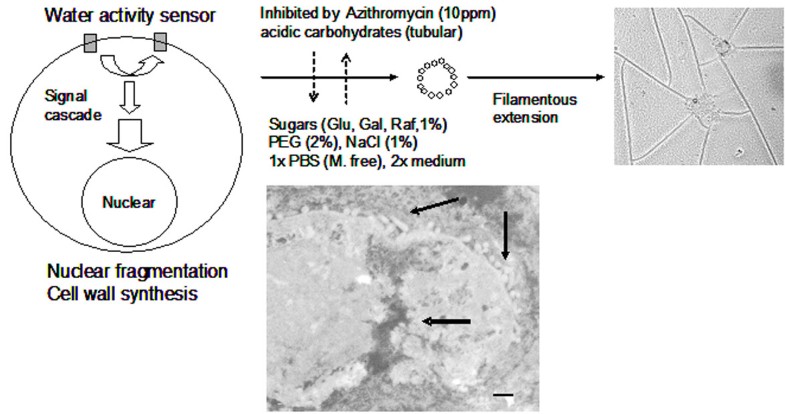 In an attempt to identify the presence of the surface water activity sensors and subsequent proteins involved in the signal cascade, we used small molecules to inhibit straw cell transformation. Initial results indicated that this process could be manipulated and inhibited with naturally occurring compounds as well as synthetic compounds. For example, changes in membrane fluidity by salts and sugars (1%) disrupt the tubular transformation; antibiotics (azithromysin) that inhibit protein synthesis interfered with the tubular transformation by producing filaments that were somewhat truncated.
Implication in human diseases
The large quantities of straw cells and their ubiquitous nature make them a potential unifying factor across a diversity of age related diseases. The conversion of cells into straw cells may be involved in the initial onset and progression of these diseases, the causes of which are still unknown. Moreover, straw cell formation may be a common physiological response in various types of human degenerative disease. Another area of human health where this phenomenon may play a role is tumor development and proliferation. The hydrophilic, mobile, detachment of straw cells may be a key component of metastasis. As such, hydrophilic straw cells from cancer cells may possibly move around in extracellular fluid and find new locations to grow.
There are many unanswered questions regarding the composition of these tubular cell structures found in a variety of mammalian tissues. For example, what suite of genes encodes the instructions governing the assembly of these tubular structures? What are the necessary molecules for making "unions" and "tees" in the filaments so as to form straw cell networks? Is straw cell transformation a conserved mechanism that mammalian cells use in response to the stress of dehydration and perhaps other stress inducing environmental factors? What is the physiological role of straw cell formation in vivo? How much dehydration occurs inside the body either locally or systemically?
Because the cellular transformation is reproducible in vitro in a 96-well plate, screening chemical libraries for inhibitory compounds to filamentous transformation is feasible and may result in the ability to control straw cell development in vivo. This may have implications in mediating degenerative diseases and tumor proliferation. For example, an In vitro assay using azithromysin at 10 ppm resulted in mammalian straw cells with both smaller straw cells and shortened filaments (Wu et al., unpublished data). One type of strategy could include selectively inhibiting protein kinases on the cell surface desensitizing the stress surveillance mechanism.
Conclusion
Several factors bolster our hypothesis that these tubular structures are indeed special cellular structures that form when a given cell adapts to stress rather than formed from either artifacts or from spontaneous polymerization. These factors include: (1) the pre-existence of tubular structures in all of our examined tissues; (2) the ability to observe filamentous structures via SEM, TEM and light microscopy; the presence of hair-like extensions and small pores or openings on the fixed straw cells (3) the non-production of straw cells in cell-free medium with reagents that changed osmotic potential (salts, PEG, and sugar); (4) the prohibition of spontaneous conversion from sphere-to-straw cells by free energy; (5) the radioisotope labeling of growth medium, showing the transformation to be a metabolically active process; (6) the growth of straw cells into normal cells capable of dividing; (7) the production of truncated straw cells, caused by the interference of antibiotics inhibiting protein synthesis in bacteria; (8) the discovery that tubular walls are made of sulphated glucose polymers after purifying straw cells in gram quantity, and subjecting them to FTIR and Mass spectrometry analysis.
We propose to call these tubular structures transformed through dehydration, "straw cells" because the filaments they produce appear to act as a conduit for the transport of water much like a drinking straw. Similar to the fungal spores, the straw cells are produced by a survival mechanism to protect them from stressful conditions and then revert to a normal morphology when the environment becomes favorable. Understanding the function of these straw cells and developing methods to interrupt their production is may elucidate the cause and effect of the basic pathogenesis in degenerative diseases including malignant tumor metastasis.
Methods
Preparation of tubular structures from tissues
Aliquots of 1 μl of extracellular fluid collected from fresh and frozen tissues were placed directly on a glass slide and observed under a light microscope. For quantitative measurements of straw cells, fresh 100 mg bovine tissue slices were harvested in triplicate from the brain frontal lobe cortex, heart muscle, liver, lung and skin tissues and soaked with 100 μL 1 × PBS (buffer: tissue at 1:1, w/w), vortexed briefly and incubated at room temperature for 5 minutes. The resulting slurry was centrifuged at 16,000 g, and 2 μL of the supernatant was placed on a glass slide and nitrogen gas dried in a chemical hood for 1 min. The existence of straw cells from tissues was subsequently counted under a light microscope. Incubation of post mortem tissues were at room temperature with the lid open. Straw cells were harvested at 24 h intervals using the same soaking procedure as that used for the fresh samples. Frozen normal mouse prostate tissue (Pten+/+; 100 mg) and prostate tumor tissue (Pten-/-; 200 mg) were collected with a laser-capturing micro-dissection microscope. Tissues in microfuge straw cells were stored in liquid nitrogen before use.
Dehydration and hydration of cultured mammalian cells
CACO2 (colon carcinoma cells, ATCC) at 20,000/ml were cultured in DEME medium supplemented with 20% fetal bovine serum (FBS, ATCC) in culture flasks in a CO2 incubator at 37°C. They were transferred to a 4-well chamber (Lab-Tek®) with 0.5 ml (1 × volume) culture per well and to a 96-well plate with 50 μl (1 × volume) per well. They were then incubated at 37°C for 2 h and placed at 22°C in either a chemical hood or in a Horizontal Clean Bench (Labconco), again with the lid removed, to start air-dehydration. D1 and adipose D1 cells, MSF7 and THP-1 cells were grown in PMI medium supplemented with 10% FBS (fetal bovine serum). Air-drying was carried out in intervals as well as in a complete dehydration study in which the medium was completely dried off. The drying with the lid removed usually took 8 h in a chemical hood or overnight on the bench. After the cultures were completely dried, transformed cells were isolated from attached cells by a quick rinse with 500 μl 1X PBS, and then centrifugation at 16,000 g for 4 minutes. The supernatants containing transformed cells were re-plated with fresh medium to 4-well chambers with 500 transformed cells per well. Dried aliquot was used to count the transformed cells in liquid, and rehydration was carried out at 37°C in a CO2 incubator with change of growth medium every two days until newly reemerged cells looked healthy and confluent. Counts of spherical cells against a clear background, as well as 30% Trypan Blue staining, were used to quantify the revival of transformed cells. Subsequent rounds of dehydration rehydration cycle were performed to these cells with a 30-day interval for their recovery in vegetative stage.
Scanning electron microscopy (SEM) and transmission electron microscopy (TEM)
SEM micrographs were recorded on a Hitachi S-3500 scanning electron microscope (SEM) at 1 to 25 kV on partially air-dehydrated cells in 4-well chambers without any chemical treatment; cells were still submerged in water. The images used background-scattered electrons at magnification ranges from 750× to 2,000×. For TEM, normal cells, transformed straw cells and purified filaments that survived centrifugation at 16,000 g were fixed in 2.5% glutaraldehyde, and 3.2% paraformaldehyde in 1 × PBS, pH 7.2 for 1 h, then washed and post-fixed in 1% osmium tetraoxide on ice for 2 h. They were then dehydrated with ethanol at 10 min intervals. Cells were embedded in Embed 812 resin and blocks were cut on a MT2B ultramicrotome, stained in 5% uranyl acetate solution for 15 min and Sato's triple lead for 5 min, and then imaged on H7000 TEM (Hitachi) at 75 kV.
Actin, nucleic acid and antibody staining
CACO-2 cells were plated onto chamber wells and allowed to adhere to the surface. Cellular dehydration was performed as described above. For fluorescent microscopy, cells were fixed in 4% paraformaldehyde for 10 min at room temperature and then permeabilized in 0.1% TritonX-100 for 2 min. Cells were stained simultaneously with 1:2000 fluorescent phalloidin (Molecular Probes) and 1:2000 SYTOX green (Molecular Probes) for 30 min at room temperature [30, 31]. Cells were gently washed once and imaged. For control cells, solutions were prepared in 1 × PBS. To preserve filaments of dehydrated cells, solutions were prepared in 95% ethanol.
Antibody staining of straw cells used rabbit anti-filaments polyclonal IgG as the primary antibody. The antibodies were raised from purified filaments with a small amount of bovine serum proteins. Total IgG was purified from test bleeds using Protein-A bead affinity chromatography (Sigma). The concentration of polyclonal antibody was adjusted to 1 mg/ml and pre-incubated with 1 mg bovine serum protein and then centrifuged to deplete the IgG that recognized the bovine serum proteins. The secondary antibody used was goat anti-rabbit IgG, fluorescent labeled (Alexa Fluor 488, Molecular Probe). Staining of collapsed filaments in solution used a 1:200 dilution of primary antibody incubated for 30 min and a 1:1000 dilution of secondary antibody incubated for 30 min. Negative controls were stained in an absence of either primary antibody or secondary antibody. Staining and cells were imaged in FITC channel and bright field using a fluorescent microscope (Axiovert 200 M, Zeiss) and laser confocal microscope (Zeiss LSM 510) at 10×, 20× and 40×, respectively. Z-stacking and fluorescent lights with various wavelengths were used for visualization. The image was processed with superimposed color to mimic the fluorescent color in particular wavelengths.
Tube fixation
Freshly prepared straw cells in 4-well chambers were fixed in 0.5 ml 4% paraformaldehyde fixation solution for o/n at 4°C. Next day the fixation solution was removed, and placed in hood for 2 hr to dry. The straw cells were imaged in FITC channel with hundreds of ms exposure time to capture the weak fluorescence. This procedure was used to acquire the images of the hair-like surface structures (Figure 2-I).
UV radiation
Transformed straw cells were tested for sensitivity to UV-C radiation following procedures in the literature [32, 33]. Freshly dehydrated cells were exposed to UV-C radiation in the hood with UV 30 W/G30 T8 (Philips) for 10 min. The dosage was pre-determined by irradiating normal cells in culture for a range of durations, and a 10 min exposure to radiation corresponding to 90% kill was selected for the experiments. Normal and transformed cells before and after dehydration were compared for their survival and revival rates.
Purification of filamentous extension
Filaments from 4-well-chambered plates were harvested after the removal of most lipids and bovine albumins as described above. The soluble fractions were filtered in a 100 KD spin filter (Microcon, Amicon) multiple times until the pinkish color was depleted. C18 reverse-phase matrix beads (Sep-Pak®, Waters) at 1:1 (w/w) were added to the supernatant three times to further remove medium proteins. The supernatants were then extracted three times with chloroform:methanol: water at 2:1:1, the resulting water-phase on the top was precipitated with 5% TCA and centrifuged. The resulting supernatants were then incubated overnight with 80% ethanol at -20°C. The ethanol fractions were centrifuged the next day at -10°C for 10 min at 5,000 RPM in a Benchtop centrifuge (Beckman Coulter) and washed twice with cold, 80% ethanol. Purified filaments were analyzed for their chemical composition by the following physiochemical methods.
Spectroscopic analysis
FTIR measurements of the filaments were taken using methods from the literature [9, 10] The absorbance spectra were obtained using a Bruker IFS 66 v/s spectrometer. The control proteins, polysaccharide standards and test samples were dried extensively (24 hrs in Speedvac, Avanti, 15 mTorr) and placed in a desiccator prior to use. Approximately 3 mg (2–3 weight % of total pellet) were ground to a fine powder with an agate mortar and pestle and mixed with KBr powder. Following this procedure, 100 mg of the resulting powder (weighted to the nearest 0.01 mg) was pressed into 5 mm diameter pellets using a pellet press. The experiments were held under vacuum, excited with a glowbar, and the spectra were collected using a DTGS detector. Background straw cells were collected after evacuation of the sample chamber followed by the sample scan. Absorbance spectra were collected from each of the samples with ranges between 400 – 3200 cm-1. Differences in the weights of carbohydrate between disks were normalized on the data station after the infrared spectra were recorded. All spectra were normalized with respect to the strongest recorded peak of 1600 cm-1.
The method for carbohydrate composition by mass spectrometry was adapted from the literature [34, 35]. Purified filaments were placed at room temperature for days until they collapsed. The water-soluble fraction was hydrolyzed with 1N HCl for 4 h at 70°C for partial hydrolysis and in 6N overnight at 70°C for complete hydrolysis. Electrospray ionization mass spectrometry in both positive and negative ion modes with MS (parent ion) and MS/MS (daughter ion) scans were used to register monomers and polymers of carbohydrates using Q-Tof micro (Waters). Aqueous mobile phase in neutral pH at flow rate of 1 μl/min was directly delivered to the ion source, and the sample cone was set at 3000 volts.
Radio-labeling
Radiolabeling of cultured cells was done according to published protocols [36, 37]. Briefly, one hundredth of one μCi of (1-14C) glucose was added to 0.5 ml medium with 10,000 MCF7 cells in a 4-chamber well. The controls were cells in growth medium with zero or full incubation without air-dehydration. The cells were extracted total lipids, proteins, and carbohydrates using sequential organic solvent, trichloroacetic acid, and cold ethanol treatment. 1 ml of moderate ionic cocktail (Ecolite, ICN, Biomedicals) was added to each vial containing the extracted fraction. A multi-purpose scintillation counter (LS 6500, Beckman Coulter) was used to count the radioactivity, using the automatic counting program on both H and C channels. Results from three experiments were averaged to calculate the standard deviations.
Inhibition Assay
The inhibition assay was developed to identify the inhibitory molecules involved in tubular transformation. Assay compounds, both natural and synthetic, included reverse-phase chromatography fractions from turtle urine and from collapsed bovine liver straw cells, methanol extracts of fever few and green tea, sugars, salts, PEGs, and dozens of antibiotics. The analytes, in serial dilutions from 1% to 10 ppb (w/w) were added to wells in 96-well plates (Q-plates 96 'F' well, Genetix, UK) in duplicate, along with 10,000 CACO-2 cells per well. The plates were dehydrated for 18 h with the lid removed in a chemical hood. Activities of the testing molecules were visually assessed in each well to determine the absence of tubular structures on light microscopy.
Carbohydrate analysis by HPLC
Urine sugar levels were measured using methods adapted from the literature [38–40]. Briefly, 0.5-ml aliquots of urine in a microfuge tube was extracted twice with 1 ml chloroform:methanol (50% v/v) and centrifuged to remove lipids and proteins. The remaining aqueous fraction was adjusted to pH 4.0 using 0.1% acetic acid and injected 100 μl into an analytical HPLC (717 autosampler, 1525 binary pumps, Waters) with Breeze software. A reverse-phase column (C18, 5 um, 4.6 × 150 mm, Waters) chromatography, with mobile phases (0.1 M acetic acid in water and 0.1 NH4-acetate in acetonitrile) in a gradient of 2%B/min at 1 ml/min flow rate, were run in continuous mode. A refractive index detector (2410, Waters) and a UV 280 nm detector (2487, Waters) were used in the detection of sugars. Area under the peak was integrated using the breeze software. Urine samples from eight individuals were collected in triplicate with information on the urination volume and time lapse from last urination over an 8 to 24 h period. The total free carbohydrate produced per hour per person was converted to a number of straw cells, based on the equivalency of the carbohydrate content per tubular structure.
Protein sequencing and Western
Micro-protein sequencing used in-gel tryptic digestion procedure from the literature [41]. After electrophoresis, the gels were stained with Coomassie; protein bands were reduced, alkylated and digested with trypsin and Glu-C proteases to generate peptides. The data-dependent acquisition method (DDA, Masslynx®, Waters) was used for the de novo sequencing of registered peptide ions. Protein identification used SwissProt, Human and Non- Redundant Protein Databases (NCBI).
Straw cells were resolved on SDS/PAGE and electrophoretically transferred to PVDF membrane (Millipore) at 100 V for 1 h. The membrane was blocked in 5% nonfat milk for 1 h and then incubated with the rabbit anti-tube polyclonal antibody for 2 h at 1:500 dilutions in 1 × PBS supplemented with 1% BSA. The membrane was then incubated with the mouse anti-rabbit IgG HRP antibody (Santa Cruz) for 1 h at 1:1000 dilution in PBS supplemented with 1% BSA. Opti-4CN Substrate and Detection Kits (Bio-Rad) were used for detection of positive bands.
Declarations
Acknowledgements
The authors thank Dr. Yong Q. Chen at the department of cancer biology, Wake Forest University Baptist Medical Center, NC. for providing the mice prostate tissues.
Authors' Affiliations
(1)
Department of Genetics and Biochemistry, Clemson University, Clemson, USA
(2)
Department of Biological Science, Clemson University, Clemson, USA
(3)
Electron Microscopy Facility, Clemson University, Clemson, USA
(4)
Department of Biosystems Engineering, Clemson University, Clemson, USA
(5)
Department of Physics and Astronomy, Clemson University, Clemson, USA
Copyright
© Wu et al; licensee BioMed Central Ltd. 2007
This article is published under license to BioMed Central Ltd. This is an Open Access article distributed under the terms of the Creative Commons Attribution License (http://creativecommons.org/licenses/by/2.0), which permits unrestricted use, distribution, and reproduction in any medium, provided the original work is properly cited.