Research article
Open Access
Common themes and cell type specific variations of higher order chromatin arrangements in the mouse
Received: 14 September 2005
Accepted: 07 December 2005
Published: 07 December 2005
Abstract
Background
Similarities as well as differences in higher order chromatin arrangements of human cell types were previously reported. For an evolutionary comparison, we now studied the arrangements of chromosome territories and centromere regions in six mouse cell types (lymphocytes, embryonic stem cells, macrophages, fibroblasts, myoblasts and myotubes) with fluorescence in situ hybridization and confocal laser scanning microscopy. Both species evolved pronounced differences in karyotypes after their last common ancestors lived about 87 million years ago and thus seem particularly suited to elucidate common and cell type specific themes of higher order chromatin arrangements in mammals.
Results
All mouse cell types showed non-random correlations of radial chromosome territory positions with gene density as well as with chromosome size. The distribution of chromosome territories and pericentromeric heterochromatin changed during differentiation, leading to distinct cell type specific distribution patterns. We exclude a strict dependence of these differences on nuclear shape. Positional differences in mouse cell nuclei were less pronounced compared to human cell nuclei in agreement with smaller differences in chromosome size and gene density. Notably, the position of chromosome territories relative to each other was very variable.
Conclusion
Chromosome territory arrangements according to chromosome size and gene density provide common, evolutionary conserved themes in both, human and mouse cell types. Our findings are incompatible with a previously reported model of parental genome separation.
Keywords
Gene DensityChromosome TerritoryChromosome Paint ProbeLymphocyte NucleusFibroblast Nucleus
Background
The existence of chromosome territories as restricted volumes in which the DNA of only one chromosome is spatially arranged during interphase is now established for about 20 years [1, 2]. The distribution of individual territories within the nucleus has come into focus more recently. Although the side-by-side arrangement of chromosome territories can change from one cell cycle to the next [3, 4], the radial organization of chromatin in the nucleus in general is not random. So far, the most widespread detected principle of functional nuclear architecture is the specific positioning of chromatin with different replication time points in S-phase. From single cell eukaryotes [5] to distantly related multicellular organisms like Hydra [6], chicken [7], humans [8, 9] and plants [10], a layer of chromatin replicating in mid S-phase was found at the nuclear periphery and around nucleoli, while early replicating chromatin was distributed in interior nuclear zones between the perinucleolar and perinuclear compartments.
For chromosome territories and some chromosomal subregions non-random radial distributions have been described. Several studies have shown that in spherical nuclei of both quiescent and cycling human lymphocytes, gene rich chromosomes are statistically more often centrally located while gene poor chromosomes are preferentially at the periphery [11–13]. Such an arrangement has also been reported for the gene rich human chromosome 19 homologs and gene poor chromosome 18 homologs in other primates [14]. Controversial results have been reported for flat human fibroblast nuclei. While one group described gene rich chromosome territories to be centrally and gene poor ones peripherally located [11, 13, 15], other groups described a size dependent radial distribution where large chromosomes are preferentially peripheral and small chromosomes internal [12, 16, 17]. While for spherical nuclei of cells growing in suspension all sites at the nuclear periphery are topologically indistinguishable from each other, a flat ellipsoidal nucleus as in fibroblasts possesses a unique outer rim defined by the intersection of the horizontal mid-plane with the nuclear border. In recent work on fibroblast nuclei of Homo sapiens (HSA) we found that territories of both, gene poor chromosome HSA18 and gene rich chromosome HSA19, stay close to the nuclear center, remote from the outer rim just described [17]. Accordingly, they were often neighbors. HSA18 territories, however, were on average located closer than HSA19 territories to the top and bottom part of the envelope of structurally preserved nuclei. In contrast, in spherical lymphocyte nuclei gene rich HSA19 territories are typically located in the nuclear interior while gene poor HSA18 territories are associated with the nuclear envelope and thus away from HSA19. The shape of nuclei thus apparently plays a role in territory positioning. Differences in the distribution of some chromosome territories in different cell types have also been described in mouse [18]. Interestingly, cell types from related differentiation pathways like large and small lung cells, were found to have more similar chromosomal distribution patterns than unrelated cell types. Only chromosomes with low to average gene density from unsynchronized cells were investigated [18] and gene density and cell cycle topics were not addressed. In chicken, large, gene poor chromosomes have been found peripheral and small, gene rich ones more centrally in flat fibroblast nuclei, in semi-spherical neuroblast nuclei and spherical nuclei of some blood cell types [7, 19].
While repetitive probes for individual centromeric regions have been used in many studies to identify the position of specific chromosomes [20–22] centromeres as functional entities also have been a subject of interest. Changes in centromere distribution have been associated with differentiation processes [23–26]. Clusters of centromeric and pericentromeric regions, so called chromocenters, were shown to be involved in silencing of several genes in various hematopoietic cell types [27, 28] and MeCP2, a protein binding to methylated DNA, was shown to induce clustering of these regions during mouse myotube differentiation [29]. These findings indicate that in order to understand the rules which govern nuclear functions, we need to understand chromatin structure at all levels, from the organization of the nucleosome fiber carrying individual active and silent genes to the architecture and arrangements of chromosome territories in the nuclear space.
In the present study we tested the spatial organization of chromocenters and chromosome territories for specific distribution patterns in six mouse cell types. We also asked whether chromosome distribution in lymphocytes and fibroblasts is conserved from man to mouse. An obvious difference between human and mouse karyotypes is that all chromosomes of
Mus musculus
have the centromere near one telomere (telocentric) with large heterochromatic blocks nearby (Figure
1a
) while human chromosomes are divided by the centromere in two arms of approximately similar size (metacentric) or a rather short and rather long arm (acrocentric) or ratios in between (submetacentric) (Figure
1b
). Differences in gene content and size between chromosomes are also smaller in mouse than in humans (Figure
1
). Disregarding human and mouse Y-chromosomes, human chromosome sizes vary about fivefold (245 – 47 Megabasepairs, Mbp [
30
] and human chromosome gene densities vary more than sixfold (23 – 3.5 genes/Mbp [
30
]). Mouse chromosomes (Figure
1a
) vary in gene density only about twofold (15.9 – 7.5 genes/Mbp) and in size about threefold (195 – 61 Mbp). We tested the radial distribution of mouse chromosome territories for size-dependence and gene-density dependence in cell types with nuclear shapes ranging from spherical to flat ellipsoidal. We also investigated the position of homologous and pairs of heterologous chromosomes relative to each other. We selected 6 chromosomes to cover big, small, gene rich and gene poor examples (Figure
1a
). For chromocenters, the degree of clustering and the nuclear distribution was measured in each cell type. All examinations were made on nuclei with a defined cell cycle stage.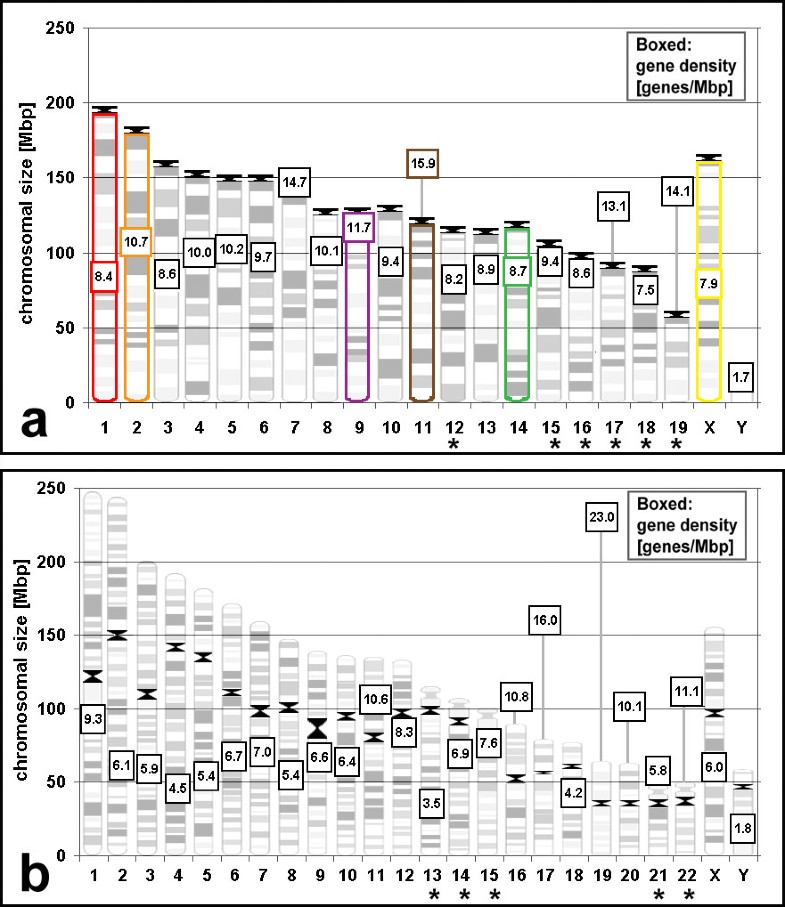 Discussion
The radial distribution of chromosome territories
In lymphocyte nuclei of humans, gene rich chromosome territories were shown to locate to internal regions of the nucleus while gene poor ones are more peripheral [11–13, 39, 40], a distribution also found for the homologs of human chromosomes 18 and 19 in primates [14]. Our data provide the first report for a gene density dependent radial chromosome territory arrangement in lymphocytes of a non-primate animal, suggesting that this ordering principle in the lymphocyte nucleus has been evolutionary conserved since a common ancestor of mice and humans lived some 87 million years ago [41]. The finding that differences are less pronounced in mouse than in humans is consistent with much smaller differences in chromosomal gene density in the mouse karyotype. The evaluation method used here was previously applied in studies on lymphocytes of humans and other primates and results are thus comparable. The most gene rich mouse chromosome MMU11 (peak at 66% of the nuclear radius, Figure 3a) is not as centrally located as the most gene rich human chromosome, HSA19 (peaks at 40–50%) [12, 14, 40], or the HSA19 homologs in ten primate species (peaks between 40 and 60%) [14] but it comes close to the second most gene rich human chromosome, HSA17 (peak at 58%) [39], which consists of about 3/4 of sequences syntenic to MMU11 [30].
Gene density of individual chromosomes was not the only theme of radial nuclear order, since in addition we observed a correlation with chromosome size (Figure 3). Interestingly, in mouse lymphocyte nuclei the correlation coefficient was higher for a gene density dependent arrangement while in macrophage nuclei it was higher for size dependent arrangement. This indicates a level of cell type specific differences in chromosome territory arrangements whose functional significance can now be explored. Studies finding the same transgene arrays more internal when transcriptionally active than when inactive [42, 43] suggest that "gene density sorting" may be correlated to transcriptional activity rather than gene content per se. Current evidence argues against movement of chromosome territories during interphase but repositioning of chromosomes relative to each other was observed during mitosis [3, 4].
A comparison of the radial positioning of two chromosomal subregions between human ES and lymphoblastoid cells revealed a slightly significant difference (p < 0.04) for the p-arm of HSA12 but not the p-arm of HSA6 [44]. In our study, between mouse ES cell and lymphocytes nuclei we found many significant differences in the radial distribution of the six tested chromosomes. Differences in fibroblast and macrophage nuclei were much less pronounced. For human fibroblast nuclei, both, a gene density related distribution [11, 13, 15] and a chromosome size dependent distribution [12, 16, 17] have been reported. In a recent study [17], we reconciled these seemingly conflicting data by evidence that both, gene density and size related features of chromosome territory positioning can be observed (see Introduction). Territories of small HSA18 and HSA19 were both found close to the 3D nuclear center in spite of the large differences in gene density between them. HSA1 is about 3.5 times larger than HSA18 and HSA19. The largest ratio in the current study was only 1.64 (MMU1 vs. MMU14). A similar factor is reached for example by the human chromosome combinations HSA1 and HSA8 or HSA12 and HSA18. Both combinations were not found to produce significant radial positioning differences in human fibroblasts [17]. Assuming that chromosome size differences play an important role in chromosome territory positioning in both, human and mouse nuclei, the much smaller size differences between mouse chromosomes compared to human chromosomes may explain the lack of significant radial distribution differences in mouse fibroblasts. Linear regression analysis showed a slightly better fit for a gene-density related distribution than for a size related distribution in this cell type (Figure 3e,f).
A chromosome territory distribution related to both, size and gene density was also reported for chicken cell nuclei [7, 19]. This fits with the fact that chicken microchromosomes show a much higher gene density than macrochromosomes. In addition, in species ranging from humans and other mammals to chicken, a layer of chromatin at the nuclear periphery and around nucleoli is replicated in mid to late S-phase and consists of gene poor sequences. Gene dense chromatin replicates early in S-phase and is distributed in interior nuclear zones between the perinucleolar and perinuclear compartments [7–9]. Two recent studies found early replicating chromatin also in the interior of Hydra cell nuclei [6] and of micronuclei of a Ciliate [5], while a zone of mid-late replicating chromatin was noted in close association with the nuclear envelope. While it is not known at present whether early and mid-late replicating chromatin in Hydra and Ciliates differ in gene density to the same extend as observed in higher animals, present data support the hypothesis that non-random radial chromatin arrangements have been evolutionary conserved possibly since the formation of the first eukaryotic cells. This hypothesis, if it can be further substantiated, argues for a still unknown adaptive value of this radial order [17, 45].
Despite relatively small gene density and size differences between mouse chromosomes we found significant variations in distribution from one cell type to another. The strongest case was provided by the comparison of ES cell nuclei with lymphocyte nuclei where we detected significant differences for MMU9, MMU11 and MMU14. Both mouse cell types have very similar nuclear shapes. We therefore can exclude that these distribution differences are strictly dependent on a single factor, be it nuclear shape, chromosomal size or gene density. More complex mechanisms must therefore be implicated. A possibility that is now open for experimental tests are cell type specific differences of gene expression pattern along a given chromosome. A more similar chromosomal distribution in related cell types than in unrelated ones provides circumstantial evidence for such an assumption [18]. In mouse large and small lung cells the distribution of all tested chromosomes was similar and mouse lymphocytes and myeloblasts showed only one significant difference [18]. In our study we found highly significant differences between two hematopoietic cell types, lymphocytes and macrophages, suggesting that terminal differentiation implies cell type specific changes of chromosome positioning, possibly in response to transcriptional changes. Restrictions for the spatial distribution of chromosome territories may come from the arrangement of specific chromosomal subregions such as pericentromeric heterochromatin which may be involved in the development of cell type specific higher order chromatin arrangements [46].
Arrangements of chromosome territories follow probabilistic rules
Radial distributions as discussed above were derived as a mean of the positions found in individual nuclei. In individual nuclei, chromosome territories can occupy a position quite different from this mean, reflecting the dynamic nuclear organization of the genome. Notably, chromosome territories were considerably more variable arranged with respect to each other than with respect to their radial nuclear order. Our data are neither compatible with a general association of homologous chromosomes nor with a separation of the genome in two parental haploid sets. A spatial separation of paternal and maternal haploid chromosome sets together with an antiparallel chromosome order in each set resulting in homologous chromosomes typically positioned opposed to each other was reported [36, 47–49]. Other studies, however, did not find evidence for these claims in human cell types [17, 50]. The present study provides substantial evidence against separation of paternal and maternal chromosome sets in several mouse cell types. Instead, our data support a very variable distribution of chromosome territories with respect to each other, in agreement with a study of radiation induced chromosome translocations in human lymphocytes [51]. Our findings, however, do not exclude preferential neighborhoods of certain chromatin regions in specific cell types. A number of publications have reported individual examples for such a non-random proximity of particular chromosomes [18, 52], centromeres [53, 54] or genes [55–59] in some cell types but not in others, including homologous pairing of specific chromosomes in some examples [60–62]. This study suggests a more frequent association of MMU1 in macrophage nuclei compared to other cell types.
Organization of chromocenters
Our results confirm previous studies on other mouse cell types showing characteristic cell type specific patterns of chromocenter distribution [20, 24–26, 29, 37, 63, 64]. Similar observations have been made in rat [65] and human cells [44, 53, 54, 60, 66, 67]. The extend of centromere clustering is, however, also species specific. Human fibroblasts, lymphocytes, and ES cells, revealed more than 30 centromere signals in cycling cells for the 46 human chromosomes [44, 67] and thus much less clustering than the respective mouse cell types in our study. In addition to the number of chromocenters, the present study also provides data about their radial distribution, their association with the nuclear border or the nucleolus and the shape of the harboring nuclei. As for chromosome territories, we found common themes. Cell types with spherical nuclei revealed a more peripheral relative radial distribution of chromocenters while flat nuclei showed a more internally located one.
With the exception of gene richest MMU11 in some cell types, radial distributions of investigated chromosome territories were more peripheral than the distributions of counterstained nuclear DNA (Figure 3a,d,g,j,m), including chromosomes MMU2 and MMU9, the fifth and sixth gene richest chromosomes in mouse. This raised the question which chromosomes or parts thereof account for the internally located DNA. The 14 chromosome pairs not investigated in this study including six pairs of NOR bearing chromosomes come into question as well as chromosome regions not detected by FISH with chromosome paint probes. In chromosome painting experiments, repetitive sequences that would cross-hybridize to other chromosomes are suppressed. As a consequence, tandem repetitive sequences contained in centromeric and pericentromeric regions stay unlabeled. Indeed, chromocenters were more internal than the average painted chromosome territories from the same cell nuclei and also than total counterstained DNA. Considering the large size of chromocenters, this finding is compatible with the observation that in all cell types 64% – 97% of the chromocenters touched the nuclear border. 3D-reconstructions (Figure 6) illustrate several examples where chromocenters touch the nuclear border but also reach deep into the nuclear interior. This figure also suggests a reason for the tendency of flat cells to have more and smaller chromocenters (Table 2, Figure 7). The average chromocenter in fibroblast nuclei contained pericentromeric regions from two chromosomes. For geometrical reasons, the number of chromosome territories of which centromeres can associate within single chromocenters may be more constrained in flat nuclei compared to spherical nuclei.
Nuclear shape however cannot be the only reason for differences of higher order chromatin arrangements between cell types since nuclei with similar shape but from different cell types such as ES cells and lymphocytes show marked differences. Also, the number of chromocenters is not always larger in flatter nuclei. When ES cells were in vitro differentiated to macrophages their flatness increased while the number of chromocenters decreased. The finding that in this case centromere clustering happens during a postmitotic stage, argues for a differentiation related process. In the differentiation pathways investigated in the present study (myoblasts to myotubes and ES cells to macrophages), we found a decrease in the number of chromocenters. Such a relation was noted in an early study using Giemsa staining on different tissues of mouse [37] and also found in in vitro differentiation experiments [29, 65, 66]. Generally, non-cycling cells often show fewer chromocenters than their cycling counterparts [33, 67]. The extreme case is reached in certain neuronal cells of the mouse retina were all centromeres cluster into a single chromocenter (I. Solovei, personal communication). Our observations suggest, however, that cell differentiation in other cases may also imply a de-clustering of centromeres. Fibroblast and myoblasts nuclei showed larger numbers of chromocenters than ES cell nuclei. More direct evidence is available for postmitotic mouse Purkinje neurons where clustering of centromeric regions is dynamic during postnatal development. After a transient increase in clustering combined with a more central location 3 days after birth, a fraction of centromeric regions split up again together with some centromere movements back to the nuclear periphery [23–25].
Conclusion
We report common themes of higher order chromatin arrangement as well as cell type specific differences in mouse cell nuclei. A common theme detected here as well as in previous studies of human cell nuclei [11–13] is the preferential radial distribution of chromosome territories, that describes the distance of territories to the nuclear center. In both, human and mouse lymphocyte nuclei, gene rich chromosome territories are distributed to more internal regions than gene poor chromosome territories, indicating evolutionary conservation of this ordering principle at least since the separation of primate and rodent ancestors. In all investigated mouse cell types, we observed a tendency for such a gene density dependent distribution of chromosome territories as well as a preference of large territories to be more peripheral than small ones. Cell type specific differences however were noted with respect to the predominance of gene density or size related correlations. In addition, individual chromosome territories showed cell type specific variations in radial distribution. Cell type specific higher order chromatin arrangements could not be explained by differences in nuclear shape and thus other yet unknown factors must be implicated. In contrast to the radial distribution of chromosome territories in the nucleus, their side-by-side arrangements (neighborhoods) were highly variable. Our data are not compatible with a reported model of separation of haploid parental chromosome sets with an antiparallel order of chromosomes [36]. Depending on cell type, clustering of centromeric regions into larger chromocenters was either increased or decreased compared to precursor cells. In general, we found stronger clustering in further differentiated cells as well as in spherical nuclei when compared to flat nuclei but exceptions occurred. Cell type dependent variations also included differences in radial nuclear distribution of chromocenters. A common theme was contact of a majority of chromocenters with the nuclear border.
Materials and methods
Cell culture, fixation procedure and FISH-pretreatments
EB-5 ES-cells (40, XY) were cultivated in DMEM with 15% FCS (tested for ES-cells) with additional supplements as described elsewhere [68] under 5% CO2. The ES-cells grew in gelatinized flasks without feeder cells. For 3D-preparations, glass cover slips were coated with gelatine (pork skin gelatine, Sigma, Deisenhofen, Germany) by incubation with a 1% solution in water for 20 min and air drying. ES-cell suspension was incubated for 1 h to allow attachment. When ES cells grow on a surface for extended periods of time they start to form colonies in which the cells can have nuclei of highly irregular shape. For technical reasons we limited our evaluations to single cells with round nuclei. Differentiation of ES cells to macrophages was started by co-cultivation of ES cells on OP9 stroma cells [69] as described in [70]. At day 8 of differentiation, suspension cells were transferred to cell culture flasks using medium containing macrophage colony-stimulating factor (MCSF) and interleukin 3 (IL-3). Cytokines were obtained by cultivation of L-cells and X63 AG-653 cells, transgenically expressing and secreting M-CSF or IL-3, respectively [71]. On day 12, the culture contained many adherent macrophages. Cells were transferred onto glass coverslips and fixed the following day. Terminally differentiated macrophages were identified by detection of the surface antigen CD11b, by cell shape and by the absence of BrdU incorporation (see below). Mouse embryonic fibroblasts (40, XX and 40, XY, kindly provided by Dr. Alexander Pfeifer, Institut für Pharmakologie, Ludwig-Maximilians-Universität München) were cultured in DMEM with 10% fetal bovine serum under 5% CO2 to 80% confluency on glas coverslips. Mouse lymphocytes from pooled peripheral blood (kindly provided by Dr. Manuela Mohr, Lehrstuhl für molekulare Tierzucht und Biotechnologie, Ludwig-Maximilians-Universität München) were isolated on a Ficoll gradient. Cultivation was in RPMI with 15% fetal bovine serum. Stimulation was with 12 μg/ml concanavalin A for 72 h. After centrifugation, cells were resuspended in 50% FCS/ 50% RPMI. Glass cover slips (18 × 18 mm, 170 μm thick) were coated with poly-L-lysine (MW 300 000, Sigma, Deisenhofen, Germany) by incubation with a 0.1 mg/ml solution for 40 min, washed with water and air-dried. The cell suspension was incubated for 1 h or longer to allow for attachment. Pmi28 primary mouse myoblasts were kindly provided by A. Starzinski-Powitz [72] and cultured and differentiated to myotubes as described [73].
For the identification of cells in S-phase, BrdU at a final concentration of 5 μM was added to the culture medium 30–60 min before fixation except for macrophages and myotubes where incubation time was 24 h. Fixation was performed with 4 % formaldehyde freshly made from paraformaldehyde [74] and buffered in PBS for 10 min. For ES-cells, macrophages, fibroblasts and myotubes, formaldehyde was in 0.75 × PBS, for myoblasts in 1 × PBS. Lymphocytes were incubated in 0.3 × PBS for 40 sec prior to fixation and also fixed in 0.3 × PBS to prevent shrinkage of the nucleus that otherwise occurs in this cell type. Permeabilization steps for all cells included 10 min in 0.5% Triton-X 100, 60 min. incubation in 20% glycerol in PBS followed by five freezing/thawing cycles in liquid nitrogen and a 10 min incubation in 0.1 M HCl. Slides were kept at 4°C in 50% formamid/2 × SSC until hybridization. Air-drying of nuclei was carefully avoided at all steps.
To avoid obstruction due to mixed results from active and inactive X-chromosomes, we investigated only active X-chromosomes from male cells. ES cells, unstimulated lymphocytes and myoblasts were from male sources, thus they as well as in vitro differentiated macrophages and myotubes contained only an active X-chromosome. Fibroblasts and stimulated lymphocytes were from mixed female and male sources. When we labeled X-chromosomes in these cell types, only nuclei with a single one-chromosome-size territory (male cells) were recorded.
DNA probes and FISH
Mouse chromosome paint probes, produced by DOP-PCR [75] from sorted chromosomes, were kindly provided by N. Carter, Cambridge, UK [76]. Labeling of chromosome paints was done by DOP-PCR using biotin-dUTP or digoxigenin-dUTP. 10 μl of both chromosome paint probes and 80 μl mouse C0t1-DNA (1 μg/μl, Invitrogen) were precipitated and solved in 5 μl deionized formamide. The same volume of 20% dextransulphate in 2 × SSC was added. Simultaneous denaturation of probes and target was at 75°C for 3.5 min. Hybridization was performed at 37°C for 2–3 days. To exclude influences from the labeling scheme we switched biotin and digoxigenin so that half of the evaluated nuclei had one labeling scheme and the other half the other one. FISH with the mouse major satellite specific probe was performed as described [29].
Detection
After hybridization washing steps with 2 × SSC at 37°C and 0.1 × SSC at 60°C were performed. Biotin was detected with avidin-Alexa-488 (Molecular Probes, USA) and goat-anti-avidin-FITC (Vector Laboratories, USA). Digoxigenin was detected with rabbit-anti-Dig (Sigma) and goat-anti-rabbit-Cy3 (Amersham Pharmacia, UK). BrdU detection was in PBS with mouse-anti-BrdU (Roche, Mannheim, Germany) and goat-anti-mouse-Alexa-350 (Molecular Probes, Eugene, Ore.). TO-PRO-3 (1 μM; Molecular Probes) was used as a DNA counterstain.
Confocal microscopy and image analysis
Stacks of optical sections were collected on Leica TCS 4D (100x, N.A 1.4 Plan Apo Objective) and on Zeiss LSM 410 (63x/1.4 Plan Apo) confocal microscopes. Voxel size was 80 nm or below in xy and 240 nm or below in z. Where necessary, individual image stacks were processed with ImageJ [77] e.g. to clip other nuclei from the images. The program used to determine the relative radial distributions of chromosomes and chromocenters is described in detail elsewhere [12]. Briefly, it segments each nucleus in 25 equally spaced "shells". The outermost shell is fitted to the surface of the segmented nucleus and inner shells are adapted accordingly. On any ray from the nuclear center to the surface, each shell has the same width, resulting in increasing volumes for outer shells. The percentage of a given signal in each shell is then calculated. Due to the limited resolution of light microscopy and a Gaussian filtering, the edge of the nucleus does not appear as a sharp border but blurred, with intensity decreasing to zero over a small region. Nuclear segmentation will include some of it. This is the reason for the decreasing amounts of DNA in the outermost shells in the curves. Angles and distances between chromosome territories were measured with a newly developed program. Thresholds for nuclei and territories were determined interactively. The gravity centers of the resulting objects and the geometrical center of the nucleus were used for calculations. 3D reconstructions shown in Figure 6 were made with AMIRA (TGS Europe, now available from Mercury Computer Systems, Merignac, France). Graphs were made in Microsoft Excel. Final figures were assembled in Adobe Photoshop (Adobe Systems, San Jose, CA, USA).
Statistical analysis
To determine whether differences between relative radial distributions were significant, we used the median of the distribution in each nucleus. These and other values like angles were compared using the two-sided Kolmogorov-Smirnov test in the Software Package SPSS 12 (SPSS Inc., Chicago, Ill.). Linear regression analysis was also performed in SPSS.
Declarations
Acknowledgements
We are grateful to scientists who have provided research material for this study as detailed in the methods section. We thank our colleagues Irina Solovei and Christian Lanctôt for critical reading of the manuscript. This work was supported by the Deutsche Forschungsgemeinschaft by a grant to T. Cremer and S. Dietzel (Cr59/21-1).
Authors' Affiliations
(1)
Ludwig-Maximilians-Universität München, Department Biologie II, Planegg-Martinsried, Germany
(2)
Kirchhoff Institut für Physik, Universität Heidelberg, Germany
(3)
Institute of Stem Cell Research, GSF – National Research Center for Environment and Health, Neuherberg, Germany
Copyright
© Mayer et al; licensee BioMed Central Ltd. 2005
This article is published under license to BioMed Central Ltd. This is an Open Access article distributed under the terms of the Creative Commons Attribution License (http://creativecommons.org/licenses/by/2.0), which permits unrestricted use, distribution, and reproduction in any medium, provided the original work is properly cited.