Research article

Open Access
Cytoskeletal influences on nuclear shape in granulocytic HL-60 cells
Received: 11 April 2004
Accepted: 19 August 2004
Published: 19 August 2004
Abstract
Background
During granulopoiesis in the bone marrow, the nucleus differentiates from ovoid to lobulated shape. Addition of retinoic acid (RA) to leukemic HL-60 cells induces development of lobulated nuclei, furnishing a convenient model system for nuclear differentiation during granulopoiesis. Previous studies from our laboratory have implicated nuclear envelope composition as playing important roles in nuclear shape changes. Specifically noted were: 1) a paucity of lamins A/C and B1 in the undifferentiated and RA treated cell forms; 2) an elevation of lamin B receptor (LBR) during induced granulopoiesis.
Results
The present study demonstrates that perturbation of cytoskeletal elements influences nuclear differentiation of HL-60 cells. Because of cytotoxicity from prolonged exposure to cytoskeleton-modifying drugs, most studies were performed with a Bcl-2 overexpressing HL-60 subline. We have found that: 1) nocodazole prevents RA induction of lobulation; 2) taxol induces lobulation and micronuclear formation, even in the absence of RA; 3) cytochalasin D does not inhibit RA induced nuclear lobulation, and prolonged exposure induces nuclear shape changes in the absence of RA.
Conclusions
The present results, in the context of earlier data and models, suggest a mechanism for granulocytic nuclear lobulation. Our current hypothesis is that the nuclear shape change involves factors that increase the flexibility of the nuclear envelope (reduced lamin content), augment connections to the underlying heterochromatin (increased levels of LBR) and promote distortions imposed by the cytoskeleton (microtubule motors creating tension in the nuclear envelope).
Keywords
Retinoic AcidNuclear EnvelopeNuclear ShapeEmerinGranulocytic Differentiation
Background
Granulopoiesis, the differentiation of peripheral blood granulocytes, involves dramatic nuclear and cytoplasmic structural changes [1]. Committed bone marrow progenitor cells possess ovoid-shaped nuclei with prominent nucleoli and a paucity of heterochromatin. The mature terminally differentiated human neutrophil (polymorphonuclear granulocyte) exhibits a distinctly lobulated (segmented) nucleus with shrunken nucleoli and extensive peripheral heterochromatin. The mature neutrophil is released into the bloodstream, where it circulates as a round unpolarized cell. Responding to chemotactic agents produced by infection and tissue damage, the circulating neutrophil changes cell shape, converting to a rapidly migrating polarized cell. Mature granulocytes have a limited lifespan, succumbing to apoptosis within a few days following release into the bloodstream.
Several established tissue culture cell lines have been investigated as model systems for understanding the events and mechanisms of granulopoiesis [2]. Previous studies from our laboratory have employed the HL-60 cell system to examine nuclear lobulation and cytoskeletal polarization [3–5]. HL-60 cells exhibit granulocytic differentiation in response to added retinoic acid (RA) [6], eventually undergoing apoptotic death [7]. Our studies on RA induced granulocytic differentiation of HL-60 cells implicated two major factors in the nuclear lobulation process: 1) very low cellular levels of lamins A/C and B1; 2) a significant increase in cellular levels of lamin B receptor (LBR). Ultrastructural studies suggested that during nuclear differentiation, nuclear envelope surface area was increased [3]. In addition to nuclear lobulation, these studies demonstrated the formation of extensive nuclear envelope outgrowths, denoted "nuclear e nvelope-l imited c hromatin s heets" or ELCS. The suspected role of LBR was confirmed in subsequent studies [8, 9], which demonstrated that a genetic deficiency of LBR correlates with hypolobulated granulocyte nuclei in the human Pelger-Huet anomaly [8] and the murine Ichthyosis mutation [9]. LBR is an integral membrane protein of the nuclear envelope inner membrane, with putative interactions to lamin B, chromatin and HP1α [10]. The mechanistic relationships between changes in nuclear envelope composition and granulocytic nuclear lobulation are currently unknown.
The position of the interphase nucleus within the cell appears to be regulated by microtubules and associated dynein [11] and actin and associated spectrin-like proteins [12–15]. However, only fragmentary data exists examining the relationship, if any, between cytoskeletal elements and nuclear shape. Absence of intermediate filaments (vimentin) has been correlated with nuclear envelope folds or invaginations [16]. Employing HL-60 cells, evidence has been published that neither microtubules (MTs) nor the actin microfilament system are essential for the establishment of nuclear lobulation [17]. Our laboratory chose to investigate these conclusions concerning HL-60 cells in greater detail. Employing the same cell subline (HL-60/S4), we demonstrated that brief (i.e., 2 and 4 hour) treatments of undifferentiated or granulocytic (RA treated) cells with various cytoskeletal modifying chemicals had no obvious effects upon nuclear shape, although cell shape was strongly affected [4]. However, prolonged (i.e., 2 day) exposure of undifferentiated HL-60/S4 cells to nocodazole (NC, disrupts MTs) or taxol (TX, stabilizes MTs), but not cytochalasin D (CD, disrupts actin microfilaments), resulted in rapid apoptotic death. For this reason, the present study emphasizes the prolonged exposure of cytoskeleton-modifying chemicals on Bcl-2 overexpressing HL-60 cells [18, 19]. These cells are more refractory to undergoing apoptosis, but can still be induced with RA to exhibit granulocytic differentiation. Employing HL-60-bcl-2 cells [18], we demonstrate that the integrity of the MTs system, but not the actin microfilament system, is essential for the nuclear lobulation process during in vitro granulopoiesis. Prolonged exposure of HL-60-bcl-2 cells to CD or TX does lead to perturbations of nuclear shape, independently of RA induced nuclear differentiation.
Discussion
HL-60-bcl-2 cells and granulocytic nuclear differentiation
Prolonged exposure of HL-60 cells to various cytoskeleton-modifying chemicals (i.e., nocodazole and taxol) are very harmful to cell viability, inducing rapid apoptosis. The present study was conducted primarily on a Bcl-2 overexpressing subline of HL-60 cells, which is more refractory to apoptosis and exhibits the chemically induced differentiation properties of the parent cell line [18]. Lethal effects of NC or TX are delayed in HL-60-bcl-2 cells, compared to HL-60/S4 cells, allowing a window of time for determining the effects of these MT modifying chemicals on nuclear shape and nuclear differentiation.
There are two additional differences between HL-60-bcl-2 and HL-60 cells observed in this study. The first difference: ~10% of the undifferentiated HL-60-bcl-2 cells exhibit micronuclei, compared to ~0.8% of HL-60 cells [26]. Micronuclei are generally regarded as the products of abnormal mitoses, where the enclosed chromosomes or chromosome fragments fail to congress at the mitotic plate, but are still surrounded by a post-mitotic nuclear envelope [27–30]. In normal human cells growing in culture (e.g., lymphocytes), they occur in less than 0.5% of the cells [31]. They can be induced in cells by treatment with a variety of DNA breakage conditions (e.g., irradiation) or spindle disrupting agents (e.g., colchicine). Micronuclei in HL-60 cells are described as representing amplified acentric euchromatic genes (such as c-myc) and appear to form dynamically during S phase [32]. We observed that micronuclei in HL-60-bcl-2 cells exhibited immunostaining of centromeres, heterochromatin and nucleolar antigens (Figure 7), which suggests differences from the earlier interpretation of the nature of micronuclei in HL-60 cells.
Especially puzzling was our observation that the majority of micronuclei possessed comparable amounts of lamin B, but reduced amounts of LBR, in comparison to the companion main nucleus. A recent study employing MCF-7 cells observed micronuclei containing lamins A/C and B1 and a relative deficiency of LBR [33]. The same study demonstrated that when significant numbers of micronuclei were induced by prolonged exposure to the spindle disrupting chemical curcumin, the resulting nuclear envelopes contained LBR. Current views on the sequence of protein additions to post-mitotically reformed nuclei agree that LBR enters the nascent nuclear envelope well before lamin B [34, 35]. It is possible that untreated HL-60-bcl-2 and MCF-7 micronuclear envelopes form later than the main nucleus, after the cytoplasmic pool of LBR is exhausted, whereas curcumin "induced" micronuclei form at about the same time as main nuclei.
The second difference: RA treated HL-60-bcl-2 cells exhibit a small population (up to 20%) with multilobed nuclei, which we almost never observed with HL-60/S4 cells. There may be some clinical significance to this latter observation. A small percent of granulocyte nuclei with 5 or more nuclear lobes in human blood smears is considered diagnostic for megaloblastic anemia (vitamin B12 or folic acid deficiency) [20]. The present data with RA treated HL-60-bcl-2 cells suggests that delayed or dysfunctional apoptosis might play a role in these human diseases. It is of interest that neutrophil nuclear multilobulation (hypersegmentation) has been described in two circumstances that delay apoptosis: 1) Glucocorticoid administration to patients induces hypersegmentation [36], and in vitro glucocorticoid treatment of neutrophils prolongs their survival [37–39]. 2) Granulocyte colony-stimulating factor (G-CSF) administration to rats induces hypersegmentation in mature neutrophils [40], and in vitro treatment of neutrophils with G-CSF prolongs their survival [38, 41].
Major cytoskeletal influences on nuclear shape in HL-60-bcl-2
The most important present observation is the suppression of RA induced nuclear lobulation in HL-60-bcl-2 cells by simultaneous exposure to NC (Figure 9). This observation implies that MTs must be intact during nuclear differentiation. Furthermore, we have observed (data not shown) that HL-60-bcl-2 cells can be made 0.1 μM NC on day 2 or 4 after addition of RA, still exhibiting inhibition of nuclear lobulation. This observation suggests that the requirement for intact MTs is not an early event in the nuclear differentiation process. When RA and NC treated HL-60-bcl-2 cells were examined by confocal immunofluorescent staining with anti-lamin B, the ovoid nuclei revealed extensive "wrinkling" of the nuclear envelope (Figures 10 and 11). We suggest that this "wrinkling" reflects expansion (growth) of the nuclear envelope in the absence of nuclear lobulation.
The present study demonstrates a lack of requirement of an intact actin microfilament system for RA induced granulocytic nuclear differentiation (Figure 1). This conclusion is based upon the observation that incubation of HL-60/S4 and HL-60-bcl-2 cells with 1 μM CD in the presence of RA does not inhibit nuclear lobulation or the formation of ELCS. Our results agree with an earlier study [17]. In addition, we extended the incubation (with CD and RA) to times where nuclear differentiation is more definitive. Our data also demonstrated that prolonged incubation with CD alone produces significant nuclear envelope folding, which is best appreciated by confocal immunostaining of the nuclei (Figure 8). The mechanism for the nuclear shape changes in undifferentiated cell nuclei exposed to prolonged incubation with CD is presently unknown. There is increasing evidence that actin microfilament interactions with the nuclear envelope exist, mediated via actin binding spectrin-like proteins, variously named Syne 1 and 2/ nesprin-1 and 2/ ANC1/ NUANCE [12–15]. However, a counter argument for the relevance of this actin interacting system to nuclear differentiation in the HL-60 cell system can be made. Nesprin-1 binds directly to lamin A and emerin [14]; but undifferentiated and granulocytic HL-60 cells possess negligible amounts of lamin A, with emerin primarily localized in the cytoplasm [5]. Furthermore, published [13] and unpublished data (A. Karakesisoglu, A. Olins and D. Olins) indicate that HL-60 cells, undifferentiated or RA treated, possess only trace amounts of NUANCE.
The finding that TX treatment of cells has dramatic consequences to interphase nuclear structure has been reported before. Exposure of human carcinoma cells (Ishikawa and HeLa) to 0.01–0.1 μM TX for up 20 hours, followed by incubation in drug-free media for up to 72 hours, led to nuclear envelope "unraveling" and clustering of nuclear pores [42]. The authors observed lobulated and micronuclei, much as observed here. In the case of HL-60-bcl-2, the nuclear structural changes superficially mimic the effects of RA treatment, but occur much faster (Figure 12). The bundling of MTs in HL-60 cells in response to exposure to 1.0 μM TX for 24 hours has also been reported [43], but no mention was made of the nuclear envelope changes. Furthermore, the authors noted that at 0.1 μM TX (or greater) the HL-60 cells showed clear apoptosis by 24 hours. In a later paper by the same group [44], increased expression of Bcl-2 or Bcl-xL yielded HL-60 cells with considerably greater resistance to TX induced apoptosis. It seems to us that the dramatic cell and nuclear changes that we observe have no obvious relationship to normal granulocytic nuclear lobulation, but underscore an effect of MT integrity upon nuclear shape. The formation of micronuclei, in particular, suggests that TX may exert its effects on nuclear shape by interfering with normal mitotic chromosome distribution.
A model for granulocytic nuclear lobulation
Although far from a complete understanding of all the molecular forces involved in shaping the granulocytic nucleus, a working model that incorporates existing data and emerging concepts provides a useful perspective for future experimentation (Figure
16
). The process of granulocytic nuclear lobulation can be viewed as a dynamic balance of stabilizing and distorting forces. The working model contains the following assumptions: 1) the flexible nuclear envelope (due to the paucity of lamins A/C and B1) is "tacked down" to the underlying heterochromatin (enhanced by the elevated LBR); 2) the nuclear envelope undergoes invaginations in the region of the centrosome due to dynein movement along MTs; 3) new membrane materials are added to the nuclear envelope via lateral diffusion from the ER, resulting in net membrane growth [
3
]; 4) constraints on nuclear shape by actin and spectrin-like proteins are weak, due to the paucity of lamins A/C and NUANCE and the cytoplasmic localization of emerin; 5) constraints on nuclear shape by vimentin-envelope interactions are minimal in the differentiating HL-60 cell system.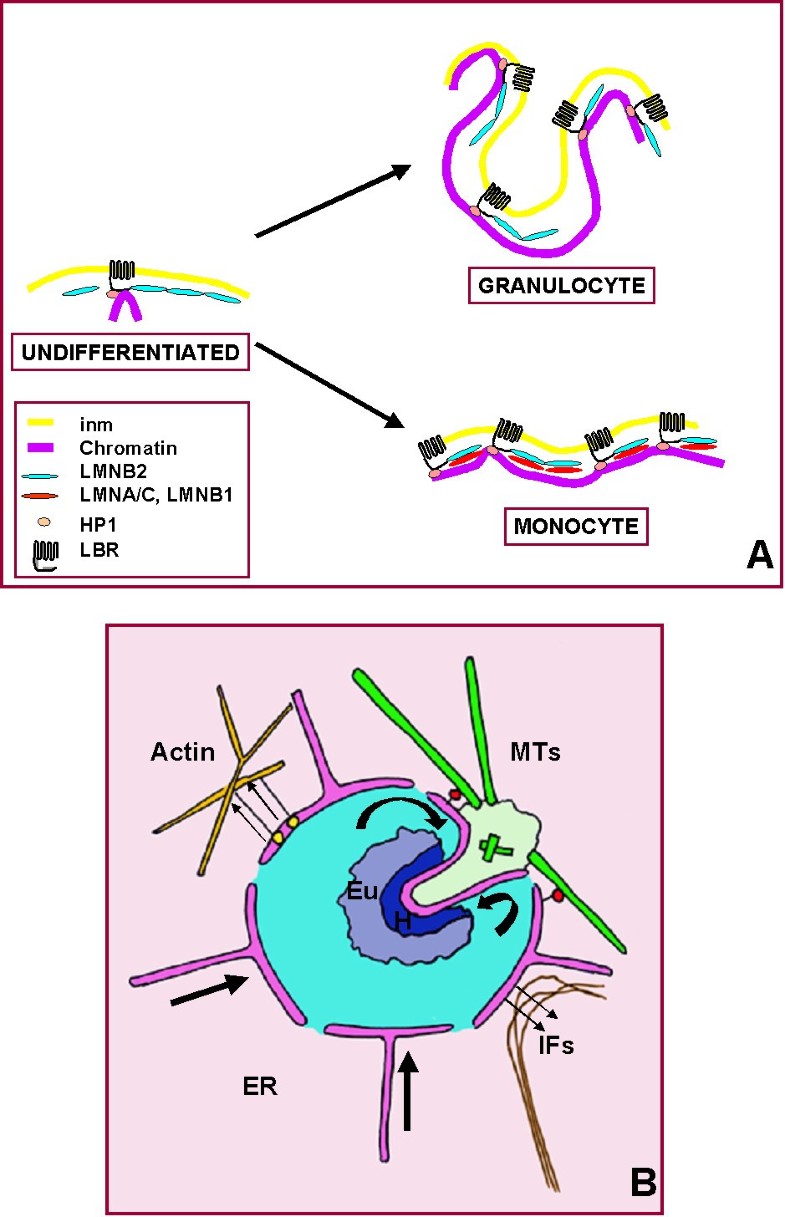 We suggest that nuclear envelope deformability is an important factor and depends upon the amount of underlying lamins: the less lamin protein, the more pliable the nuclear envelope. Granulocytic forms of HL-60 exhibit deficiency of lamins A/C and B1, whereas both types of lamins are present in monocyte/macrophage forms [5]. The absence of lamins A/C in normal granulocytes and their presence in macrophages has been previously noted [45]. The present data on granulocytic differentiation in HL-60-bcl-2 demonstrates that nuclear lobulation correlates with low levels of lamins A/C and B1 coupled with a rise in LBR levels (Figure 4).
The pivotal role of LBR in determining granulocytic nuclear lobulation was demonstrated with the human Pelger-Huet anomaly and murine Ichthyosis mutations [8, 9]. These studies demonstrated that LBR functions in a dose-dependent manner: homozygous mutants present a more severe phenotype and lower amounts of LBR, than in the heterozygous state. The influence of LBR on granulocytic nuclear lobulation is consistent with its known properties [46]. LBR is embedded within the nuclear envelope inner membrane via 8 transmembrane domains (the C-terminal ~400 aa), and associated with lamin B, chromatin and HP1α in the N-terminus (~200 aa). In the absence of sufficient LBR, nuclear lobulation is prevented and the normally peripheral heterochromatin is redistributed into a more centrally condensed form [8, 9].
A role for MT integrity is implicit in our present observation that exposure of HL-60-bcl-2 cells to NC prevents nuclear lobulation during exposure of the cells to RA. Direct interaction between MTs and the interphase nuclear envelope in mammalian cells have not documented. However, a recent model for mitotic nuclear envelope breakdown [47, 48] can be adapted to the situation of nuclear lobulation. The nuclear envelope breakdown model proposes that cytoplasmic dynein attaches MTs to the nuclear envelope, pulling the envelope towards the centrosomal region. The excess envelope near to the centrosome produces nuclear invaginations; the tension on the non-growing nuclear envelope generates tears and the mixing of nuclear and cytoplasmic materials. If we assume that the nuclear envelope is still growing in the case of RA differentiating HL-60 cells, invaginations and lobulations might be expected to accumulate within the intact nuclear envelope. The present study demonstrates proximity of the centrosome to nuclear lobulation (Figure 15). But as yet, there is no direct evidence for cytoplasmic dynein playing a role in granulocytic nuclear differentiation.
Our present data suggests that an intact actin microfilament system does not play a major role in granulocytic nuclear lobulation (Figure 1). The best described mechanism of actin interacting with the nuclear envelope involves spectrin-like proteins, which may bridge cytoplasmic actin to nuclear envelope proteins, such as lamin A and emerin [12–15]. But undifferentiated and granulocytic HL-60 cells possess very little lamin A/C and emerin is primarily cytoplasmic [5], suggesting that this bridging system may not be functional in these cell forms.
In SW-13 cells the absence of intermediate filaments (vimentin) has been correlated with nuclear envelope folds or invaginations [16]. We have observed a decrease in vimentin during differentiation of granulocytic HL-60/S4 cells [3–5], suggesting that reduced vimentin concentrations may contribute to granulocytic nuclear lobulation.
The proposed model for granulocytic nuclear lobulation yields several testable predictions: 1) Expression of lamins A/C and B1 in HL-60 cells should strengthen the nuclear envelope, minimizing nuclear lobulation following exposure of the cells to RA; 2) "Knock-down" or expression of a "dominant negative" form of LBR in HL-60 cells would be expected to suppress granulocytic lobulation; 3) Overexpression of dynamitin in HL-60 cells should inhibit dynein activity [49], preventing nuclear lobulation following RA induced differentiation. A number of these experiments are already in progress.
Conclusions
Employing Bcl-2 overexpressing HL-60 cells, which are more refractory to induced apoptosis than the parent cell line, we demonstrated that disruption of the MTs by nocodazole prevented nuclear lobulation in response to RA treatment. These results implicate the necessity of an intact MT system for granulocytic nuclear shape. Cytochalasin D, on the other hand, did not suppress RA induced nuclear lobulation. Combined with the decreasing levels of intermediate filaments (vimentin) during differentiating granulocytic forms of HL-60 cells, the role of the MT system appears to be quite central to the nuclear shape change. Recent models on the role of a MT bound motor (dynein) in facilitating mitotic nuclear envelope breakdown suggest that similar tension forces on the differentiating granulocyte nucleus, combined with continued influx of nuclear envelope components, could explain nuclear invaginations and lobulation.
Abbreviations
RA:

retinoic acid
MT:

microtubules
NC:

nocodazole
TX:

taxol
CD:

cytochalasin D
ELCS:

nuclear envelope-limited chromatin sheets
Declarations
Acknowledgements
This work was supported by funds from the Department of Biology, Bowdoin College. We wish to express our gratitude to members of the Bowdoin faculty who have encouraged our research, especially W. Steinhart, B. Kohorn and D. Page. We also wish to express our appreciation to our colleagues (H. Herrmann and P. Lichter) at the German Cancer Research Center for stimulation and enlightened criticism.
Authors' Affiliations
(1)
Department of Biology, Bowdoin College, Brunswick, USA
Copyright
© Olins and Olins; licensee BioMed Central Ltd. 2004
This article is published under license to BioMed Central Ltd. This is an open-access article distributed under the terms of the Creative Commons Attribution License (http://creativecommons.org/licenses/by/2.0), which permits unrestricted use, distribution, and reproduction in any medium, provided the original work is properly cited.