Research article
Open Access
Chlamydomonas fla mutants reveal a link between deflagellation and intraflagellar transport
Received: 27 June 2003
Accepted: 20 August 2003
Published: 20 August 2003
Abstract
Background
Cilia and flagella are often lost in anticipation of mitosis or in response to stress. There are two ways that a cell can lose its flagella: resorption or deflagellation. Deflagellation involves active severing of the axoneme at the base of the flagellum; this process is defective in Chlamydomonas fa mutants. In contrast, resorption has been thought to occur as a consequence of constitutive disassembly at the tip in the absence of continued assembly, which requires intraflagellar transport (IFT). Chlamydomonas fla mutants are unable to build and maintain flagella due to defects in IFT.
Results
fla10 cells, which are defective in kinesin-II, the anterograde IFT motor, resorb their flagella at the restrictive temperature (33°C), as previously reported. We find that in standard media containing ~300 microM calcium, fla10 cells lose flagella by deflagellation at 33°C. This temperature-induced deflagellation of a fla mutant is not predicted by the IFT-based model for flagellar length control. Other fla mutants behave similarly, losing their flagella by deflagellation instead of resorption, if adequate calcium is available. These data suggest a new model whereby flagellar resorption involves active disassembly at the base of the flagellum via a mechanism with components in common with the severing machinery of deflagellation. As predicted by this model, we discovered that deflagellation stimuli induce resorption if deflagellation is blocked either by mutation in a FA gene or by lack of calcium. Further support for this model comes from our discovery that fla10-fa double mutants resorb their flagella more slowly than fla10 mutants.
Conclusions
Deflagellation of the fla10 mutant at the restrictive temperature is indicative of an active disassembly signal, which can manifest as either resorption or deflagellation. We propose that when IFT is halted by either an inactivating mutation or a cellular signal, active flagellar disassembly is initiated. This active disassembly is distinct from the constitutive disassembly which plays a role in flagellar length control.
Keywords
Restrictive TemperatureCytoplasmic DyneinDibucaineUnequal LengthIntraflagellar Transport
Background
Intraflagellar transport (IFT) was first characterized in the unicellular green alga Chlamydomonas [1] and has since been shown to be required for flagellar assembly in a variety of systems [2, 3]. IFT is the bidirectional movement of large protein complexes (IFT particles) along the flagellar axoneme, and has anterograde and retrograde components mediated by the plus and minus-end directed microtubule motors kinesin-II and cytoplasmic dynein, respectively [reviewed in [4, 5]]. In Chlamydomonas, null mutations in genes necessary for activity of either kinesin-II or cytoplasmic dynein result in bald (flagella-less) cells or cells with very short, abnormal flagella [6, 7]. Retrograde IFT is not proposed to be directly involved in disassembly, but rather is necessary to recycle IFT particles [7, 8].
A model for flagellar length control has been proposed wherein anterograde IFT is required for transport of axonemal precursors to the distal tip of the flagellum; these precursors are necessary both for de novo flagellar assembly and to offset the constitutive disassembly that occurs at the tips of flagella [8]. This model suggests that the steady-state length of a flagellum is determined kinetically by the relative contributions of assembly, mediated by anterograde IFT, and disassembly at the tip, which is IFT-independent [9]. Thus, the phenotype of Chlamydomonas long flagella mutants could be a result of either an upregulation of anterograde IFT, or due to a decrease in the rate of disassembly at the tip [8–10].
A Chlamydomonas temperature-sensitive mutant for flagellar assembly, fla10, has been characterized as having a lesion in a subunit of kinesin-II [11]. fla10 cells have wild-type flagella at the permissive temperature (20°C), but are bald at the restrictive temperature (33°C) [12]. In agreement with the length control model, fla10 cells incubated at an intermediate temperature have intermediate-length flagella [8]. It has been accepted that the flagella of fla10 cells resorb at the restrictive temperature due to continued disassembly in the absence of anterograde IFT [e.g., [13]].
Several other temperature-sensitive flagellar assembly mutants (fla mutants) are available in Chlamydomonas [12, 14, 15]. Unlike fla10, the genes for these mutants have not yet been identified. However, like fla10, these fla mutants have been shown to have defects in IFT, even at the permissive temperature [15, 16]. The majority of the fla mutants have been reported to undergo flagellar resorption at 33°C [12, 15, 16], presumably due to defects at different points in the IFT cycle disrupting flagellar assembly. Most fla mutants are unable to regenerate flagella at 33°C, with the exception of fla2 [12]. fla2 is also exceptional in that it has been observed to deflagellate, rather than resorb, at the restrictive temperature [2, 12, 14].
Deflagellation, like IFT, is a conserved process in eukaryotic cilia and flagella [reviewed in [17]. Deflagellation/deciliation is the regulated severing of the axoneme, and has been shown to occur in response to a number of stimuli, including pH shock, 42°C heat shock, and treatment with dibucaine or alcian blue. Calcium plays a central role in signalling deflagellation: calcium influx mediates acid shock-induced deflagellation [18], and axonemal severing can be induced in vitro in response to calcium [19]. Our lab has cloned two essential components of the deflagellation pathway, the flagellar autotomy genes fa1 and fa2 [20, 21]. fa mutants do not undergo deflagellation in response to any known stimulus. We have also demonstrated that the microtubule-severing ATPase katanin is likely to mediate axonemal severing during deflagellation [19, 22]. We have localized both katanin and Fa1p to the site of deflagellation, the flagellar transition zone between the basal body and the flagellum proper [[20], M. Mahjoub and LMQ, unpublished observations].
In many ciliated cells, including vertebrate cells and Chlamydomonas, flagella/cilia are shed or resorbed prior to mitosis [23–26]. It has been proposed that mammalian primary cilia are important to maintain cells in a differentiated state; the best-characterized example is the role of kidney epithelial cilia in models of polycystic kidney disease [reviewed in [27]]. Therefore, as has already been demonstrated for flagellar assembly [3, 27], genes required for flagellar resorption or deflagellation may be implicated in disease and/or development.
It is unknown what determines whether a given cell type deflagellates or resorbs prior to mitosis. Indeed, even in the same organism, flagellar loss may occur via different mechanisms at different stages of the life cycle [23]. Flagellar resorption and deflagellation have been thought to occur by dramatically different mechanisms and at different locations: resorption via disassembly at the tip [8, 13] and deflagellation by severing at the base [28]. However, a role for severing activity at the base during resorption has been suggested by elegant EM studies performed on cells resorbing their flagella prior to mitosis [29]. We now provide further evidence that flagellar resorption involves severing activity at the base, and that active disassembly by resorption is distinct from the constitutive disassembly involved in flagellar length control.
Our examinations of the phenotypes of fla10 and fla2, reported here, lead us to the conclusion that flagellar resorption of fla mutants results from active disassembly, rather than constitutive disassembly in the absence of IFT. We show that in common culture medium for Chlamydomonas, the predominant mode of flagellar loss at 33°C for fla10 is deflagellation. Blocking the ability to deflagellate, either by lowering the extracellular calcium concentration or by genetically blocking the deflagellation pathway, causes fla10 cells to resorb their flagella at the restrictive temperature. Likewise, we demonstrate that fla2 cells undergo flagellar loss via deflagellation, and that resorption occurs in low calcium or by genetically introducing a fa mutation. Furthermore, fla10-fa1 and fla10-fa2 double mutant populations are defective for resorption, as many cells retain flagella past the time when fla10 mutants are bald. Finally, we find that flagellar resorption can be induced in cells unable to deflagellate in response to deflagellation stimuli. Our findings indicate that the deflagellation and resorption pathways are not separate, but that each can result from a disassembly signal which culminates at the flagellar transition zone. We propose that IFT and flagellar disassembly share common regulatory elements.
Conclusions
We find that temperature-sensitive flagellar loss in the
Chlamydomonas
IFT mutants
fla10
and
fla2
is not due to constitutive resorption at flagellar tips, which plays a crucial role in flagellar length control, but rather due to activation of a disassembly pathway (Figure
8
). We also find that flagellar disassembly can occur either by deflagellation or resorption in response to the same stimuli, and that deflagellation is preferred if sufficient calcium is available. Mutants unable to deflagellate are also slow to resorb flagella. We propose that resorption is actively mediated in the transition zone at the base of the flagellum, and that cellular signals which regulate IFT may also regulate flagellar disassembly.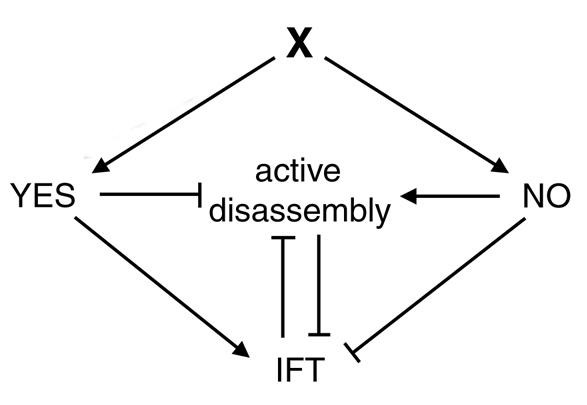 Methods
Strains
Chlamydomonas reinhardtii mutants fla2 (CC-1390) and fla10-1 (CC-1919) were provided by the Chlamydomonas Genetics Center. Wild-type strain B214 was provided by Dr. G. Pazour (University of Massachusetts). The fa1-1 mutant was isolated by R.A. Lewin [42]; the fa2-1 and adf1-5 mutants were isolated in our lab [38]. Genetic crosses to obtain the double mutants fla10-fa1-1, fla10-fa2-1, fla2 - fa1-1, and fla2 - fa2-1 were performed by standard techniques [30]. All cells were maintained on TAP (Tris-Acetate-Phosphate) media [30] under constant illumination at 20°C.
Since Chlamydomonas cells transiently resorb their flagella after resuspension in HEPES buffer (10 mM HEPES-KOH, pH 7.2) (with or without added calcium), cultures were incubated overnight in HEPES prior to HEPES experiments. No chelators were used in the preparation of low-calcium HEPES buffer as trace amounts of calcium are required for cell viability over the length of the experiments.
Timecourses and flagella length measurements
Cells were resuspended at 3 × 106 cells/mL in buffer or media, pre-warmed to the temperature of the incubation, at time zero. We find that the flagellar loss phenotypes of fla10 are very temperature-sensitive, and a 1°C temperature difference can have a large effect on the kinetics of the experiment; this likely accounts for varying reports on the time required for fla10 cultures to become bald. Thus, the same culture of cells was used for both +/- calcium at each temperature. Samples were fixed in 2% gluteraldehyde for flagellar length measurements and free flagella determinations. Cells were examined under DIC on an Olympus IX70 microscope (Carsen Group Inc., Ontario, Canada) and lengths of both flagella on at least 70 cells were measured using software provided with the DeltaVision system (Applied Precision, Seattle, Washington). All experiments were repeated on at least three independent cultures.
Declarations
Acknowledgements
We thank Doug Cole for directing our interest towards fla2; Arden Ma for initial analysis of the fla2 deflagellation phenotype in our lab; Elizabeth Harris and the Chlamydomonas Genetics Center for strains; our colleagues at SFU for illuminating discussions; and an anonymous reviewer for several helpful remarks. JDKP thanks Rosemary Redfield for inspiration. This work was funded by the Natural Sciences and Engineering Research Council (NSERC, RGPIN 227132).
Authors' Affiliations
(1)
Simon Fraser University, Burnaby, Canada
Copyright
© Parker and Quarmby; licensee BioMed Central Ltd. 2003
This article is published under license to BioMed Central Ltd. This is an Open Access article: verbatim copying and redistribution of this article are permitted in all media for any purpose, provided this notice is preserved along with the article's original URL.