Methodology article
Open Access
A novel link between the proteasome pathway and the signal transduction pathway of the Bone Morphogenetic Proteins (BMPs)
Received: 11 April 2002
Accepted: 21 June 2002
Published: 21 June 2002
Abstract
Background
The intracellular signaling events of the Bone Morphogenetic Proteins (BMPs) involve the R-Smad family members Smad1, Smad5, Smad8 and the Co-Smad, Smad4. Smads are currently considered to be DNA-binding transcriptional modulators and shown to recruit the master transcriptional co-activator CBP/p300 for transcriptional activation. SNIP1 is a recently discovered novel repressor of CBP/p300. Currently, the detailed molecular mechanisms that allow R-Smads and Co-Smad to co-operatively modulate transcription events are not fully understood.
Results
Here we report a novel physical and functional link between Smad1 and the 26S proteasome that contributes to Smad1- and Smad4-mediated transcriptional regulation. Smad1 forms a complex with a proteasome β subunit HsN3 and the ornithine decarboxylase antizyme (Az). The interaction is enhanced upon BMP type I receptor activation and occur prior to the incorporation of HsN3 into the mature 20S proteasome. Furthermore, BMPs trigger the translocation of Smad1, HsN3 and Az into the nucleus, where the novel CBP/p300 repressor protein SNIP1 is further recruited to Smad1/HsN3/Az complex and degraded in a Smad1-, Smad4- and Az-dependent fashion. The degradation of the CBP/p300 repressor SNIP1 is likely an essential step for Smad1-, Smad4-mediated transcriptional activation, since increased SNIP1 expression inhibits BMP-induced gene responses.
Conclusions
Our studies thus add two additional important functional partners of Smad1 into the signaling web of BMPs and also suggest a novel mechanism for Smad1 and Smad4 to co-modulate transcription via regulating proteasomal degradation of CBP/p300 repressor SNIP1.
Keywords
Proteasomal DegradationLactacystinSmad1 Interact ProteinAssembly IntermediateHuman Fetal Brain cDNA Library
Background
The bone morphogenetic proteins (BMPs) form a subfamily of the Transforming Growth Factor β (TGF-β) superfamily [1–4]. Members of the BMP family were initially identified by their ability to induce ectopic bone formation [4]. Functional characterization of BMPs and the cloning of new BMP family members have revealed that BMPs not only regulate bone formation and homeostasis but also function as morphogenetic factors for many other tissues and organs [2]. The critical regulatory roles of BMPs during early embryogenesis, such as neurogenesis, mesoderm formation and patterning, are also well-recognized [1–3].
Like other members of the TGF-β superfamily, BMPs induce intracellular signaling via heteromeric complexes of the type I and type II serine-threonine kinase receptors [5, 6]. The Smad family proteins are now known to function as key signal transducers downstream of the TGF-β family type I receptors [6–8]. The activated BMP type I receptors directly recruit and phosphorylate a set of cytoplasmic Smad proteins that are specific for the BMP type I receptors. Three such BMP type I receptor-regulated Smads, Smad1, 5 and 8, have been identified [9]. Among them, Smad1 has been studied most extensively. The phosphorylation of Smad1 at the carboxylterminal SSVS motif triggers the release of Smad1 from the receptor, the formation of homo-oligomers of Smad1 and hetero-oligomers of Smad1 and Smad4, and the subsequent nuclear translocation of both Smad1 and Smad4 [6, 9, 10]. In the nucleus, Smad1 and Smad4 function as DNA-binding transcriptional regulators [9]. However, there is a unique feature in Smad-regulated transcription. Instead of independently binding to specific DNA sequence to regulate transcription, Smads are now considered to be transcriptional modulators since their ability to regulate transcription is dependent, in most cases, on their physical interaction with other nearby DNA-binding transcription factors[11]. Thus, one of the fundamental questions in understanding Smad-regulated transcription is how Smads function as transcription modulators.
The transcriptional regulatory activities of Smad1 in the nucleus are associated with its ability to directly bind to DNA [12], its interaction with other DNA-binding transcription factors, such as OAZ, SIP1 and Hoxc-8 [13–15], and also its interaction with the master transcriptional co-activator CBP/p300 [16]. Smad4 is an essential functional partner in Smad-regulated transcription and also interacts with CBP/p300 via a domain within the central linker region named as SAD (Smad Activation Domain) [13]. Since CBP/p300 has intrinsic histone acetyltransferase (HAT) activity and participates in chromatin remodeling, the recruitment of CBP/p300 into the DNA-binding complexes of Smad1 and Smad4 is likely a critical step in Smad-regulated gene activation. However, our current knowledge of the molecular events involved in the recruitment of CBP/p300 and other transcriptional co-activators or co-repressors by Smads is still very limited. Furthermore, the molecular mechanisms underlying the cooperative functional partnership between Smad1 and Smad4 during transcriptional regulation is not yet understood.
Protein-protein interaction plays key roles in signal transduction. To gain further understanding of the signaling mechanisms of Smad1, we carried out a "blind" search for proteins that bind specifically to Smad1 using the yeast two-hybrid system. Characterization of these interactors reveals an unexpected physical and functional link between Smad1 and the proteasome-mediated degradation pathways. The 26S proteasome is responsible for the bulk turnover of cytoplasmic and nuclear proteins in eukaryotic cells and also plays a key role in the regulation of cell cycle, signal transduction, transcription as well as antigen presentation [17–21]. Most of the known proteasomal substrates are marked and targeted to proteasome by ubiquitination [17, 19, 20]. Ubiquitination, however, is not an obligatory step for substrate targeting to proteasome [17, 18, 20]. The degradation of the ornithine decarboxylase (ODC), the rate-limiting enzyme for polyamine synthesis, involves a protein named antizyme (Az), which binds and targets ODC to 26S proteasome for degradation [18]. However, ODC has remained an "orphan" in Az-dependent proteasomal degradation.
Interestingly, both ubiquitin and Az were isolated from the yeast two-hybrid system as Smad1 interactors. Furthermore, an integral component of proteasome, HsN3 [22–24], which is a β subunit of the 20S catalytic core, was also isolated as a strong and specific Smad1 interactor. Functional characterization of the interaction between Smad1, Az and HsN3 in the signaling pathways of BMPs led us to find a novel functional link between Smad1 and proteasome-mediated degradation events, through which a novel CBP/p300 repressor, SNIP1 [25], is removed to allow the transcriptional activation of BMP-responsive genes.
Discussion
The bone morphogenetic proteins (BMPs) are multi-functional regulators of early embryogenesis and tissue/organ morphogenesis. Observations made in the past several years suggest that a subset of Smad family proteins play key roles in transmitting the signals of BMPs from the activated receptors at the cell surface to the nucleus to regulate gene expression. Smad1, as one of the three known R-Smads of BMPs, has been extensively studied within the scope of its phosphorylation, interaction with Smad4, nuclear translocation, DNA binding and protein-protein interactions related to its function as a transcriptional regulator. Currently, Smad1 is regarded as a DNA-binding transcriptional modulator that is activated by the BMP type I receptors. Considering the sophisticated mode of regulation characteristic of the TGF-β/BMP family ligands, it is expected that that signaling mechanisms of Smads should have a nature of complexity that can accommodate the vast biological functions of these regulators. We took a discovery-driven approach to study the signaling mechanism of Smad1, by systematically searching for proteins that can physically interact with Smad1. Such an approach led to the identification of a set of proteins that can specifically bind to Smad1. This report has focused upon the functional characterization of two proteins that function along the degradation pathways of the 26S proteasome: antizyme (Az) and HsN3.
Az was previously identified as a polyamine-inducible factor that binds and targets the ornithine decarboxylase (ODC) to proteasome for degradation [18, 45]. Until now, ODC is the only protein known to be targeted by Az to proteasome, although the existence of additional proteins targeted by Az to proteasome has been suspected [20]. We now find two new Az interactors: Smad1, the key signal transducer of BMPs, as well as SNIP1, the nuclear repressor of CBP/p300. In a separate study, we demonstrated that Smad1 is targeted to proteasome for degradation, a process involving the co-targeting role of Az and HsN3 [39]. Here we showed that SNIP1, after being recruited to Az, is targeted, together with Smad1, to proteasome for degradation. These data indicate that Az has a more general role in targeting different substrates to proteasome for degradation. However, unlike the known ability of Az to bind ODC constitutively, the interaction between SNIP1 and Az is dependent upon the activation of BMP type I receptor and occurs in the presence of Smad1 and Smad4. This suggests the existence of a novel BMP-regulated "conditional" targeting activity of Az that is distinct from the constitutive targeting activity of Az towards ODC.
HsN3 is one of the seven β subunits of the 20S proteasome, which is the catalytic core of the 26S proteasome [
22
–
24
]. Besides its role as an indispensable component of the 20S proteasome, HsN3 and the α subunit HC9 of the 20S proteasome have been shown to interact with the viral protein Tax. This interaction was suggested to play a role in Tax-induced proteasomal processing of the P105 subunit of NF-κB [
32
]. Other proteasome integral components, especially those in the 19S regulator of the 26S proteasome, have also been shown to bring proteins to proteasome for degradation [
21
]. Here we identified a unique role of HsN3 in the Az-involved targeting pathway that is coupled to BMP type I receptor activation. Our data suggests that Smad1 and Az both interact with HsN3 only before HsN3 is fully incorporated into the mature 20S proteasome. We have shown that the reason for Smad1 to only bind to the unprocessed form of HsN3 is not because the prosequence contains a Smad1-binding site. Artificially removing the prosequence of HsN3 in fact allowed Smad1 to stably bind to the prosequence-less HsN3 as well as multiple proteins that are bound to the prosequence-less HsN3, which may represent the assembly intermediates that failed to reach maturation due to the lack of HsN3 prosequence (Fig.
4D,4E,4F
). These data collectively point out the transient interaction between Smad1 and HsN3 along the assembly of HsN3 into the 20S proteasome. So far, several proteins have been found to interact with assembly intermediates of the 20S proteasome. A small protein Ump1 associates with the premature proteasome complexes and is shown to be involved in assisting the maturation of 20S proteasome, possibly by interacting with the β rings of half proteasomes [
46
]. Upon the maturation of the 20S proteasome, Ump1 is trapped inside the proteasome and is degraded by proteasome [
46
]. The HSP70 like chaperon protein Hsc73 also associates with the 16S proteasome precursor complexes [
35
,
36
]. The exact role of Hsc73 in 16S precursor proteasome complex is not known, but has been suggested to assist proteasome maturation [
35
,
36
]. Our studies add Smad1, Smad1 interacting proteins such as SNIP1, Smad4, and Az as additional proteins that associate with the assembly intermediates. How does the association of HsN3 contribute to the final degradation or processing of these proteins? Two possible mechanisms are illustrated in Fig.
10A
. The first possible mechanism is via "Unfold and Trap". The proteasome assembly intermediates could be a site for the entry of substrates into the degradation chamber via an unfold-trap mechanism that is coupled to the final maturation of the 20S proteasome. The chaperon proteins such as Hsc73 could be involved in unfolding the substrates for them to fit into the degradation chamber and the final maturation of 20S proteasome from the 16S assembly intermediates could trap the substrates, such as Ump1 and Smads, inside the degradation chamber. If so, ubiquitination may not be necessary for the degradation. This could be a common mechanism for ubiquitin-independent degradation pathways. The second possible mechanism is via "docking and delivery". HsN3 may simply bring the Smad/Az containing complex close enough to the 26S proteasome and then delivers it to the 19S complex via Az interaction with its receptor within 19S regulator.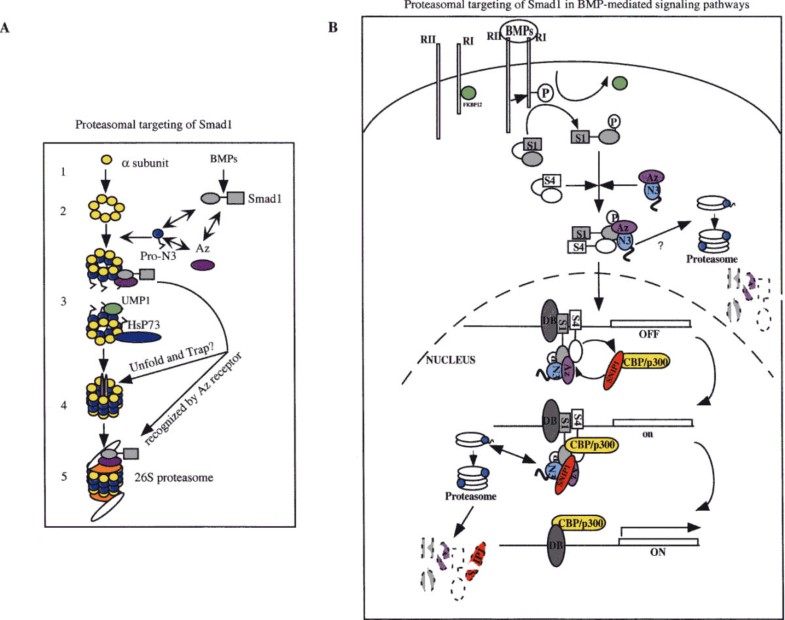 We have so far identified two functional outcomes of the observed physical interaction between Smad1, HsN3 and Az in the signaling pathways of BMPs. First, in a separate report, we showed that Smad1 itself is targeted to proteasome and is subsequently degraded by the proteasome, an event that is triggered by the activation of BMP type I receptor and involves the targeting role of Az and HsN3 [39]. Proteasomal degradation of Smad1 appears to also play a role in regulating the constitutive level of Smad1 in cell as a way to adjust the cellular responsiveness of BMPs [47]. However, the targeting mechanism and the regulation involved in these two cases of Smad1 degradation by proteasome are likely fundamentally different [39]. The second functional outcome of the physical link between Smad1, HsN3 and Az is the ability of Smad1 to regulate the proteasomal degradation of SNIP1, which is clearly dependent upon high levels of Smad1, Az and a strong activation signal from the type I receptor, as suggested by the observations that the protein levels of Smad1, Az and ALK3Q233D directly influence the degree of SNIP1 degradation. While the detailed mechanisms for such a novel mode of regulation still requires many additional studies, so far we observed several important steps that may contribute to SNIP1 degradation. First, Smad1 binds both HsN3 and Az in the cytoplasm and brings them into the nucleus upon the activation of BMP type I receptor (Fig. 6). Second, SNIP1 is recruited to Az and HsN3, which are likely in a complex with Smad1 and Smad4 (Fig. 7D &7E). Third, SNIP1 is co-targeted into the proteasome with Smad1, Smad4 and Az via the rapid assembly of HsN3 into the proteasome. This is suggested by the observations that the targeting of SNIP1 is positively regulated by Smad1 level and is dependent upon Smad1, Smad4 and Az (Fig. 8A &8B). Fourth, Smad4 is a positive regulator of the targeting of SNIP1 to proteasome. The requirement of both Smad1 and Smad4 in the down-regulation of SNIP1 is interesting since this may represent an important molecular mechanism for the co-operative property of these Smads to modulate transcription. The functional significance of SNIP1 degradation is apparent, since SNIP1 is a constitutive interactor and functional repressor of the master transcription co-activator CBP/p300 [25]. In the BMP signaling pathways, SNIP1 is a potent inhibitor of Smad-responsive genes via inhibiting CBP/p300 (Fig. 9A). Thus the down-regulation of SNIP1 likely leads to the liberation of CBP/p300 and directly contributes to the well-known transcriptional modulator functions of Smad1 and Smad4. These ideas are summarized in a cartoon in Fig. 10B. Specifically, the activated Smad1 and Smad4 enter the nucleus, where Smad1 and Smad4 together recruit SNIP1 and CBP/p300. The inhibition of SNIP1 on CBP/p300 is considered to act through its interaction with the C/H1 domain of CBP/p300, thereby blocking the recruitment of CBP/p300 by other transcription factors including Smad4 [25]. Such an inhibition is counteracted by the ability of Smad4 to compete off SNIP1 from CBP/p300 [25]. So at early phase of Smad activation, although SNIP1 is still bound to Smad1 and Smad4, it is no longer directly bound to CBP/p300, which now can activate transcription. Our data suggested that the Smad1/Smad4 bound SNIP1 can be further targeted to proteasome for degradation. Smad1 and Smad4 are indeed both degraded. However, we propose that such degradation is coupled to the recruitment of the SNIP1-free CBP/p300 to a nearby DNA-binding transcription factor, thus carrying out the commonly observed role of Smads as transcriptional co-modulators. Smads have been shown to mediate transcription via modulating the transcriptional activity of many other DNA-binding proteins. The ability of Smad1 and Smad4 to target SNIP1 for degradation, thereby freeing CBP/p300 for other transcriptional factors is likely an important mechanism for the transcriptional modulator role of these two Smads.
We have observed that several other Smad1 interactors, including some cytoplasmic interactors of Smad1, are also degraded by proteasome (Wang et al., unpublished data). Thus, the location for the targeting of Smad1 may not be limited to only inside of the nucleus, as illustrated in Fig. 10B. Future studies are needed to verify and enrich the details of the illustrated molecular events.
Conclusions
The subject of proteasomal degradation of Smads and Smad interacting proteins has now become a major focus of interest in the field due to its broad implication in signaling regulation and execution. The work reported here represents our major efforts during the past several years to follow a novel concept of proteasomal degradation in TGF-β/BMP signaling based upon the yeast two-hybrid data obtained in 1996. Although there are multiple reports on proteasomal degradation of Smads and Smad interacting proteins, primarily in TGF-β signaling pathways [47–54], our observations reported here are entirely based upon our own original observations and show a novel connection of Smads with the proteasome system that no other groups have reported. Our observations provide new revenues for future understanding of the functional mechanisms of Smads, which are likely not limited to transcriptional regulation but are quite extensively linked to the regulation of proteasomal degradation of multiple cytoplasmic and nuclear proteins.
Materials and Methods
Construction of expression plasmids
For the yeast two-hybrid screen, full-length Smad1 was subcloned into BamH1/Not1 sites of PEG202 by a PCR method, resulting in the inframe fusion between the LexA DNA binding domain (1–202) and Smad1. The Smad1 (G419S) mutant was a kind gift from J. Wrana [40]. The subcloning of Smad1 (G419S), Smad1NL (1–271), Smad1L (147–271) into pEG202 were all carried out similarly by the PCR approach. The mammalian expression constructs of Smad1 and its deletion mutant Smad1C (271–465) were made by subcloning Smad1 into two modified pCMV6 vectors, which have either the Flag epitope (F-pCMV6) or the T7 epitope (T7-pCMV6) placed upstream of an array of new multiple cloning sites. T7-ΔN3 pCMV6 was made by PCR amplification of HsN3 (a.a. 45–263) followed by subcloning the PCR products into the EcoR1/Xho1 sites of the modified T7-pCMV6 vector. N3-F pCMV6 was made by PCR amplification of HsN3 (1–263) followed by subcloning the PCR products into the EcoR1/EcoRV sites of pFlag-CMV5C vector (Kodak). The fidelity of the PCR products was determined by DNA sequencing. The constitutively active mutant BMP type I receptor (ALK3Q233D) is a gift from J. Massagué; Tlx-2 reporter is from J. Wrana; full length rat Az is from P. Coffino.
Yeast two-hybrid screen and tests
A modified yeast two-hybrid system developed by Brent and colleagues [26, 27]. was used to isolate Smad1 interactors. Briefly, yeast strain EGY48 (leu2, his3, trp1, ura3), which has an integrated Leu2 reporter, was first transformed with a LexAop-LacZ reporter. The selected transformants were transformed again with the bait construct Smad1pEG202. The selected bait transformants were transformed with a human fetal brain cDNA library (a gift from Roger Brent). About one million original transformants were obtained. From the pooled stock of the transformants, ten million cells were screened on U-H-W-L- galactose plates containing X-Gal (5-bromo-4-chloro-3-indolyl-β-D-galactosidase). Only those that form blue colonies were picked as candidate positives. The cDNAs from the candidate positives were purified, re-tested for Smad1 interaction in yeast, and then sequenced. For testing protein-protein interaction using the yeast two-hybrid system, the same yeast strain was first transformed with the LexA-fusion construct, selected on U-H- plates, then re-transformed with B42-fusion constructs, and selected on U-H-W- plates. The transformants were first streaked onto a master plate, then replicated onto two testing plates: U-H-W- glucose plate with X-Gal and U-H-W- galactose/raffinose plate with X-Gal. For presentation, yeast transformants were also directly streaked onto U-H-W- galactose/raffinose plate with X-Gal, after confirming lack of the auto-activation on glucose plates.
Transient transfection, 35S-metabolic labeling, immunoprecipitation and western blot
Equal amount of total plasmids were used to transiently transfect COS-1 using the DEAE dextran method [40]. A GFP construct was used to monitor the transfection efficiency. 293 cells were transfected by the standard CaPO4 procedure [55] and cells were harvested 24 hrs after tansfection. For metabolic labeling, cells were incubated with 250 μCi 35S-methionine per plate for 4 hrs, two days after transfection. To make lysates, transfected cells were washed with cold HBSS, scraped, lysed on ice in 300 μl lysis buffer (20 mM Tris, PH 7.4, 150 mM NaCl, and 0.5% Triton X-100, 1mM EDTA) containing protease inhibitors. Protein expression level was determined by Western blot analyses of 20 μl lysates before any immunoprecipitation assays. For immunoprecipitation, 150 μl cell lysates were pre-cleaned by protein A sepharose beads (Pharmacia), incubated with 3 μl of anti-T7 (1 mg/ml) or anti-Flag (3 mg/ml) (M2 monoclonal, IBI, Eastman Kodak) on ice overnight. Protein A (for anti-T7) and protein G (for anti-Flag) sepharose beads were used to absorb the antibodies. After washing, beads were treated with protein sample buffer to elute immunoprecipitates. Eluted proteins were separated on SDS-PAGE. The detection of the co-precipitated proteins was carried out either by autoradiography, if proteins were metabolically labeled or by Western blot using the ECL kit. When proteasome inhibitors were applied, the inhibitors LLnL (50 mM in DMSO) or lactacystin (10 mM in H2O) were added directly to the cell medium at 1:1000 dilutions. Lactacystin was purchased from E. J. Corey laboratory at Harvard University. LLnL was purchased from Sigma.
Immunocytochemistry and confocal microscopy
Immunocytochemistry was carried out as described previously [40]. Briefly, COS cells were grown to 50% confluency on gelatin-coated glass cover slips. Cells were transiently transfected with the indicated plasmids (total 10 μg) using the DEAE dextran method. About 48 hrs after transfection, cells were fixed in 4% paraformaldehyde for 10 min, and then permeablized with methanol for 2 mins. Cells were blocked in 10% goat serum/PBS for 1 hr at room temperature, before the sequential incubation with the primary and secondary antibodies. The monoclonal anti-HsN3 (MCP444) is a gift from K. B. Hendil. The polyclonal anti-Smad1 antibody is a gift from A. Roberts. The secondary antibodies were either FITC-conjugated, or Rodamine-conjugated goat anti-mouse IgG (Jackson ImmunoResearch, Westgrove PA).
Confocal Microscopy was carried out on a Leica TCS 4D Confocal Laser Scanning Microscope at the Schepens Eye Research Institute (Boston MA).
Luciferase assays
P19 cells were seeded in 100 mm dish and cultured for 24 hrs before they were transfected with luciferase reporter constructs using Fugene Kit (Roche). Each group of transfected cells was re-seeded into eight separate wells in a 24-well plate 18 hrs after transfection. Eighteen hrs after re-seeding, cells were washed twice with 1 ml serum-free media and left in 200 μl media. Four out of eight dishes of each group were exposed to BMP7 (25 ng/ml BMP7), which was directly added into the media for 24 hrs. Culture media was then removed and 100 μl of Reporter Lysis Buffer (Promega 5X stock, diluted with H2O) was added to the cells, which were then frozen at -80°C for 3 hrs. The plates were thawed and 70 μl of supernatant was transferred to luciferase plates, mixed with 70 μl of luciferase reagent (Promega). The luciferase activity was detected on Wallac Victor 1420 plate reader. To normalize data, cells were also transfected with β-Gal reporter and the β-galactosidase activities measured using the Galacto-star kit (Tropix, BM300S).
Declarations
Acknowledgments
We thank P. Andriesse and S. Guedes for technical art work; J. Farley, P. Danielson for technical assistance, J. Massagué for ALK3Q233D and BMPRII constructs; C. Heldin for ALK3 construct; J. Wrana for constructs of Smad1 (G419S), Smad2, Tlx-2-Lux, GAL4-Smad1 and GAL4-Lux constructs; R. Derynck for Smad3 construct; A. Roberts for Smad1 construct and polyclonal anti-Smad1; P. Coffino for cDNAs of Az and ODC; E.J. Corey for lactacystin; K. Sampath at the Creative BioMolecule Inc. for BMP7; The Genetic Institute Inc. for BMP2; K.B. Hendil for anti-HsN3; and R. Brent and A. Zervos for the "Protein Trap" system and the brain cDNA library.
Authors' Affiliations
(1)
From Virginia Mason Research Center, Seattle, USA
(2)
Dept. of Cardiovascular/Metabolic Diseases, Pfizer Inc., Groton, USA
(3)
Laboratory of Chemoprevention, National Cancer Institute, Bethesda, USA
(4)
Department of Molecular Genetics and Biochemistry, University of Pittsburgh, Medical school, USA
(5)
Department of Immunology, University of Washington, Seattle, USA
(6)
Department of Surgery/Genetics, Massachusetts General Hospital, Harvard Medical School, Boston, USA
Copyright
© Lin et al; licensee BioMed Central Ltd. 2002
This article is published under license to BioMed Central Ltd. This is an Open Access article: verbatim copying and redistribution of this article are permitted in all media for any purpose, provided this notice is preserved along with the article's original URL.