Research article

Open Access
Different modes of state transitions determine pattern in the Phosphatidylinositide-Actin system
BMC Cell Biology
2011
12:42
Received: 17 June 2011
Accepted: 7 October 2011
Published: 7 October 2011
Abstract
Background
In a motile polarized cell the actin system is differentiated to allow protrusion at the front and retraction at the tail. This differentiation is linked to the phosphoinositide pattern in the plasma membrane. In the highly motile Dictyostelium cells studied here, the front is dominated by PI3-kinases producing PI(3,4,5)tris-phosphate (PIP3), the tail by the PI3-phosphatase PTEN that hydrolyses PIP3 to PI(4,5)bis-phosphate. To study de-novo cell polarization, we first depolymerized actin and subsequently recorded the spontaneous reorganization of actin patterns in relation to PTEN.
Results
In a transient stage of recovery from depolymerization, symmetric actin patterns alternate periodically with asymmetric ones. The switches to asymmetry coincide with the unilateral membrane-binding of PTEN. The modes of state transitions in the actin and PTEN systems differ. Transitions in the actin system propagate as waves that are initiated at single sites by the amplification of spontaneous fluctuations. In PTEN-null cells, these waves still propagate with normal speed but loose their regular periodicity. Membrane-binding of PTEN is induced at the border of a coherent PTEN-rich area in the form of expanding and regressing gradients.
Conclusions
The state transitions in actin organization and the reversible transition from cytoplasmic to membrane-bound PTEN are synchronized but their patterns differ. The transitions in actin organization are independent of PTEN, but when PTEN is present, they are coupled to periodic changes in the membrane-binding of this PIP3-degrading phosphatase. The PTEN oscillations are related to motility patterns of chemotaxing cells.
Keywords
Actin FilamentActin PolymerizationCell CortexActin StructureMotile Cell
Background
Patterns formed in the actin system of the cell cortex are the basis of cell motility, chemotaxis, cytokinesis, and phagocytosis. Subsets of actin-binding proteins determine the structure of actin assemblies, their anchorage to membranes, and the dynamics of their reorganization. Rapid polymerization and depolymerization of actin enable a cell to change its shape and local activities within seconds. Actin organization is regulated by signals from the environment, some of which are transmitted by soluble agents such as chemoattractants. However, the actin system also has a high capacity for self-organization, resulting in spatio-temporal patterns of actin structure and activity in the cell cortex.
In a variety of motile cells, shape changes have turned out not to be random. A pattern common to Dictyostelium cells [1], mouse embryonic fibroblasts, T cells, and wing disk cells [2] is the lateral propagation of protrusion and retraction waves along the membrane. In epithelial PtK1 cells, transversal wave formation is known to be controlled by Rac1 and its effector PAK [3]. In Dictyostelium cells these and other patterns have been shown to depend on the activities of PI3-kinases producing phosphatidyl-inositol (3,4,5)-tris-phosphate (PIP3) and on the PIP3 phosphatase PTEN [4]. Recently, the formation of new pseudopodia by alternating left-right splitting of existing ones has attracted attention, since it governs the orientation of cells in shallow gradients of chemoattractant [5] as well as unbiased cell motility [6]. These intrinsic spatio-temporal patterns are the outcome of non-linear interactions in the systems that control cytoskeletal activities.
Front and tail regions of a migrating cell are distinguished by proteins that determine the organization of filamentous actin in conjunction with the phosphoinositide pattern in the plasma membrane [7]. The Arp2/3 complex responsible for the nucleation of branched actin filaments is enriched at the front of the cell, and myosin-II, a motor protein that mediates retraction, is recruited to the tail. A positive signal for actin polymerization is provided by the activation of Ras at the front. Ras is proposed to act in a positive feedback circuit together with the membrane-bound lipid PIP3, which is also localized to the front [8]. In the highly motile cells of Dictyostelium, the actin and phosphoinositide patterns can be altered within seconds, thereby reprogramming the polarity of a cell. Here we study autonomous pattern formation in the actin system of Dictyostelium cells, using fluorescent markers for polymerized actin and for PTEN, a marker for the tail region of migrating cells.
PTEN, a 3-phosphatase that inactivates PIP3 by its conversion to PIP2 (phosphatidyl-inositol (4,5)-bis-phosphate) plays an important role in the regulation of PIP3 (Figure
1
). PTEN is stored in an inactive form in the cytoplasm; a small fraction of the total PTEN is reversibly bound in an active form to the plasma membrane [
9
]. PTEN contains multiple domains responsible for membrane binding, an essential one being an N-terminal PIP2 binding domain [
10
]. Consequently, binding to the membrane is up-regulated by PIP2, the product of PTEN activity, establishing a positive feedback circuit. PTEN binding to the membrane is negatively regulated by serine/threonine phosphorylation at the C-terminal tail [
11
]. The regulation of membrane binding is important for the responses to chemoattractant: in cells uniformly stimulated with cAMP, PTEN is released from the membrane; in cells that chemotax in a gradient of cAMP, PTEN remains bound to the membrane only at the lateral and posterior regions, as shown using GFP-PTEN [
12
]. This fusion protein is not only capable of membrane-binding but is also functional as a PI3-phosphatase that hydrolyzes PIP3 [
9
].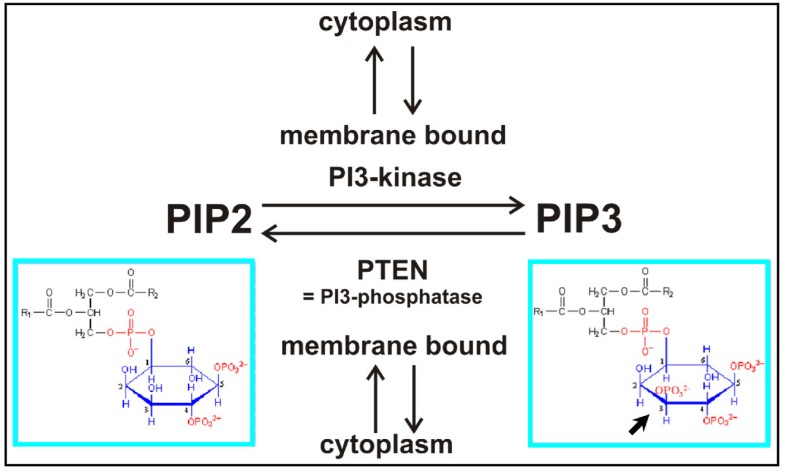 To explore the role of PTEN in symmetry breaking in the actin system, we monitored cells during reorganization of the cortical network of actin structures following the depolymerization of actin. When cells are treated with latrunculin A, an inhibitor of actin polymerization, the cells round up and become immobile. After removal of the inhibitor, the cells start within about 15 minutes to form circular actin waves that sharply separate two states of actin organization from each other, which correspond to actin organization at the front and tail, respectively, of a motile cell (Figure
2
). In the inner territory enclosed by a wave, the plasma membrane is occupied by PIP3 [
13
]. The cortical region within this territory is dominated by the Arp2/3 complex, which is known to nucleate branched actin structures [
14
], while the external area is enriched in myosin-II and cortexillin, two proteins that bundle actin filaments in an anti-parallel manner [
15
]. Cortexillin is an actin-bundling protein that preferentially forms heterodimers of its two isoforms, cortexillin I and II [
16
].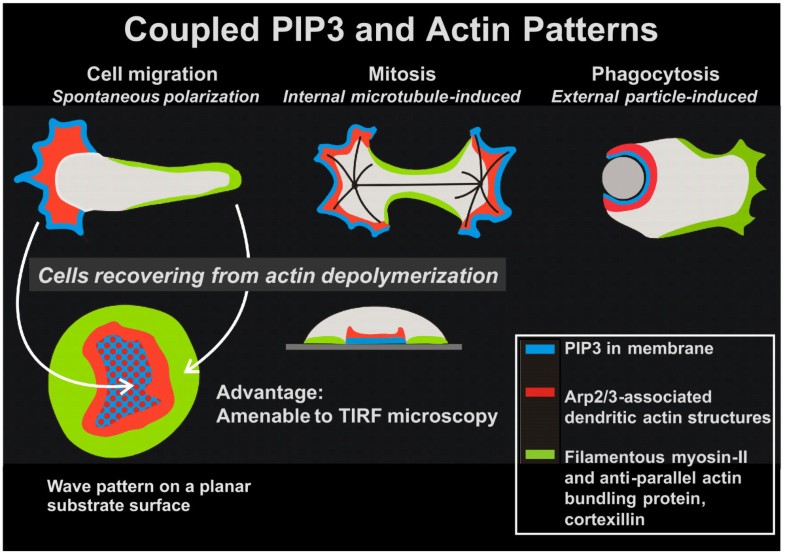 Since the actin waves propagate along the planar surface of substrate-attached cells, the coupling of state transitions in the plasma membrane and actin cortex can be monitored using TIRF microscopy (Figure 2). This technique high-lights structures close to the substrate-attached cell surface, enabling us to monitor at sub-second resolution the correlation between the localization of PTEN and the conversion of actin structures.
Actin waves can propagate in one or the other direction, leading to either expansion or shrinkage of the inner territory. Thus, the actin waves are sites of state transitions in actin organization, which are correlated with the synthesis or hydrolysis of PIP3 in the underlying plasma membrane. PIP3 is generated at the site of the wave when the inner territory expands, and is degraded when the wave propagates in the opposite direction [13]. Moreover, the formation of actin waves is reversibly suppressed by the PI3-kinase inhibitor Ly-294002 [17]. The state transitions in the actin system may occur in a regular spatio-temporal pattern, the inner territory circulating with a period of about 5 minutes on the substrate-attached cell surface [15]. Accordingly PTEN, a constituent of the external area, tends to circulate as a crescent around the perimeter of the cells; importantly it does so even in the presence of 5 μM latrunculin A, suggesting an actin independent oscillator [18].
We show that during a transient stage of actin organization, the actin system periodically switches between a symmetric and asymmetric configuration. The switch to asymmetry is linked to the periodic pattern of PTEN-binding to the membrane. Nevertheless, state transitions in actin occur also in the absence of PTEN by the local initiation of propagating actin waves. With respect to the role of PTEN in symmetry-breaking, it is relevant that membrane-binding of PTEN is consistently induced at, and progresses from, the border of a PTEN-occupied membrane area.
Conclusions
During recovery of actin organization in the cell cortex after depolymerization, actin exists in a bistable state, and transitions between these states are marked by propagating waves. Periodicity of state transitions in the actin system is coupled to oscillatory membrane-binding of PTEN.
Nevertheless, actin can switch also in the absence of PTEN between two states that have similar characteristics as those formed in the presence of PTEN. State transitions in actin and PTEN are based on different principles. Changes in actin organization are initiated de-novo at single sites and propagate from there in the form of waves over a large territory, up to the entire substrate-attached cell surface. The membrane-binding of PTEN is induced at the border of a compact membrane area already occupied by PTEN. The expanding and retracting PTEN gradients at the border of this area are composed of domains of highly mobile and clustering PTEN molecules. In summary, patterns in the actin system are determined by the interconnection of two principles of state transitions.
Methods
Cells were harvested from sub-confluent cultures with nutrient medium in plastic petri dishes, transferred to glass coverslips on which a plexiglass ring of 19 mm diameter was mounted using paraffin, and washed twice with 17 mM Na/K-phosphate buffer, pH 6.0 [27]. The cells were cultivated and imaged at 23 ± 2°C.
Cells expressing PTEN-GFP in a PTEN-null background [
9
] obtained from Peter Devreotes through the Dicty stock center (strain DBS0236831), were transfected to express mRFPm-LimEΔ [
35
] using 33 μg/ml of hygromycin for selection; clones employed were 274-2-6 and 274-4-10. PTEN-null cells of AX2 [
36
] obtained from Rob Kay through the Dicty stock center (strain DBS0252655), were transfected for LimEΔ-GFP expression using 10 μg/ml of G418; the clone employed was 293-1-2. Other strains used are compiled in Table
1
.
Table 1
Previously published double-labeled strains
| GFP label | mRFP label | Clone | Drug resistance | Parent strain | Reference |
| --- | --- | --- | --- | --- | --- |
| PLCδ1, PH domain | mRFP-LimEΔ | 252-1-12 | B10/G10 | AX2-214 | [38] |
| Raf1-RBD | mRFP-LimEΔ | 278-2-10 | B10/G10 | AX2-214 | [38] |
| Cortexillin I, actin-bundling fragment 352-435 | mRFP-LimEΔ | 165-2-5 | B10/G10/H66 | Cortexillin I null in AX2-214 | [15] |
| Myosin-II heavy chain | mRFP-LimEΔ | 75-2-2-11 | B10/G10 | AX2-214 | [15] |
| Arp 3 | mRFP-LimEΔ | 1 | B10/G10 | AX3 | [39] |
| PHcrac | mRFP-LimEΔ | 230-1-1-2 | B10/G10 | AX2-214 | [39] |
TIRF microscopy
Through-objective TIRF imaging was performed using an Olympus IX 71 microscope and an Andor iXon + camera as described previously [27]. The pixel size was 0.106 μm. The width of line scans was 16 pixels in Figures 3 and 8, 1 pixel in Figure 9, and 8 pixels in Figure 5. GFP was excited at 491 and mRFP at 561 nm. Both fluorophores were excited simultaneously and the emissions split. Both fluorophores were excited simultaneously and the emissions split using a Hamamatsu W-View image splitter (Semrock emission filters BL HC 525/30 and BL HC 617/73 for GFP and mRFP, respectively). The TIRF images were analyzed using Fiji (http://pacific.mpi-cbg.de/wiki/index.php/Fiji), an image processing package based on ImageJ (http://rsb.info.nih.gov/ij).
Spinning disc microscopy
The 3-dimensional images were acquired by recording z-stacks at 200 nm distances using an Olympus/Andor spinning disc microscope (Avon, MA, USA) with a 60x PlanApoN oil objective, NA 1.42 [37]. Images acquired at 488 and 561 nm excitation were filtered through Semrock emission filters and recorded using an iXon+ EMCCD camera. For 3D-reconstructions, the images were processed using the alpha version 1.3 of UCSF Chimera developed by the Resource for Biocomputing, Visualization, and Informatics (http://www.cgl.ucsf.edu/chimera/).
Declarations
Acknowledgements
We thank Margaret Clarke for cells expressing PH-PLCδ1-GFP, Annette Müller-Taubenberger for GFP-RBD expressing cells, and acknowledge the valuable contribution by Andreas Stengl to the analysis of PTEN patterns. We are grateful to Peter Devreotes and Rob Kay for mutant strains, which were supplied by the Dicty Stock Center supported by NIH. Our work was made possible by a grant of the Max Planck Society.
Authors' Affiliations
(1)
Max Planck Institute of Biochemistry, Martinsried, Germany
(2)
Max Planck Institute of Molecular Cell Biology and Genetics, Dresden, Germany
Copyright
© Gerisch et al; licensee BioMed Central Ltd. 2011
This article is published under license to BioMed Central Ltd. This is an Open Access article distributed under the terms of the Creative Commons Attribution License (http://creativecommons.org/licenses/by/2.0), which permits unrestricted use, distribution, and reproduction in any medium, provided the original work is properly cited.