Research article
Open Access
Human ASPM participates in spindle organisation, spindle orientation and cytokinesis
BMC Cell Biology
2010
11:85
Received: 10 February 2010
Accepted: 2 November 2010
Published: 2 November 2010
Abstract
Background
Mutations in the A bnormal Sp indle M icrocephaly related gene (ASPM) are the commonest cause of autosomal recessive primary microcephaly (MCPH) a disorder characterised by a small brain and associated mental retardation. ASPM encodes a mitotic spindle pole associated protein. It is suggested that the MCPH phenotype arises from proliferation defects in neural progenitor cells (NPC).
Results
We show that ASPM is a microtubule minus end-associated protein that is recruited in a microtubule-dependent manner to the pericentriolar matrix (PCM) at the spindle poles during mitosis. ASPM siRNA reduces ASPM protein at the spindle poles in cultured U2OS cells and severely perturbs a number of aspects of mitosis, including the orientation of the mitotic spindle, the main determinant of developmental asymmetrical cell division. The majority of ASPM depleted mitotic cells fail to complete cytokinesis. In MCPH patient fibroblasts we show that a pathogenic ASPM splice site mutation results in the expression of a novel variant protein lacking a tripeptide motif, a minimal alteration that correlates with a dramatic decrease in ASPM spindle pole localisation. Moreover, expression of dominant-negative ASPM C-terminal fragments cause severe spindle assembly defects and cytokinesis failure in cultured cells.
Conclusions
These observations indicate that ASPM participates in spindle organisation, spindle positioning and cytokinesis in all dividing cells and that the extreme C-terminus of the protein is required for ASPM localisation and function. Our data supports the hypothesis that the MCPH phenotype caused by ASPM mutation is a consequence of mitotic aberrations during neurogenesis. We propose the effects of ASPM mutation are tolerated in somatic cells but have profound consequences for the symmetrical division of NPCs, due to the unusual morphology of these cells. This antagonises the early expansion of the progenitor pool that underpins cortical neurogenesis, causing the MCPH phenotype.
Keywords
Mitotic SpindleNeural Progenitor CellSpindle PoleU2OS CellCleavage Furrow
Background
During neurogenesis the majority of neurons and glia in the mammalian neocortex arise from the division of NPC in the neuroepithelial lining of the central cavities of the brain [1]. Primary NPC have a specific pattern of mitotic activity. Initially each symmetrical division increases precursor cell number by generating two progenitor cells per division. Subsequent asymmetric neurogenic divisions produce one neuron and regenerate one progenitor cell [2]. In the developing mammalian cortex the division fate of a cell appears dependent upon the orientation of the mitotic spindle and hence the position of the cleavage furrow with respect to the apical surface of the neuroepithelium [3]. As a result of the inheritance of cell lineage determinants located at the apical cell membrane, cleavage parallel to the apical surface results in neurogenic division where the apical contents are inherited by one daughter cell and the basal contents by the other, whereas perpendicular cleavage produces two daughter progenitor cells. The mechanisms regulating spindle orientation and cleavage furrow positioning in the mammalian neuroepithelium are not well understood.
Autosomal recessive primary microcephaly (MCPH) is a rare Mendelian disorder characterized by a congenital deficiency of foetal brain growth, particularly affecting the neocortex. This results in the formation of a small but structurally normal brain and associated mental retardation but no other neurological defects [4, 5]. The concept that MCPH is a primary disorder of neurogenic mitosis, the result of which is a reduction of cell number in the developing human brain, is an attractive one.
Mutations that cause the condition have been found in five genes: microcephalin (MCPH1), which functions in the DNA damage response pathway; and abnormal spindle-like microcephaly associated gene (ASPM), CDK5 regulatory subunit-associated protein 2 (CDK5RAP2), centromeric protein J (CENPJ) and SCL/TAL1-interupting locus (STIL) which are all associated with aspects of centrosome function [5–13]. The most common cause of MCPH is mutation of the ASPM gene [5, 14, 15] at the MCPH5 locus on chromosome 1q31 [16, 17]. All known pathogenic mutations produce a single clinical phenotype [5, 15] even though they include nonsense, frameshift, translocation and splice site mutations located throughout the 28 exon ASPM gene [5, 8, 15, 18–23]. It was originally assumed that mutations result in either protein truncation or mRNA degradation via the nonsense mediated decay (NMD) pathway [24].
The human
ASPM
gene encodes a protein composed of 3477 amino acids [
5
] that is predicted to contain an amino terminal microtubule binding domain [
25
]; two highly conserved N-terminal short ASNP (ASPM N-proximal) repeats [
8
]; two calponin homology domains; up to 81 calmodulin binding isoleucine-glutamine (IQ) motifs [
5
,
8
,
26
,
27
]; an armadillo-like sequence and a carboxyl terminal region of unknown function [
5
,
15
]. Figure
1A
summarizes the domain structure of the ASPM protein. ASPM is expressed in all proliferating tissues and is upregulated in many cancers [
8
].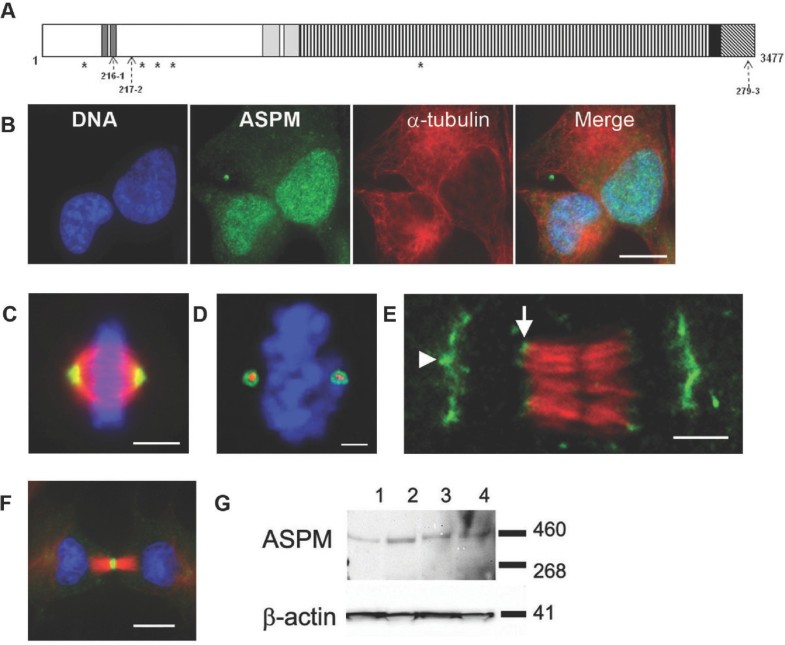 Human ASPM is the orthologue of the Drosophila a bnormal sp indle gene (asp). Asp is involved in spindle microtubule organisation in mitosis and meiosis [25, 28–31] and in cytokinesis [32, 33]. In dividing Drosophila neuroblasts asp mutations cause metaphase arrest, resulting in reduced CNS development [29]. siRNA depletion of asp produces a severe loss of microtubule focus at spindle poles [34]. In mice, elimination of Aspm results in a reduction in neural stem cell proliferation and increases the likelihood that NPCs will undergo asymmetric cell division, implying a reduction in the total number of progenitor cells formed during brain development [35]. Inhibition of human ASPM expression by siRNA-mediated knockdown inhibits tumour cell proliferation [36]. Although it has been hypothesized that ASPM is required for cell division in the developing human brain, direct evidence in support of this has been lacking.
In the present study we investigate the role of ASPM in human cell division and extend the characterization of the mitotic distribution of human ASPM. We show that ASPM knockdown in U2OS osteosarcoma cells by siRNA alters the positioning of the mitotic spindle from parallel to the substrate to perpendicular to the substrate, effectively altering the division symmetry from symmetrical to asymmetrical. ASPM siRNA-mediated depletion also induced cytokinesis failure and apoptosis. Moreover we show that a pathogenic mutation identified in an MCPH patient, and located in the 3'region of the ASPM gene instigates the activation of an upstream in frame cryptic splice donor site, resulting in the splicing out of nine nucleotides (nt) from the ASPM sequence. The resultant protein exhibits decreased efficiency in localization to spindle poles, suggesting the presence of the C-terminal domain is of critical importance for ASPM function. Supporting this, we find that ASPM C-terminal fragments expressed in transfected cells induce dominant-negative defects on spindle organisation and cytokinesis. This study provides further evidence for the function of ASPM in the division cycle of mammalian cells. We discuss these findings in relation to cerebral cortex neurogenesis and microcephaly.
Conclusions
Our study provides a mechanism by which mutations in the human ASPM gene could result in a developmental reduction of brain size, and supports the hypothesis that the MCPH phenotype arises due to defective NPC division. By examining the consequences of siRNA mediated knockdown of spindle pole associated ASPM expression and the phenotypes seen following expression of fusion proteins derived from the ASPM C-terminus we have identified critical roles for human ASPM in spindle microtubule organisation, spindle positioning and in the regulation of cytokinesis even in a non-neural cell type. Similar phenotypes have been previously reported in Drosophila asp mutants [25, 28–33]. We suggest that ASPM is a reasonably stable protein and that nuclear matrix associated ASPM is less open to degradation than ASPM after nuclear envelope breakdown. ASPM was recently confirmed as a gene involved in the regulation of mitosis in human cells as part of the substantive MitoCheck integrated research project ([42]http://www.mitocheck.org). As an element of this high-throughput whole genome RNAi screen, automated live cell image analysis of ASPM knockdown identified similar phenotypes to those identified in our study. Although mitotic spindle position was not a phenotype for which analytical parameters were specifically established, other mitotic phenotypes that could lead to a decrease in cell division were identified. Metaphase delay was robustly observed with further phenotypes of mitotic delay, problems with metaphase alignment, cell death and poly-lobed nuclei identified with one of two siRNAs utilised.
We have previously shown that Aspm is preferentially expressed during cerebral cortical neurogenesis in the mouse brain [5]. The time of maximal Aspm expression in the neuroepithelium corresponds to the period of proliferative cell division, and the subsequent down-regulation of Aspm expression is concomitant with a switch to asymmetrical cell division [35]. We have now demonstrated that inhibition of ASPM function by siRNA causes a highly penetrant loss of precision in the placement of the mitotic spindle in dividing U2OS cells, resulting in an alteration of division mode from the symmetrical to the asymmetrical plane. This implies that in U2OS cells symmetrical cell division in a plane that is perpendicular to the substrate is an active process that requires functional ASPM, rather than a simple default pathway. Our data therefore demonstrates that the requirement for ASPM in the maintenance of symmetrical divisions is not limited to specialised NPCs as previously assumed, but that it plays a general role in mitotic cells.
A logical consequence of this hypothesis is that the normal development of the whole human body should be affected by ASPM loss of function. Indeed in Drosophila loss of asp function results in larval lethality [25, 28–33]. Paradoxically however, the only known phenotype in individuals with homozygous mutations in ASPM is MCPH [5, 15]. Mutations in ASPM are scattered throughout the gene, yet they result in a single clinical MCPH phenotype. Our immunoblot data of ASPM expression in fibroblast lysates from an MCPH patient carrying the IVS25+1G > T homozygous mutation established that the MCPH phenotype in this patient did not result from complete ASPM loss and confirmed a previous report that ASPM mutation does not instigate the NMD pathway [8]. Partly functional ASPM proteins may therefore be expressed in the cells of MCPH individuals, and we hypothesised that ASPM mutations caused protein truncations and that the MCPH phenotype resulted from the common loss of a C- terminal functional domain that led to partial loss of ASPM function. Surprisingly, our data from patient cells demonstrates that the MCPH phenotype can arise from a cryptic splicing event that removes only nine nucleotides of intragenic sequence within the C-terminal region of ASPM and results in a reduction in ASPM localisation to the spindle poles. The minimal IVS25+1G > T mutation therefore causes a decrease in the efficiency of ASPM spindle pole localisation without an associated decrease in overall ASPM protein levels or a major increase in gross mitotic abnormalities in patient fibroblasts. We propose that expression of this subtly impaired mutant ASPM protein is sufficient to induce small deviations in the precision of mitotic spindle positioning in symmetrically dividing cells. This contrasts with the severe mitotic phenotypes seen in cultured cells following more profound disruption of ASPM function by siRNA knockdown of ASPM spindle pole expression, or expression of dominant negative ASPM C-terminal domains.
The existence of individuals homozygous for mutations in ASPM who exhibit a small brain but who are otherwise grossly normal leads us to infer that either (a) a functional compensatory mechanism exists in somatic cells or (b) neurogenic cell divisions are sufficiently different to the majority of somatic cell divisions to be profoundly and differentially affected by a subtle perturbation of ASPM function. The reason for this may lie in the unique morphology of the cells undergoing division in the neuroepithelium during cortical expansion [35]. In vertebrates, apical NPC are apicobasally elongated to a remarkable extent and possess a small apical surface. To execute accurate symmetrical divisions in such cells would require extremely precise cleavage along the apicobasal axis [43]. Small deviations in spindle position leading to cleavage plane reorientation would result in a transition from symmetrical to asymmetrical division. In the majority of somatic cells such deviations could be tolerated due to their relatively large apical and basal surfaces. However in NPC such deviation may be sufficient to drive a decrease in the number of cells successfully completing symmetrical cell division. This would impair the expansion of the progenitor pool that normally occurs at early stages of cortical development. As a consequence, the NPC pool would be insufficient to produce the number of neurones required for a normal sized brain.
What then is the function of ASPM during the later stages of mitosis? We observed an ASPM localisation at the minus ends of central spindle microtubules during anaphase and at the centre of the midbody during telophase and cytokinesis. Microtubules of the mitotic apparatus are a critical contributor to cleavage furrow positioning. Both astral microtubules and overlapping equatorial MTs in the central spindle have been implicated as playing a significant role in this process [44–47]. We therefore see a number of possibilities for ASPM function during cytokinesis. ASPM might directly contribute to the organisation of midzone microtubules with the cytokinesis defects seen after ASPM functional inhibition arising secondary to central spindle disorganisation. Alternatively, its presence at the centrosome might influence the function of astral microtubules. It also seems possible that ASPM might participate more directly in the coupling of spindle microtubule function to cortical events during furrowing. For example, ASPM might be able to influence the local activity of myosins through its interactions with EF-hand Ca2+ binding factors such as calmodulin, or to influence signalling events during cytokinesis through interactions with binding partners such as citron kinase [38].
In conclusion, a major finding of our study is that ASPM plays a role in cell division, not just those in NPCs, but in other cell types. We propose that MCPH5 patients have enough residual ASPM activity to successfully complete functionally symmetrical cell divisions in all tissues except the developing brain, where extremely unusual morphological constraints result in a specific defect in cortical neurogenic mitosis in response to imprecise spindle position. In this we echo the arguments presented by Fish et al., in an authoritative commentary on NPC division [43]. We have also identified a three amino acid sequence in the C-terminal domain of ASPM in an MCPH patient reduces localisation of ASPM to the PCM implying that this region of ASPM mediates an important function in NPCs. Future studies will be aimed at defining whether this region of ASPM mediates an important interaction with a novel binding partner.
Methods
Cell culture
HeLa and COS-7 cells were obtained from the European Collection of Cell Cultures. U2OS human osteosarcoma cells and SH-SY5Y neuroblastoma cells were obtained from the ATCC Cell Biology Collection (ATCC-LGC Promochem Partnership, South London, UK). Human neonatal dermal fibroblasts (ASPM wt ) were obtained from Genlantis (San Diego, California). Each cell line was maintained in accordance to manufacturer's guidelines.
The MCPH5 patient fibroblast cell culture (ASPM IVS25+1G > T ) was created from a forearm skin biopsy. The collection of biopsy sample was approved by the Ethical Committee of Leeds (East) Research Ethics Committee (REC reference number 05/Q1206/80) and informed consent was collected from the subject and parents. The skin biopsy was finely cut and homogenised to desegregate the cells prior to plating in Hams F10 medium containing L-glutamine and 25 mM HEPES (Invitrogen, Paisley, U.K.), 20% fetal calf serum (Invitrogen) and 1% penicillin/streptomycin (Invitrogen) and incubated in 5% CO2 at 37°C
Antibodies and Cytotoxic reagents
Rabbit polyclonal antibodies against peptide sequences corresponding to aa363-386 (sequence code 216-1; KDNYGLNQDLESES), aa426-441 (sequence code 217-2; PEDWRKSEVSPRIPEC) and aa3443-3458 (sequence code 279-3; SRLKPDWVLRRDNMEE) of the human ASPM sequence were raised by Affiniti Research Products Limited, Exeter, UK. BLAST analysis revealed no significant homology to other published sequences. Antibody specificity in immunostaining was demonstrated by peptide pre-competition of immune serum and lack of specific staining from pre-immune serum (not shown). A rat anti α-tubulin antibody was obtained from Serotec Ltd, Oxford, UK. A mouse monoclonal antibody specific for γ-tubulin was obtained from the Sigma-Aldrich Company, Dorset, UK. Mouse monoclonal and rabbit polyclonal anti-GFP antibodies were obtained from Clontech (Saint-Germain-en-Laye, France). Secondary antibodies were Molecular Probes highly cross-absorbed rabbit, mouse or rat IgG-specific Alexa conjugates (Cambridge BioScience, Cambridge, UK). DAPI, nocodazole and taxol were obtained from the Sigma-Aldrich Company.
Immunofluorescence
Cells were cultured on glass coverslips. Transfections of GFP-constructs were performed using GeneJuice (Novagen) according to the manufacturer's instructions and coverslips were processed for immunocytochemistry 24 hours after transfection. Cells were fixed for 5 minutes in ice-cold methanol and labelled as previously described [48]. Immunofluorescence analysis was performed using a Leica TCS-SP confocal microscope as described previously [49] and a Zeiss Axiovert 200 inverted microscope coupled to an Orca II ER CCD camera controlled by AQM6 software (Kinetic Imaging, Wirral, UK) as described previously [50]. All confocal images presented here are maximum intensity projections. Figures were assembled and annotated using Adobe Photoshop CS2.
Immunoblotting
To perform immunoblotting of ASPM, cells were lysed in standard RIPA buffer, protein concentration determined and PAGE carried out using 3-8% Tris Acetate precast gradient gels (Invitrogen) in a Surelock electrophoresis tank (Invitrogen) on 25 μg protein. Subsequent protein transfer onto PVDF membrane (Invitrogen) was performed in the same system in accordance with the manufacturer's instructions.
siRNA knockdown of ASPM expression
Double-stranded RNA oligos that target ASPM mRNA were obtained from Dharmacon Inc Lafayette, CO, USA. siRNA ASPM1 targets sequence UGCCAUGGUGCAACUUGCU (nt 691-709) (synthetic oligos UGCCAUGGUGCAACUUGCUUU and AGCAAGUUGCACCAUGGCAUU) and siRNA ASPM2 targets GUGGUGAAGGUGACCUUUC (nt 2804-2822) (synthetic oligos GUGGUGAAGGUGACCUUUCUU and GAAAGGUCACCUUCACCACUU). A GL3 siRNA targeting the firefly luciferase sequence CUUACGCUGAGUACUUCGA was used as a control [51].
5 × 105 U2OS cells per well of a six well plate containing a coverslip or 4 × 105 U2OS cells per 35 mm plate for live cell imaging experiments were transfected 16 hours post plating with siRNA using Oligofectamine transfection reagent (Invitrogen). siRNA transfection mix was prepared for each plate as follows; 12 μl of 20 μM siRNA was added to 200 μl Optimem serum free medium (Invitrogen). 8 μl of Oligofectamine was added to 52 μl Optimem medium in a separate tube and incubated at room temperature for 10 minutes. The diluted transfection reagent was added to the tube containing the diluted siRNA and incubated for a further 20 minutes. 128 μl of Optimem was then added to give a final siRNA transfection mix volume of 0.4 ml. The growth medium was removed from the cells which were washed once with growth medium without serum or antibiotics. 0.6 ml growth medium without serum or antibiotics was added to the plate, followed by the 0.4 ml transfection mix. The transfection was incubated at 37°C for 4 hours before adding 1 ml growth medium containing 20% FCS and antibiotics. The cells were incubated for a total of 48 or 72 hours before analysis.
FACS analysis of DNA content
48 and 72 hours after siRNA treatment U2OS cells were released by trypsin digestion, pelleted, washed in PBS and resuspended in 1 ml of cold 70% ethanol then stored at -20°C. Prior to Flow Cytometric analysis the cells were washed in block buffer (PBS containing 1% BSA), permeabilised for 15 minutes in block buffer containing 0.25% Triton X-100 and then incubated for 1 hour in 100 μl of mouse anti cyclin B1 (BD-Pharmingen 554177 diluted 1:500). Cells were washed in block buffer then incubated for 1 hour with Alexa Fluor 488 anti-mouse IgG (Molecular probes A-11029, diluted 1:300). Cells were finally washed and then incubated at 37°C for 30 min in 0.5 ml PBS containing 3 μl of 6 mg/ml RNAse and 12.5 μl of 5 mg/ml propidium iodide. 10,000 single cell events per sample were analysed for DNA and cyclin B1 content to identify G1 (2N DNA content, low cyclin B1), G2/M (4N DNA content, high cyclin B1) and tetraploid cells (4N DNA content, low cyclin B1) using a Facscalibur Facscan (Becton Dickinson).
CaspGLOW™ Fluorescein Active Caspase-3 Assay
U2OS cells were treated with GL3 or ASP1 siRNA duplex for 96 hours prior to commencing Caspase-3 analysis. Detached and adherent cells were collected and washed with PBS. The CaspGLOW™ Fluorescein Active Caspase-3 assay (Medical and Biological Laboratories Ltd, Woburn, MA, USA) was performed on 3 × 105 GL3 and ASP1 treated cells as per manufacturer's protocol. The cells were then resuspended in PBS containing 50 ug/ml propidium iodide, 100 ug/ml RNAse A and 0.1% (v/v) Triton X-100 and incubated at 37°C for one hour. Active caspase-3 was detected by flow cytometry using a BD LSRII (Becton Dickinson) capturing 10000 events per sample. Three independent experiments were performed
Time-lapse live cell imaging
Phase contrast time-lapse imaging experiments of live cells were performed on a Zeiss Axiovert 200 M inverted microscope incorporating an automated motorised stage, contained within a Perspex incubation chamber heated to a constant 37°C temperature (Solent Scientific, UK). Cells were cultured, transfected and imaged in 35 mm glass-bottomed culture dishes (Iwaki brand; Asahi Techno Glass Corporation, Japan, obtained from Barloworld Scientific, UK). Growth media was replaced with 2 ml media supplemented with 20 mM HEPES. Cells were observed under oil with an ×40 Plan Neofluar 1.3 aperture objective. Images were captured with a Hamamatsu Orca Camera, using Volocity 3 acquisition software (Improvision, Coventry, UK) over a period of 4 hours. Multiple positions were imaged at a rate of one image per minute. Live cell fluorescence imaging experiments were performed on a Zeiss Axiovert 200 inverted microscope contained within a Perspex incubation chamber heated to a constant 37°C temperature (Solent Scientific, UK). Imaging was performed as described previously [50]. Figures were assembled and annotated using Adobe Photoshop CS2.
Celltitre Blue cell viability assay and assessment of mitotic abnormalities in fixed immunolabelled siRNA treated cells
To perform cell viability assays on siRNA treated cells, U2OS cells were plated in 96-well plates at 103 cells per well and grown at 37°C for 16 hours before siRNA treatment (as above). Wells were washed once with serum free medium and then 60 μl serum free medium and 40 μl siRNA transfection mix were added. The transfection was completed as described above. 72 hours after siRNA transfection, Celltitre Blue reagent (Promega) was added to wells following manufacturer's instructions. The plate was incubated at 37°C for a further 8 hours and the conversion of resazurin to fluorescent resorufin, an assay of metabolic rate, was determined using fluorimetry (560 nm excitation wavelength, 615 nm emission wavelength). In parallel experiments siRNA treated and control cell cultures were co-immunostained using combinations of antibodies that included α-tubulin, γ-tubulin and ASPM. DNA was counterstained using DAPI. At least 1000 total cells per sample were then assessed by direct microscopic observation to determine mitotic index, the number of cells in cytokinesis, and the proportion of cells with abnormal numbers of nuclei and centrosomes.
Comparative analysis of ASPM spindle pole expression in ASPM wt , ASPM IVS25 +1G > T cell lines and GL3, ASP1 and ASP2 treated U2OS cells
To compare relative quantities of ASPM at the spindle poles of ASPM wt and ASPM IVS25 +1G > T cells, cells were simultaneously immunofluorescently labelled using 216-1 anti-ASPM antibody. Images were captured on an Olympus BX61 upright microscope using ×100 oil UPlanFLN 1.30 aperture objective, F-View II monochromatic camera (Olympus Soft Imaging Solutions Ltd, Helperby, North Yorkshire, U.K.) and CellP Software (Olympus Soft Imaging Solutions Ltd), with a 1 second exposure time, ensuring the signal intensities visualised in the images were directly comparable. ASPM PCM signal intensity was measured as integral intensity (defined as the sum of all the intensities of a region of interest multiplied by the pixel area). To compare the integral integrity values of ASPM localised at the spindle pole in ASPM wt and ASPM IVS25 +1G > T cells a paired two tailed Student t-test was used. A P-value of less than 0.0001 was considered highly statistically significant.
To compare the integral integrity values of ASPM localised at the spindle pole in GL3, ASP1 and ASP2 treated metaphase U2OS cells captured with a 2 second exposure time, a Mann Whitney test was used. A P-value of less than 0.005 was considered statistically significant.
RNA preparation, reverse transcription and sequencing
RNA was obtained from ASPM wt and ASPM IVS25 +1G > T fibroblasts using Trizol extraction as per manufacturers instructions. cDNA was produced using Superscript reverse transcriptase (Stratagene Agilent Technologies, West Lothian, UK) as per manufacturers direction with oligo dT primers (Promega). ASPM exons 25-28 were amplified using forward (TCCGAAGTTGTAATCGCAGT) and reverse (CTTGCAGGGGATTTGTGATT) primers.
Plasmid construction
The plasmids pASPM-D1-GFP, pASPM-D2-GFP and pASPM-D3-GFP were constructed by cloning nt 9530-10434 (aa3177-3477), 9766-10434 (aa3256-3477) and 9943-10434 (aa3315-3477) of ASPM respectively in frame into the Bam HI and Xho I restriction sites in the GFP expression plasmid pJMA2-eGFP [49]. All constructs were fully sequenced before use. The construction and characterization of an EB3-GFP expression plasmid will be described elsewhere (J. M. Askham, manuscript in preparation).
Abbreviations
ASPM:

A bnormal sp indle-like m icrocephaly associated
CDK5RAP2:

CDK5 regulatory subunit-associated protein 2
CENPJ:

Centromeric protein J
DCNT1:

Dynactin1
FACS:

Fluorescence-activated cell sorter
GFP:

Green fluorescent protein MCPH: Autosomal recessive primary microcephaly
NPC:

Neural progenitor cell
NMD:

Nonsense mediated decay
nt:

Nucleotide
PBS:

Phosphate buffered saline
s.d.:

Standard deviation
s.e.m.:

Standard error of the mean
siRNA:

Small interfering RNA
Declarations
Acknowledgements
Normal control and MCPH Human dermal fibroblast cultures were kindly prepared by the Yorkshire Regional Cytogenetics Laboratory, St James's University Hospital, Leeds, UK. We acknowledge the input from Adam Davison and the LIMM Core Flow Cytometry Facility. Statistical guidance was provided by Mohamed Saleh, LIMM. This research was supported by The Wellcome Trust (JB, JH and CGW). DMG and A-MB were funded by Cancer Research UK, and SMB and EEM by Yorkshire Cancer Research. CAM was funded by the Open University. SMS and CB were funded by the Leeds Teaching Hospitals NHS Trust.
Authors' Affiliations
(1)
Section of Ophthalmology and Neuroscience, Wellcome Trust Brenner Building, Leeds Institute of Molecular Medicine, University of Leeds, St. James's University Hospital, Leeds, UK
(2)
Department of Life Sciences, The Open University, Walton Hall, Milton Keynes, UK
(3)
Cancer Research UK Cell Cycle Genetics Research Group, University of Cambridge, Department of Genetics, Cambridge, UK
(4)
CRUK Clinical Centre at Leeds, Division of Cancer Medicine Research, Leeds Institute of Molecular Medicine, St James's University Hospital, Leeds, UK
(5)
Yorkshire Regional Genetics Service, Yorkshire Regional Genetics Service, Ashley Wing, St James's University Hospital, Leeds, UK
(6)
Cambridge Institute for Medical Research, Wellcome Trust/MRC Building, Addenbrooke's Hospital, Cambridge, UK
Copyright
© Higgins et al; licensee BioMed Central Ltd. 2010
This article is published under license to BioMed Central Ltd. This is an Open Access article distributed under the terms of the Creative Commons Attribution License (http://creativecommons.org/licenses/by/2.0), which permits unrestricted use, distribution, and reproduction in any medium, provided the original work is properly cited.